118-Carat Sapphire Is the Star of Phillips' Hong Kong Sale
Set in a necklace by Bulgari, it will hit the auction block later this month.
Hong Kong—A necklace by Bulgari set with a 118.35-carat sapphire will lead Phillips Hong Kong's "Jewels & Jadeite" sale later this month.
Bulgari created the sapphire and diamond necklace in 2004.
Gübelin graded the unheated, cushion-shaped Sri Lankan sapphire as "Royal Blue," with the stone receiving 98 out of 100 possible points for the highest grade of "exceptional."
The sapphire's even saturation is exceedingly rare in such a large, unheated sapphire, Phillips explained. 
Bulgari is renowned for its colored gemstones creations, but even for those accustomed to the Italian jewelry house's high jewelry creations, this sapphire stands out.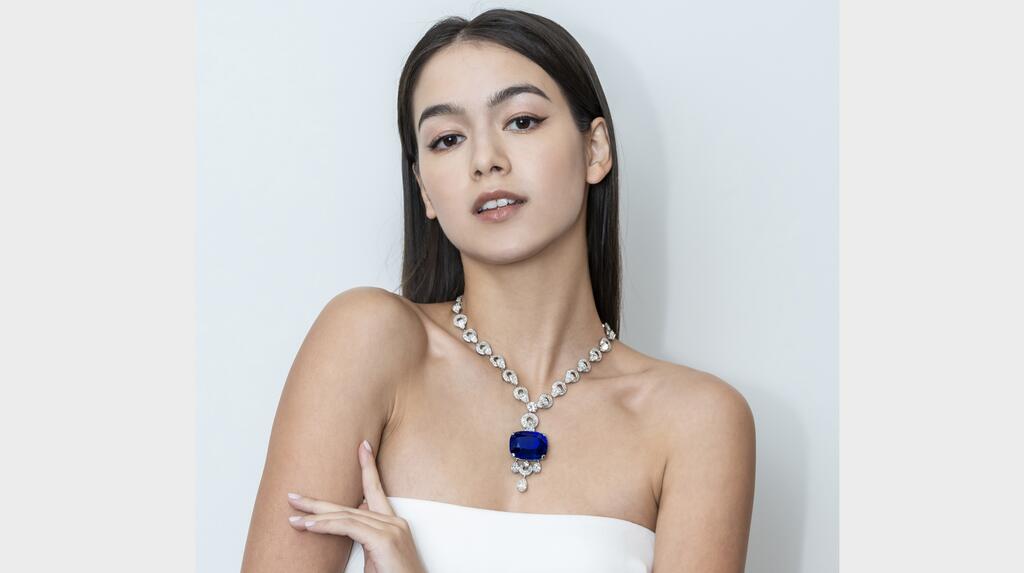 Bulgari Creative Director and Gems Buying Executive Director Lucia Silvestri remembers when Bulgari first acquired the stone more than 20 years ago.
"I was so impressed and touched that I still remember the emotion I felt," she said.
Phillips noted that unlike many Bulgari high jewelry works that combine different colored gems, this necklace lets the sapphire be the focus, accented only with white diamonds and white metal in a style reminiscent of the house's works from the 1950s. 
 Related stories will be right here … 
"This one-of-a-kind necklace's clean and sleek lines, elegant geometry, and the unusual horizontal setting of the 118.35-carat Sri Lankan sapphire are all elements that afford it a timeless, modern appeal," noted Phillips Worldwide Head of Jewelry Benoît Repellin.
"Unique in its size, color and origin, the stone embodies the transparency and luminosity pursued by Bulgari for its high jewelry creations. This jewel is a holy grail for any collector, with a classic and elegant design typical of Bulgari that emphasizes the beauty and extraordinariness of the gem."
The Bulgari necklace is expected to fetch between $3 million and $4.5 million. 
Other sale highlights include an exceptionally rare 2.02-carat fancy green-blue diamond set in a diamond ring that transforms into a pendant, seen above.
It's estimated to sell for $300,000-$450,000.
Continuing the blue gem trend is the above 6.26-carat unheated Kashmir sapphire set into a Schlumberger for Tiffany & Co. ring. 
The ring is accented with diamonds that are meant to resemble bees buzzing around the center stone. 
The piece is expected to fetch between $260,000 and $360,000. 
For the Burmese ruby lover, a classic three-stone ring, seen above, features a 5.01-carat Burmese ruby flanked by diamonds.
It's expected to sell for $244,000-$359,000.
Yellow diamonds also make a sale appearance, most notably in a pair of earrings.
The above pair of fancy intense yellow diamonds weighing 7.05 carats and 7.28 carats are adorned with white diamonds in earrings that are expected to sell for between $170,000 and $230,000. 
Joining the assortment of signed jewels is an iconic "Zip" necklace by Van Cleef & Arpels, below.
The design was first executed in 1950, after being imagined more than a decade prior. Today, Zip necklaces still require between 400 and 1,200 hours to complete, depending on their specific materials. 
This edition is crafted in pink gold and adorned with pink sapphires and diamonds. Its pre-sale estimate is $150,000-$250,000.
Phillips' Hong Kong Jewels & Jadeite sale is scheduled to take place May 23 at Phillips' new Asia headquarters in Hong Kong's West Kowloon Cultural District. 
More on Auctions