Cartier, Amazon Suing 'Influencer,' Sellers Over Counterfeit 'Love' Jewelry
The alleged scheme involving fake "Love" bracelets, necklaces and rings was designed to circumvent Amazon's counterfeit detection tools.
Seattle—Cartier and Amazon have filed two joint lawsuits accusing a social media "influencer"  and a handful of Amazon sellers of conspiring to sell counterfeit Cartier jewelry in a scheme designed to avoid detection.
According to the suit filed by Amazon, the social media user, who operated the Instagram account @phmn9y3v, posted pictures of fake Cartier bracelets, necklaces and rings and directed consumers to links that went to Amazon and other websites, often using the LinkTree platform to do so.
The listing page for the product in the Amazon Store did not mention any brand names—a step taken deliberately to circumvent the online giant's counterfeit detection tools, the lawsuit alleges—but consumers were told they would receive, and ultimately did get, counterfeit Cartier pieces.
One example given in the lawsuit involved Cartier's über-popular "Love" bracelet.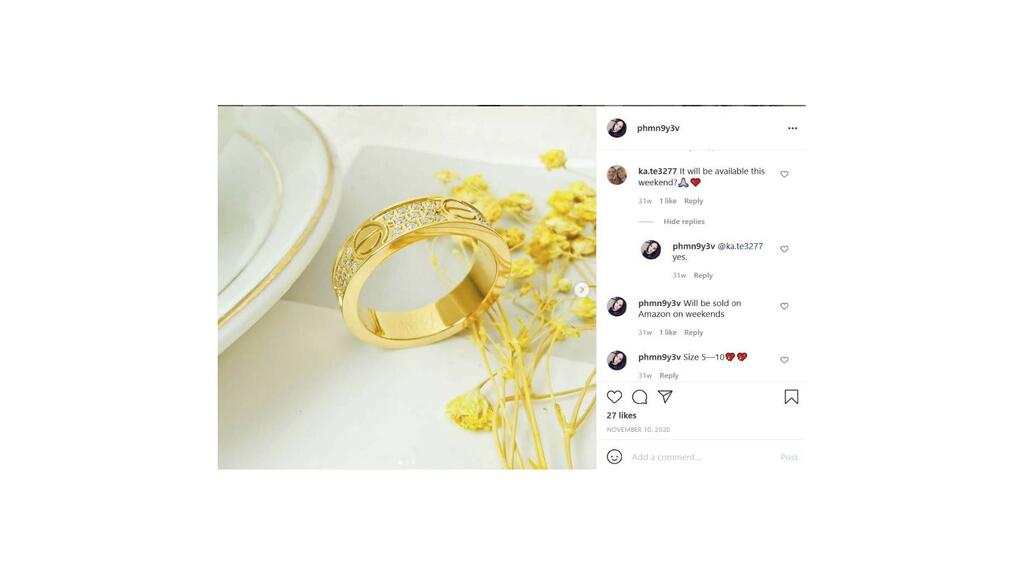 A posting on the influencer's Instagram account included in court documents shows a Cartier Love bracelet, identified as a fake by the brand because of its serial number and certain aesthetic differences. 
The Amazon page connected to the post featured a bracelet described as a "Women's Fashion Classic Screw Love Titanium Bracelet," being sold for $29.99. It included an image that "carefully concealed" the Love's bracelet signature screw motif, the lawsuit states. 
The Instagram bio for @phmn9y3v also included the description "High Quality Copy." 
"By using social media to promote counterfeit products, bad actors undermine trust and mislead customers," Kebharu Smith, Amazon associate general counsel and director of the company's Counterfeit Crimes Unit, said in a press release announcing the lawsuit. 
"Amazon will keep investing and innovating to stay ahead of counterfeiters and working with brands and law enforcement to hold bad actors accountable. We don't just want to chase them away from Amazon—we want to stop them for good."
 Related stories will be right here … 
Both lawsuits were filed June 15 in U.S. federal court in Seattle, where Amazon is based.
All defendants were listed only by the names on their Amazon selling accounts.
According to court documents, they are: Amazing Jewelry You Want, VFDNYTU, Miao-He, Byqone US, Byqone Network, Yinji, YFXF, and PHMN9Y3V Jewelry, a selling account allegedly controlled by influencer @phmn9y3v.
The suits bring claims of trademark infringement, contributory trademark infringement, false designation of origin and false advertising, contributory false designation of origin and false advertising, and violation of
the Washington Consumer Protection Act
. 
Amazon and Cartier are asking the court to issue an injunction preventing the defendants from selling on Amazon; manufacturing, distributing, and selling counterfeit Cartier products; and assisting another business in doing any of the former.
Cartier is also seeking damages in the case and asking the court to impound all infringing products.
Amazon said after receiving notice from Cartier of counterfeit activity and verifying the sale of infringing products, it shut down the defendants' accounts.

As of press time, the @phmn9y3v Instagram account was no longer available. 

The civil cover sheet filed with the lawsuit did not list an attorney for any of the defendants. 


More on Technology