Mejuri Files Countersuit Against David Yurman
The jewelry retailer said David Yurman's lawsuit is merely a way to bully its competition.
New York—Mejuri filed a countersuit against David Yurman late last week, claiming the company's infringement lawsuit is just a way to bully its competition.
David Yurman filed suit against Mejuri in a New York federal court in December, accusing the company of copying several of its iconic designs from the "Pure Form" and "Sculpted Cable" collections.
The lawsuit alleges Mejuri is infringing on the company's intellectual property rights by unlawfully copying its designs, causing customer confusion, and damaging the reputation it took four decades to build.
In a statement issued
when the lawsuit was filed
, Mejuri denied those allegations.
In its countersuit, the company said, "Yurman's complaint is not a legitimate attempt to protect its intellectual property but is instead an effort to bully and stifle an emerging competitor by claiming a monopoly on classic jewelry designs that have been used for centuries—designs that are ubiquitous in the jewelry industry today."
To further support its claims, Mejuri detailed its design process, sharing its inspiration, sketches, and other steps, noting the differences between the twist designs in its "Crôissant Dome" collection and David Yurman's "Pure Form" collection.
Mejuri claims in its suit that the inspiration for "Crôissant Dome" was the classic French pastry, not David Yurman's design.
Mejuri also argues that twist designs, like the twists of David Yurman's cable bracelets, have been seen in jewelry since Ancient Rome, and therefore the design is not distinctive to David Yurman.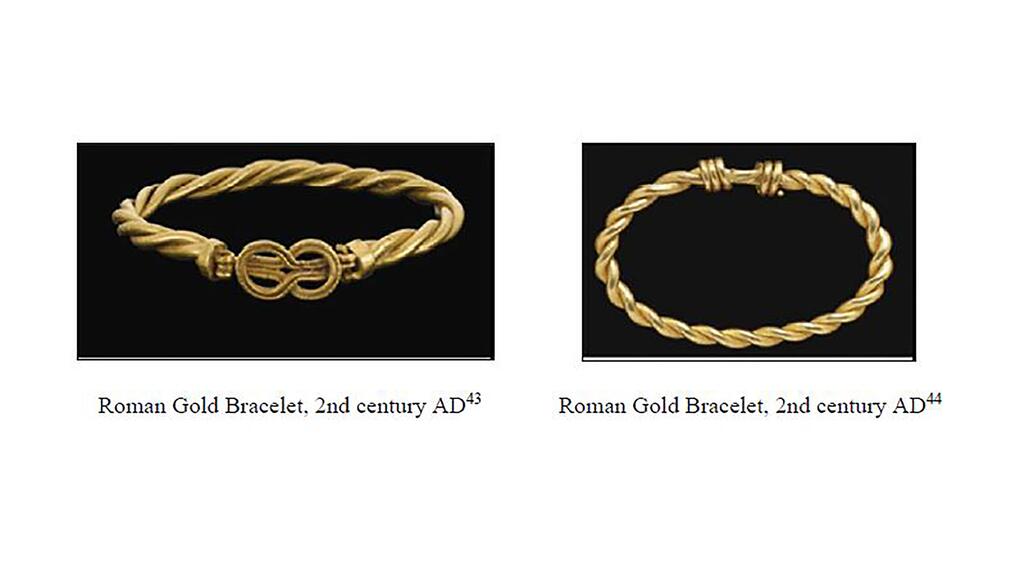 "Given the commonplace nature of the twist motif, Yurman cannot legitimately claim the 'Pure Form' cable bracelet design as unique to Yurman, much less as protectable trade dress exclusive to Yurman. Nor can Yurman legitimately claim that consumers associate the appearance of the 'Pure Form' cable bracelet with Yurman, as opposed to any other company offering a similar design," said Mejuri.
Mejuri's countersuit includes several images of jewelry with twist designs from major brands like Tiffany & Co. and Cartier to independents like Ben Bridge and Ross-Simons. 
Though twists are common in jewelry, David Yurman holds federal trademark registrations for its specific cable bracelet design, which Mejuri recognizes in its lawsuit.
Pieces from Mejuri's Crôissant collection have pending design patent applications in the United States, as per court documents.
In a statement to National Jeweler, the attorney representing David Yurman called the countersuit a "weak attempt" to excuse IP infringement. 
"It's common for companies caught copying others' designs to argue that the design is free for the taking," said Jay Neukom, lead counsel for David Yurman in the case.
"Mejuri's weak attempt to excuse its conduct by citing the Roman Empire and its own corporate mission statement does not change the facts. Yurman's complaint has side-by-side pictures that show how Mejuri's 'in-house' designs mimic David Yurman, Boucheron, and Lagos. We look forward to making this misconduct even clearer as the case proceeds," he Neukom.
 Related stories will be right here … 
Mejuri's countersuit also outlines the company's perspective on several of David Yurman's other claims.
Mejuri took issue with the claim that Mejuri's designs could be confused for David Yurman pieces, noting that the two companies operate in different segments of the jewelry market and their products are not sold in the same stores.
The company also noted that while other jewelry brands use twist designs, including more well-known brands, Yurman hasn't taken legal action against them.
David Yurman has instead "chosen to target Mejuri by bringing an anti-competitive attack on a smaller, but rapidly growing, challenger that is modernizing a traditional industry," said Mejuri.
Mejuri said its designs had been on the market for two years and no concerns had been raised until last December.
The company added that, allegedly, David Yurman never contacted them to discuss the problem and instead "filed this meritless lawsuit and issued a press release without the courtesy even of providing Mejuri notice."
David Yurman also accused Mejuri of copying its founding message and ethos about female empowerment and women buying jewelry for themselves, a claim Mejuri denies.
The female-founded brand said female empowerment has been at the core of its mission since its founding in 2015, establishing its Empowerment Fund to support women and non-binary individuals and partnering with the
Jeannette Rankin Foundation
to provide additional scholarships for low-income women and non-binary people.
In its initial lawsuit, David Yurman also pointed out that when it hired a social media influencer to showcase its jewels, less than two weeks later, Mejuri hired the same influencer to appear in a similar social media campaign.
Mejuri countered that the influencer had been promoting Mejuri on her social media page months before David Yurman shared her selfie.
David Yurman, via its lawsuit, said it hopes to stop Mejuri's "illegal actions" and receive compensation for the alleged violations as well as attorney fees.
The company also requested Mejuri melt down and recycle its remaining inventory of products that are alleged copies and take down and destroy the aforementioned advertising and promotional materials.
Mejuri said that David Yurman is not entitled to any remedy or relief and did not state that it was looking for any in return.
David Yurman is requesting a trial by jury, which Mejuri does not object to, as per court documents.
David Yurman Enterprises LLC v. Mejuri Inc. was filed in the U.S. District Court for the Southern District of New York.
More on Majors