7 Standout Tiaras in Sotheby's Platinum Jubilee Exhibition
Senior Editor Brecken Branstrator chooses the pieces she'd most want to see in person.
The past decade or so has created a case of royal fever, starting with Prince William's wedding to the Duchess of Cambridge in 2011. 
In the jewelry realm, there has been much attention paid to Kate's sapphire ring that first belonged to Princess Diana, an appreciation for Princess Eugenie's
padparadscha sapphire
, and of course a close eye on
the tiaras
that have been spotted at important occasions. 
Royal watching has reached a fever pitch this year as Queen Elizabeth II became the first British monarch to celebrate a
Platinum Jubilee
, marking 70 years of being on the throne. 
The country will celebrate throughout the year with various events, and there's one in particular that caught this jewelry lover's eye. 
Sotheby's London is set to host "Power & Image: Royal & Aristocratic Tiaras" from Saturday, May 28 to Wednesday, June 15 at its showroom on New Bond Street. 
Sotheby's is calling it the largest tiara exhibition to be held in the U.K. in 20 years, comprising nearly 50 royal and aristocratic tiaras, some of which are being exhibited publicly for the first time. 
Nearly all of them were made and owned by British nobility; as a group they offer a comprehensive look at all the major tiara design styles, Sotheby's explained. 
There are standout pieces like "The Spencer Tiara," which Princess Diana wore on her wedding day, and several that were worn by guests at Queen Elizabeth's coronation in 1953. 
They all have a spectacular provenance, but there are some that really stood out to me, either because of their design or their eye-catching stones. 
Without further ado, here are seven of my favorites.

It wouldn't be a royal jewelry roundup without emeralds, and this tiara has plenty to offer.  
The emerald and diamond piece belonged to Queen Victoria. It was designed by Prince Albert and created by Joseph Kitching in 1845. 
Featuring a tapered openwork band of scroll motifs set with cushion-shaped diamonds and step-cut emeralds in gold collets, the tiara also comprises a graduated row of 19 inverted pear-shaped emerald drops weighing between approximately 1.75 carats and 15 carats (the largest is pictured at center). 

I dislike when gemstones are referred to as semi-precious; I think the term takes away the inherent beauty and value of a gemstone of any kind. 
Amethyst is a great example of that for me. I realize it's fairly plentiful, but when you look at the quality of amethysts used in royal jewels, how could they be anything but precious? 
The lush amethysts in this Cartier tiara circa the 1920s are so saturated and beautiful, they represent the best the stone has to offer. Combine that with a visually intriguing Art Deco design and sapphire, onyx, and diamond accents, and this is one piece I think stands out in the crowd.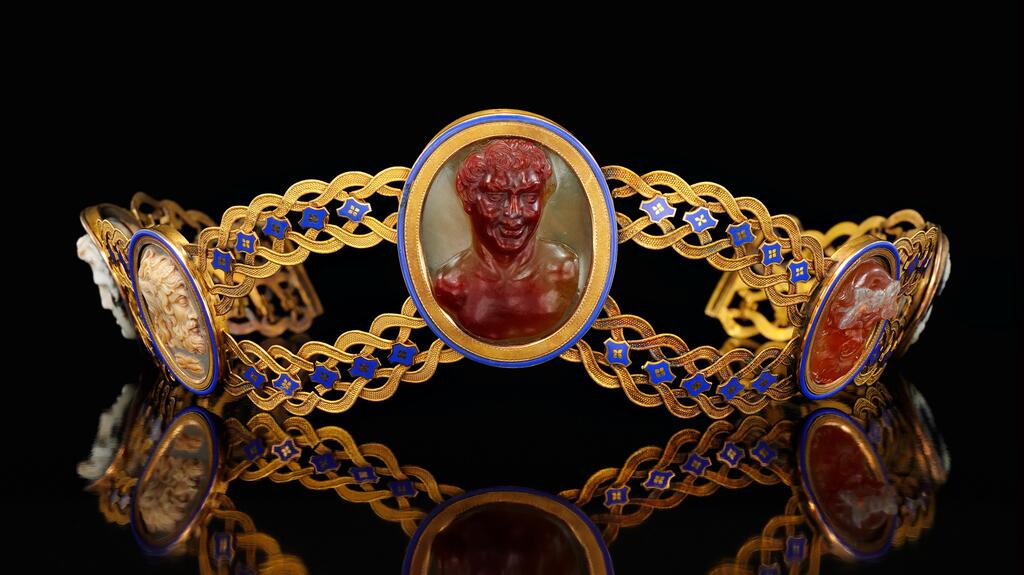 One look at this diadem and I think you'll understand why I chose it. It goes beyond what we usually see for tiaras, and that's exactly what attracted me to it. 
Joséphine Bonaparte's gold and enamel diadem is set with 19th century and ancient cameo hardstones: the head of Medusa (possibly late 16th century), a profile of Zeus (probably 18th century), a bust of Pan (probably 18th century), a head of Bacchus (probably 18th century), and Gaia nursing a baby (possibly late 16th century). 
It sold for £126,000 ($166,672 at exchange rates at the time) at the Sotheby's "London Treasures" auction in December.
Don't miss
the gold, enamel, and carnelian parure, circa 1808, that also sold in the sale. 
This gem-set bandeau circa 1920 is understated, especially when compared to many of the others in the exhibition, but it still manages to captivate with its delicate design; I love the soft openwork of foliage and flowers. 
It's set at the center with a cabochon emerald as well as circular-cut sapphires and pink sapphires. 

This had to be included; the pop of color combined with classic diamonds and gold is perfect. 
Created by Van Cleef & Arpels circa the 1960s, the tiara features five graduated large oval cabochon turquoise stones set within a brilliant-cut diamond border, interspersed by six smaller cabochon turquoise stones. 
It's part of a parure that includes a necklace and earrings of similar design.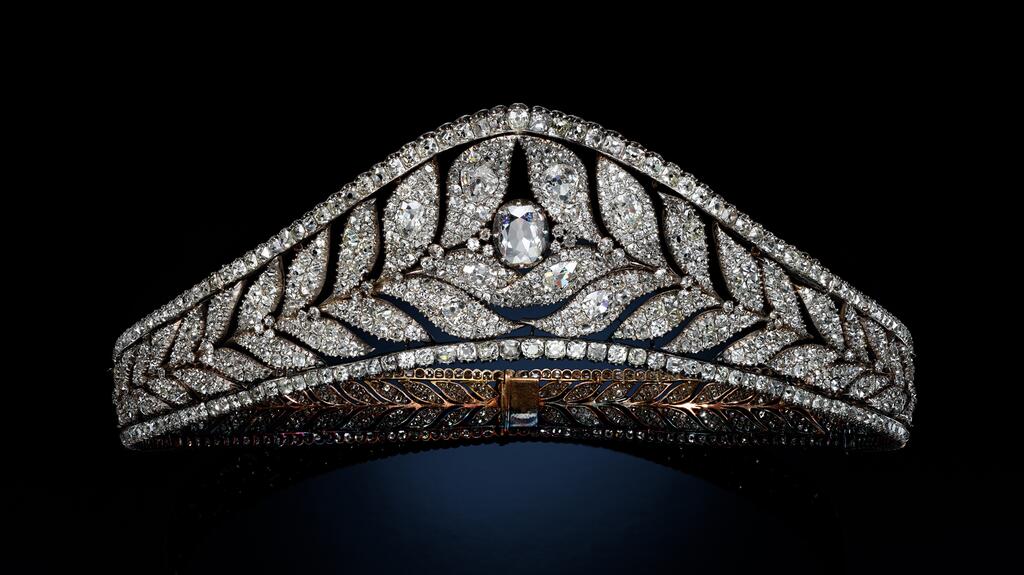 I didn't want to seem like I was playing favorites with colored gemstones, so I made sure to include some all-diamond pieces. This wasn't hard by any means, as every tiara in the exhibition is a true piece of art. 
But this one in particular really spoke to me—the tiara is loaded with diamonds, but I also love the clean symmetry of its silhouette. 
Created circa 1830, the Napoleonic-style tiara was designed as a laurel wreath with diamond-set leaves forming a pediment shape, and cushion and pear diamonds throughout.

I would die to get the chance to try any of these on, but if I had to pick one, it would probably be this, just to see how it wears. I'm a little obsessed with the idea of a diamond "halo;" who wouldn't be?
According to Sotheby's, the "Westminster Diamond Halo" tiara was originally designed around three historical diamonds by the French jeweler Lacloche Frères in the early 1930s. 
Two pear-shaped diamonds, given to Queen Charlotte by the Nawab of Arcot, flanked what was believed to be the "Hastings Diamond," a round stone Nizam Ali Khan gave to King George III in 1785. 
The Marquess of Westminster acquired the trio of diamonds, and the family used them in various jewels over the decades. 
The tiara was later sold to Harry Winston, who redesigned the piece to include clusters of smaller diamonds in place of the three large stones. 
 Related stories will be right here …
More on Editors