Sotheby's Palm Beach to Host a Sale of Contemporary Female Jewelry Designers
Curated by jewelry advisory The Stax, it benefits a nonprofit dedicated to raising awareness about maternal mortality.
Palm Beach, Fla.—As Mother's Day approaches, Sotheby's is hosting a special sale to benefit an organization fighting the maternal healthcare crisis.
Running April 4-10, the auction house's Palm Beach gallery will offer works from an array of contemporary female jewelry designers like Daniela Villegas, Alice Cicolini, Renna, Almasika, and Marlo Laz. 
Featuring over 100 pieces, including one-of-a-kind jewels, a portion of proceeds will benefit nonprofit organization
Mother Lovers,
which raises awareness and funds to fight maternal mortality in the United States.
The sale is curated by fine jewelry consultancy
The Stax Advisory
and has personal significance for the company's co-founder Victoria Lampley-Berens, who lost her mother to cancer five years ago. 
Soon after, she became a mother to two children in quick succession. A move to Los Angeles and the pandemic brought further change. 
"Grief, displacement, and motherhood became the biggest themes in my life seemingly overnight," she said. "I felt an urge to channel my grief into something positive, beautiful, and motivating, while paying homage to my late mother's amazing taste and style."
The longtime publicist launched The Stax Advisory last spring with editor Laurel Pantin, helping private clients shop for fine jewelry and consulting for brands. 
The Sotheby's partnership has been in the works nearly from the beginning.
"It's a totally serendipitous twist of fate—my mother lived in Palm Beach for a time, and she loved jewelry. I wanted to start this business in honor of her, so everything about this partnership feels meant to be," Lampley-Berens explained of the synergy between the companies. 
The sale's charitable component brings awareness to maternal mortality, an often-overlooked issue.
According to Mother Lovers, women in the U.S. are twice as likely to die in childbirth today than they were 20 years ago. The U.S. is the only nation of the most economically developed countries to have a rising maternal mortality rate. 
Mother Lovers wants to broaden the conversation about the topic while also demanding that people are treated with more respect before, during, and after birth.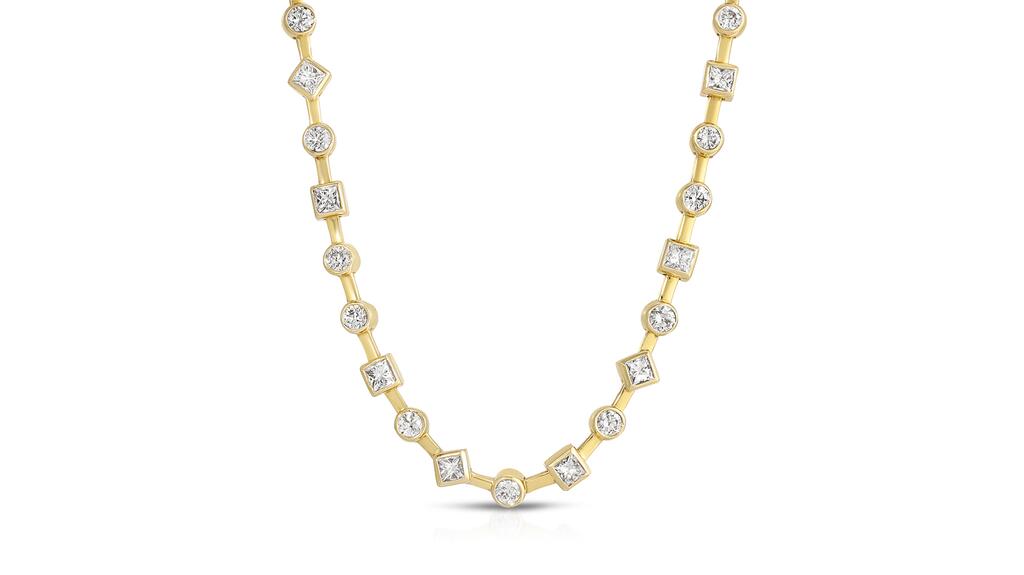 The Sotheby's Palm Beach sale in partnership with The Stax Advisory and Mother Lovers will commence with a preview on Monday, April 4. Regular exhibition hours will be Tuesday, April 5 through Saturday, April 9 from 10 a.m. to 6 p.m., and Sunday, April 10 from 11 a.m. to 5 p.m. 
Priced between approximately $2,000 and $200,000, the jewels will be available for immediate purchase. 
The confirmed designers represented in the sale are: Alice Cicolini, Daniela Villegas, Loren Nicole, Marlo Laz, Matturi, Ming, Charlotte Chesnais, Renna, Guita M, Nina Runsdorf, Lydia Courteille, Almasika, Anabela Chan, Sherman Field, Christina Alexiou, Carolina Bucci, and Prounis. 
Sotheby's Palm Beach Private Sales Director, David Rothschild, said, "We're thrilled to be collaborating with The Stax Advisory on this special female-driven showcase at our Palm Beach gallery this spring.
"The women of The Stax have curated an art-inspired selection of elevated and wearable jewels, which will serve as a beautiful complement to the assortment of paintings, sculpture, and design at our gallery."
 Related stories will be right here … 
More on Auctions