All About Megan Fox's Engagement Ring from Machine Gun Kelly
Designed by Stephen Webster, it's a ring-stack take on the toi et moi style.
New York—Pseudo-goth romance has reached its peak. 
On Thursday actress Megan Fox and musician and actor beau Machine Gun Kelly (real name Colson Baker) announced their engagement on Instagram with simultaneous posts. 
Baker proposed with not one but two rings that stack to form one heart-like shape, the two halves forming a symbolic whole. 
The musician attributed the design to Stephen Webster, noting that the rings don't simply stack to nestle perfectly together, but are joined by magnets. 
"I know tradition is one ring," Baker said on social media, "but I designed it with Stephen Webster to be two: the emerald (her birthstone) and the diamond (my birthstone) set on two magnetic bands of thorns that draw together as two halves of the same soul forming the obscure heart that is our love."
Poetic, yes, and technically creative to boot. 
Webster explained to National Jeweler, "During the creative process Colson had mentioned that Megan's birthstone is emerald, which he wanted to incorporate in some way along with a diamond, his birthstone. 
"The resulting ring actually consists of two rings which, by the use of magnets buried within the gold, are attracted to each other and sit together perfectly on the finger, a detail that is both modern and quite extraordinary."
The ring is crafted in 18-karat white gold featuring a D-color antique-cut diamond and an untreated Colombian emerald that Webster called "perfectly matched pear-shaped gems." 
The bands are set with colorless natural diamond pavé.
 Related stories will be right here … 
The concept behind a toi et moi ring is undeniably romantic. 
Featuring two prominent stones, a toi et moi style, French for "you and me," symbolizes the union of two souls. 
New York City-based fine jewelry brand Jemma Wynne debuted a modern, minimal take on the toi et moi in 2014, the "Open Ring," arguably ushering in the style's current era of popularity.

SEE: Jemma Wynne's Signature 'Open Ring'
Created on occasion of co-founder Jenny Klatt's seventh wedding anniversary, it became synonymous with Jemma Wynne, particularly the version featuring a pear-shaped stone set off-kilter, next to another gemstone set traditionally northwest. 
Classic with an edge, it is one of the brand's best sellers. 
"Two-stone rings are some of our favorites to design, because of the symbolism behind them—using two gems can make a ring more meaningful and unique," Klatt explained.
"Some clients use the silhouette to pair an heirloom stone with something newer, create a piece that has a splash of color alongside a diamond, or even use two different birthstones to represent family members," as is the case with Megan Fox and Machine Gun Kelly. 
"The options are endless." 
Another celebrity, Ariana Grande, demonstrated the two-stone ring's opportunity for sentimentality in 2020. 
In the singer's Instagram engagement announcement, she showcased an
oval diamond paired with a pearl
that eagle-eyed fans were convinced had belonged to Grande's beloved late grandfather. (June also happens to be the songstress' birth month, so potential meanings abound.)
"The toi et moi concept has been around for generations," Klatt noted, "but there has certainly been a spike in interest surrounding celebrities who are now wearing the style."
 
Slideshow: Designer Toi et Moi Rings 
Designer Ashley Zhang says that two-stone rings are trending, but not to the point of oversaturation. 
"As long as toi et moi rings are simple, they can be a long-lasting, classic style," she said. 
With her business rooted in her own designs and antique jewelry sales, Zhang can attest to the style's popularity, whether worn as an engagement ring or as just part of one's collection. 
"In both modern and antique jewelry, we are selling a lot of toi et moi rings. I think they are a fun, classic design that can be done with many different types of stones."
Two-stone rings were also in the headlines last fall, when Kylie Jenner posted a picture to Instagram in which she wore a two-stone ring with a pear-shaped diamond and elongated radiant-cut diamond, alongside daughter Stormi Webster sporting her own smaller version.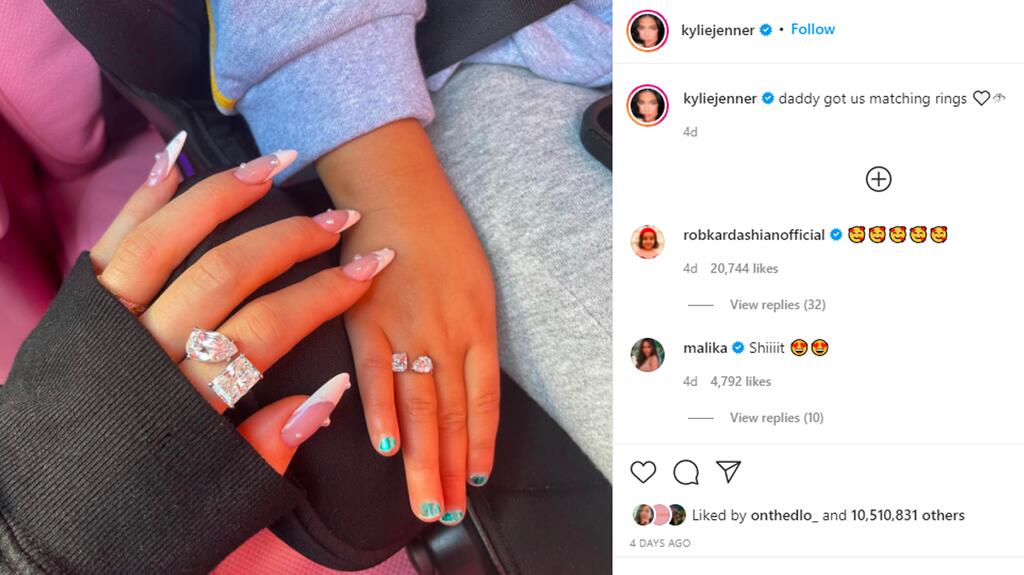 Megan Fox's ring is likely to spark even more interest in the toi et moi style.
Zhang doesn't think that signals any type of tipping point for modern toi et moi rings, however. 
"They have been trending for the last five-plus years, so we don't think they are going away anytime soon," she said. 
More on Trends