Jewelry Brand The Last Line Has Expanded Into Home Accessories
"Party" is a line of tabletop décor.
Los Angeles—Designer Shelley Sanders has never been one to fit neatly into a box.
Her fine jewelry brand The Last Line is full of easy-to-wear basics like tennis bracelets and chokers in every color of the rainbow, as well as stud earrings and hoops, but while timeless styles are the company's bread and butter, the way it sells has always been unlike traditional jewelry retail.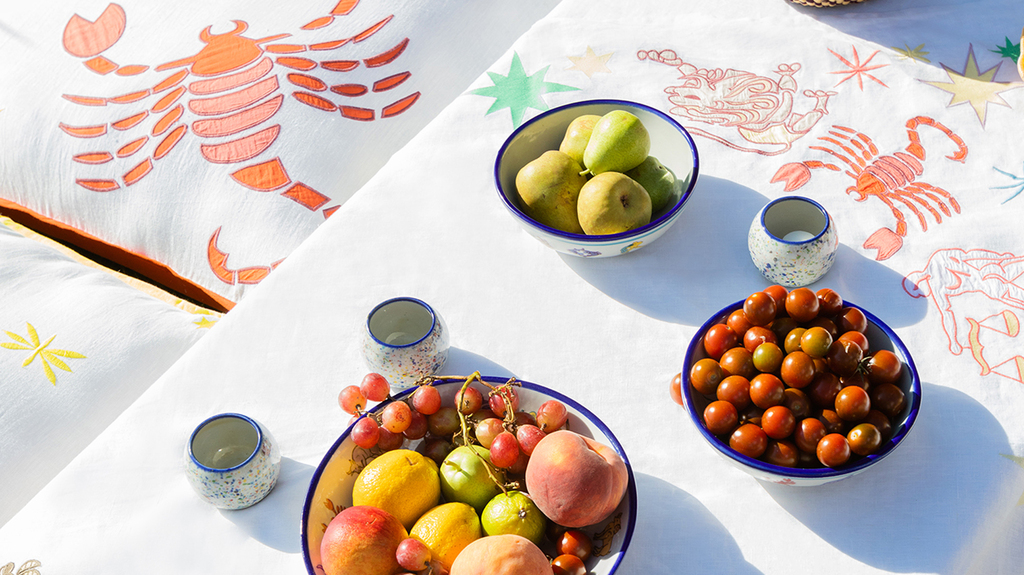 The Last Line is sold direct-to-consumer, meaning without the traditional retail markup, making it especially friendly to young self-purchasers.
It was one of the first fine jewelry companies to offer product drops, debuting limited-edition collections monthly to generate buzz and a feeling of buy-now-or-miss-it scarcity, a retail strategy more commonly seen in streetwear.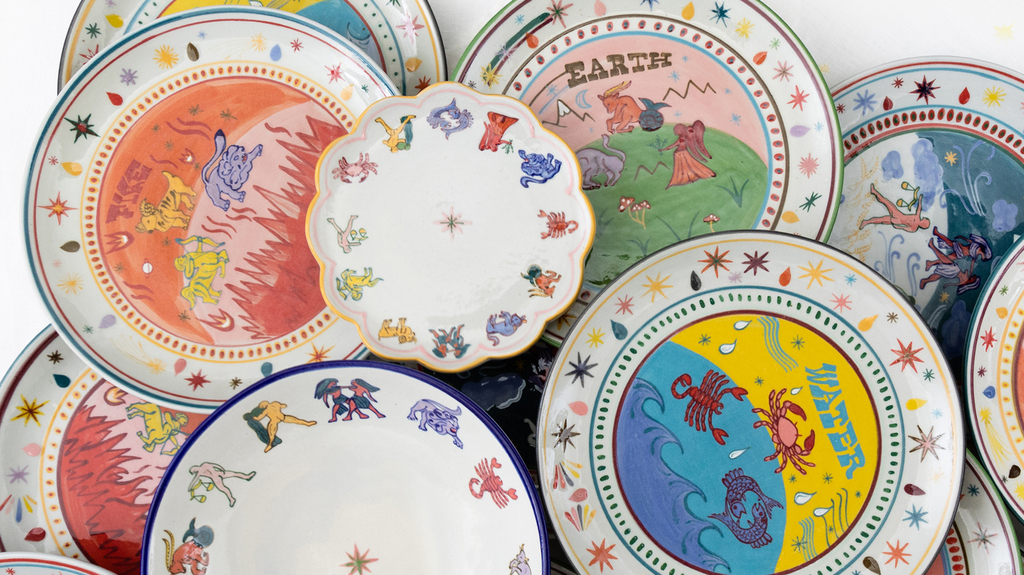 The Last Line debuted in 2017 with e-commerce, though it's now transitioned to an omnichannel model with a store and piercing studio in New York City.
Last year, the company offered a
subscription service for customers
who wanted to outfit their multiple ear piercings with a monthly mystery box of styles.
In a word, The Last Line is innovative, so it was only a matter of time until Sanders toyed with other product categories.
And now, the brand has moved into home décor with a line of tableware.
The new "Party" collection capitalizes on a trend that's major in jewelry: zodiac motifs. It's also filled with bows, flowers, and The Last Line's signature color and joie de vivre, celebrating the act of communing with friends and loved ones amid an unprecedented era of separation.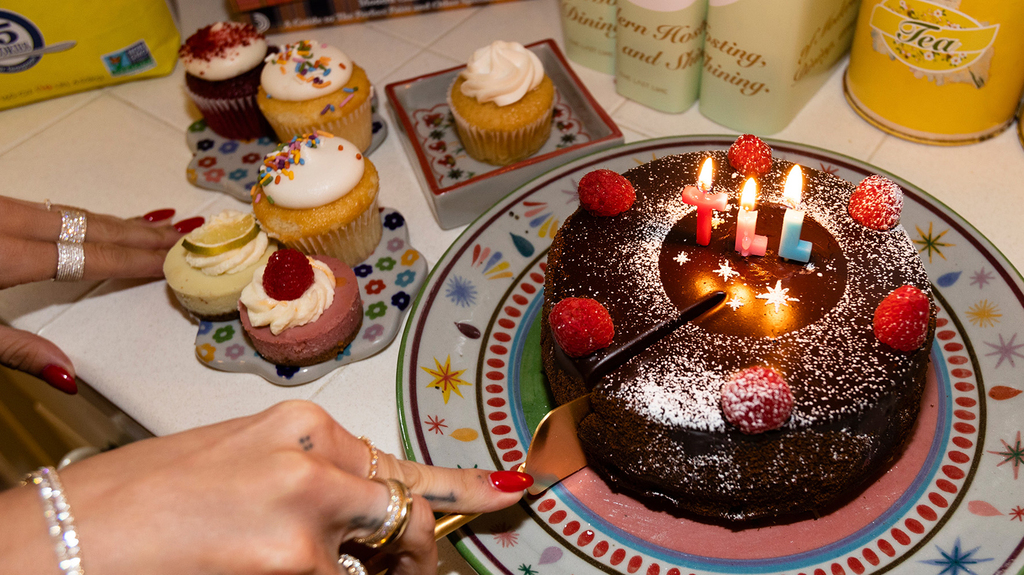 "The ethos of TLL Party is very similar to jewelry—there are the staples that you want to use every day and that make your setup feel instantly put together, and there are the super special, thoughtfully designed pieces you want to treat yourself to," Sanders said.
The designer is a devoted maximalist and her own best advertisement, mixing and matching her jewels to achieve a certain cool girl energy. The tableware collection subscribes to the same ethos, with not only plates and glassware but also candleholders and linens to create an entire tablescape.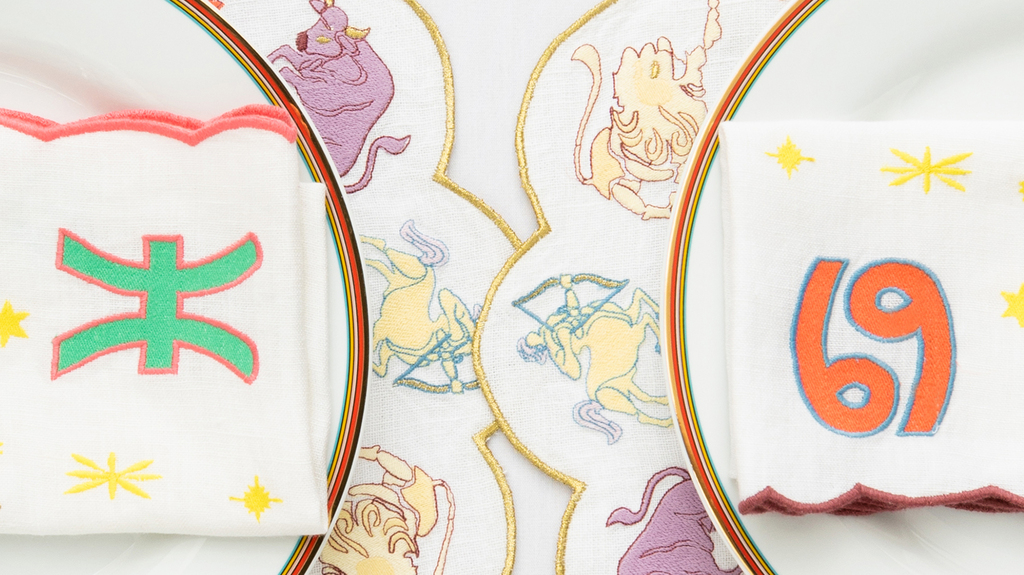 Sanders noted both her jewelry and tableware is intended to be "current but not trendy" and able to mix with pieces customers already have and kept as heirlooms.
"I've always felt how a woman mixes her jewelry collection [is what] makes it cool," she explained, "and I feel the same about home. I wanted to create pieces that can be used but not too worried about. We all know the signs of a good party, and nothing should be off limits."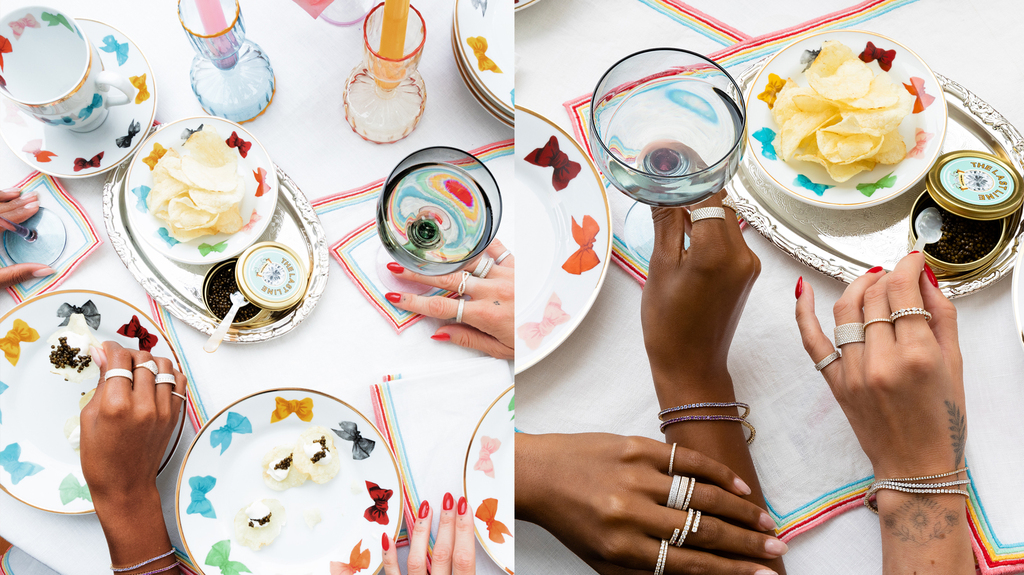 The Party collection has launched in time for holiday shopping. Priced between $90 and $650, it is available on the brand's
website
.
 Related stories will be right here …
More on Collections