Thelma West Creates the Diamond Rings Dreams Are Made Of
The designer based in London and Lagos proves that simple doesn't have to be boring.
It started, as it so often does, with an Instagram scroll.


On my feed, a 5-carat pear-shaped diamond solitaire ring—impressive for the stone alone, but that's not what made it worth adding to my collection of saved jewelry posts on the 'Gram.  


More interesting than the fabulous stone was its setting—sinuous, curved prongs that wrapped around the diamond—and its materials—an unexpected black ceramic that contrasted with the colorless diamond.


The designer was Thelma West Diamonds. I hit the follow button.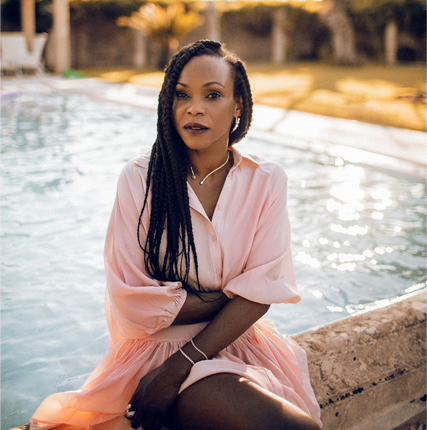 Thelma WestDown into the IG rabbit hole I went, noting that this bespoke designer, creator of one-of-a-kind jewels and plenty of engagement rings, was anything but your average diamond dealer turned private jeweler.
All the pieces I discovered were laced with the same alluring combination of boldness and restraint, from ear climbers featuring fancy color diamonds in mixed-metal settings to initial pendants with gold shaped like sugarcane stalks, and even solitaire engagement rings set on sugarcane-redolent bands.


It's a sophisticated array of personal and meaningful jewelry for the global woman, temporarily grounded but still finding inspiration from cultures around the world and plotting her next adventure.


With a new wholesale line in development, a passion project that West has been working on during the pandemic, it was the perfect time for me to chat with her to learn more about her by-appointment business in London and Lagos.


Among the interesting tidbits I learned: West is the co-founder and creative director of diamond wholesale company Yeraua Diamonds Ltd., as well as the founder and director of gemological laboratory IGR London.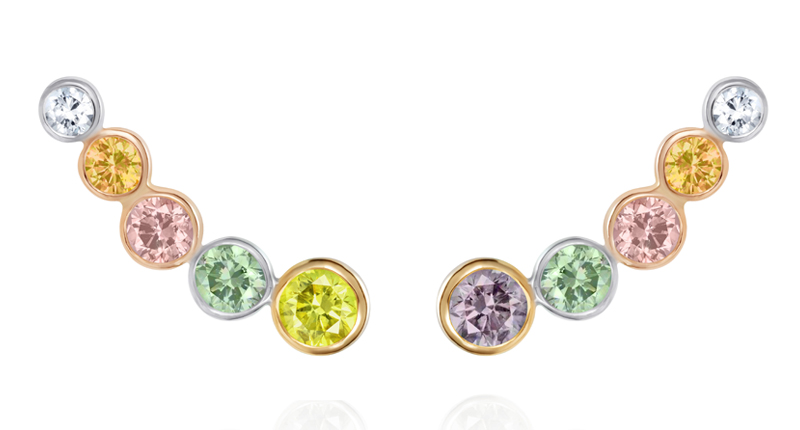 Thelma West Diamonds' "Rainbow" ear cuffs feature fancy color diamonds and white diamonds in 18-karat yellow gold, 18-karat white gold and 18-karat rose gold.
"There are so many facets to the industry," she told me over the phone from London.
"I tell young people that are coming in now, you don't have to do just one thing. You can learn something then move on to the next if it's not for you. You don't have to exit the entire industry."

As a female and an African, West is different voice in a line of work dominated by men from countries with long-standing jewelry traditions, like Israel and India.


And there doesn't seem to be anything she can't do.


Ashley Davis: Can you tell me about your connection to Lagos, Nigeria?
Thelma West: I was born in Lagos in the '80s, and grew up in the '90s in a fun, colorful home.


Lagos is an exciting place to be. My parents were young, so we experienced a lot of their social gatherings, which included my mom's friends always cooing over jewelry pieces. I didn't realize they were jewelry parties! Because there were no traditional jewelry stores in Lagos, women would travel to Italy or Dubai and bring back jewels and come to their friends' homes and sell them to friends.


I used to always wonder, "What is this? Why are they so happy and excited? Why are they always in front of the mirror?"


I think that was my eye-opener with jewelry. I found a photo of myself recently. I don't think I was even a year old yet, and I was sitting there in what looked like a diaper but I had jewelry on—two gold necklaces, I had bracelets, I had my ears pierced. I was cursed from a very young age without even knowing it! Gold is a big symbol in Nigeria.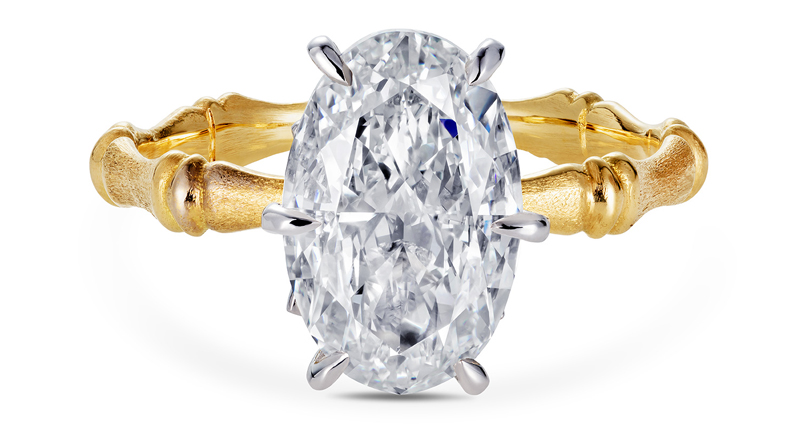 A Thelma West Diamonds engagement ring featuring an oval-shaped diamond on a signature 18-karat yellow gold "Sugarcane" band.
Eventually I became part of my mother's jewelry parties. I would bring drinks and just stand there and listen to them talk about gemstones and metals, but jewelry wasn't something I thought I could pursue then.
AD: You studied gemology at HRD Antwerp. How did you make the leap from loving jewelry to pursuing it professionally?


TW: [In Nigeria], even now your parents want you to be a lawyer, a doctor, an engineer, or an accountant, something solid in their eyes. I came to England to start an engineering course, but I left after a year due to a bit of family misfortune and I had to decide what to do next.


I had to do something less expensive than a four-year degree for financial reasons. I found a two-year gemology course in Antwerp. Everyone thought I was crazy. They were asking me, "What is gemology?"


I told them I was going to study gemstones and be an expert with diamonds and know about all of the colors and inclusions. I traveled to Antwerp as an 18-year-old and never looked back. I knew no one. I didn't speak Flemish or French, but my course was in English and I enjoyed learning.


I realize now that it was a brave thing to do, but I didn't realize it then. I was young.


I love the artsy part of jewelry, but I also love the science of gemstones. For me, mapping out the origin of a gem is incredible. Being able to tell from the inclusions where a gem comes from—that's awesome.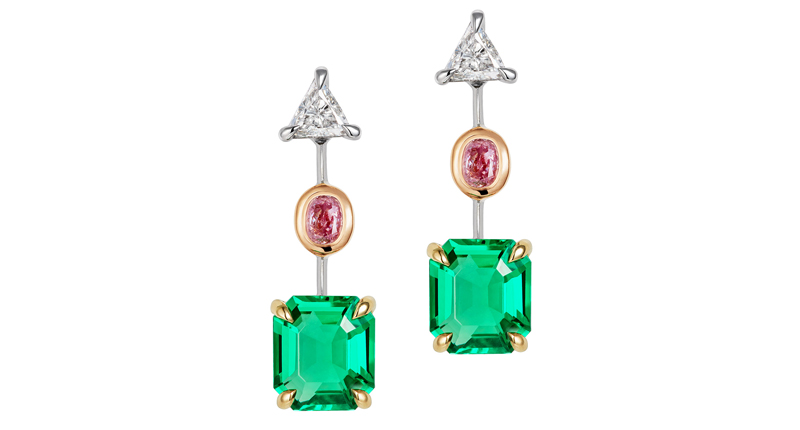 "Eden Drop" earrings showcase West's passion for gems, featuring white trillion-cut diamonds, pink oval diamonds and emeralds. Again, the designer cleverly sets each stone in the metal most suited to it—18-karat white, rose or yellow gold.
AD: Did you know what aspect of the industry you wanted to work in initially?


TW: I wanted to focus on diamonds, so that's what I did. I spent the first five years concentrating on being a diamond dealer. I got my first job as a stock controller for a Spanish company in London, then I was promoted to buyer.
[Editor's note: West co-founded her own diamond wholesale company, Yeraua Diamonds Ltd., in 2008 and founded gemological lab IGR London in 2015.]


They weren't jobs in my eyes, they were a continuation of my education.

AD: How did you start creating your own designs?


TW: Friends started to ask me to make pieces for them because I would make pieces for myself and I would say no because it's such a personal thing. I was not yet a jeweler, I was a diamond dealer.
Then it all changed when one friend asked me to make her engagement ring. She convinced me by asking for an old mine-cut diamond, and I have a soft spot for old-mine-cut diamonds. I was like, I'm doing this.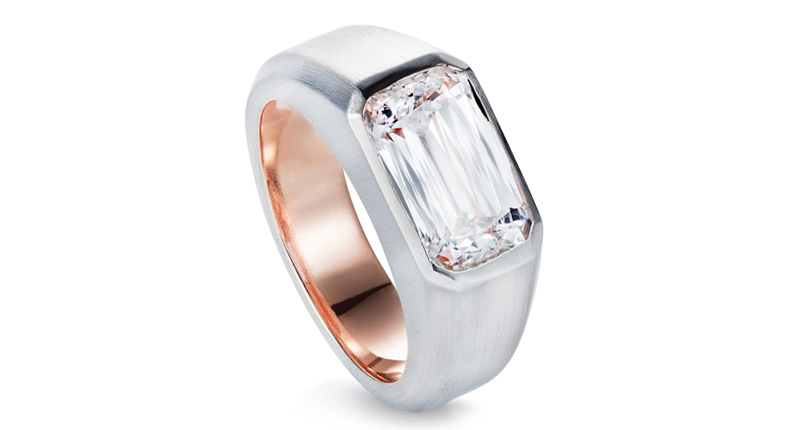 Thelma West Diamonds' 3-carat Ashoka-cut diamond ring set in platinum with 18-karat rose gold interior

That was the first piece I made and I never stopped.


AD: When did it turn into a real brand?


TW: In 2012. It's grown very organically, and I like that. I enjoy building relationships with the client. They come back and refer people. It's been wonderful to get to know my clients that way and develop my product that way.


I am working on a line that is going to be more widely available but still has an element of bespoke. I like the fact that when the collector or wearer adds a personal touch, that makes it just for them.


I think jewelry should have a unique element that is just for you. Most of my pieces will continue to go along the bespoke line.


AD: What's the inspiration behind the new pieces?


TW: Joy. It's about finding joy and spreading love.


The range is called "Embrace by Thelma West." It was inspired by the joy of being there for people. I started it during the coronavirus pandemic. We've all been looking inward at our personal circumstances and a lot of friends and family were really down and you find you have to be there, you have to communicate and show love, you have to spend time and give energy.


Embrace will start as a line of bracelets and will be available to select stockists when we get to that stage. That's going to be exciting.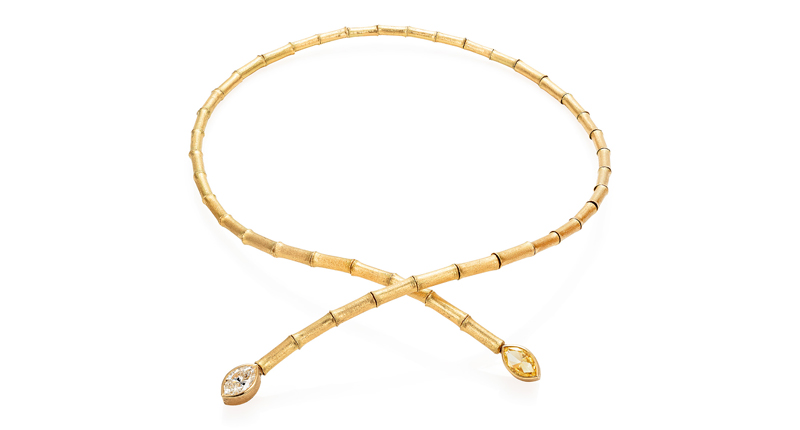 Thelma West was a diamond dealer before adding bespoke jeweler and gemological lab founder to her resume. Her work shows her love of fancy shapes and fancy color diamonds, like in this "Sade's Embrace" white and yellow diamond collar in 18-karat yellow gold.
AD: What kind of materials do you like to work with?


TW: I love diamonds. They're the center of most of my work, and this is because of their story and their journey. When I see a diamond I look at more than what the shape is. I look at what it can be, how it should sit.


I love fine lines, and aesthetically I love simplicity. Regardless of how complex the design is, I try to make sure there is an element of simplicity to it and that it is wearable because, for me, when a piece is overly complex it becomes distracting. I tend to stick a lot to the simpler, finer pieces in terms of lines.


I work with a lot of ceramic at the moment. I'm able to manipulate it as much as I want. It's a skill I've been mastering for a couple of years and now it's coming together. It goes really well with gold and diamonds, so it's my favorite material at the moment.


AD: It can't be easy to create pieces that are so delicate, yet impactful and recognizable as your work.


TW: It has taken a while to get to that point where I see a piece and I know exactly what kind of claws they need to have, and I know exactly where a stone should be hugged or wrapped.


It's important for the piece that every curve is defined the way I see it. It's part of why I enjoy creating.


AD: What is it like splitting your time between London and Lagos? What's the fine jewelry marketplace like in Lagos now versus when you were younger?


TW: A lot of women still shop a lot when they travel just because of availability. There are some fine jewelry stores, but they don't have the finer pieces. There is more of that middle-mark item that would cost $1,000. People who want to spend more would often need to travel and buy something on their summer holiday for example.


I have a few clients there, and I'm lucky they appreciate fine jewelry. Like I mentioned before, the tradition is heavy gold jewelry and that's not really what I do so I'm having to educate a lot of women and teach them how to wear jewelry.


The best way I find to do this is indirectly. I go to a meeting and I'm dressed in my jewels and I find that regardless of what I show them in a box or on my website, it's usually what's on me that they want or they love.


I find it's just the way that you wear it. So, I help them collect and curate their collection. It's about me sitting there and finding what would work for their energy basically. I'm able to sit in front of someone and put jewels on them that I know will work for the grocery store, the office or for cocktails that night. I love those pieces that work for every look.


A lot of the women there are loving fine jewelry now but they do need help styling because it's just not our culture. We weren't brought up to appreciate little things. Bulky, yes (laughs).


Before the pandemic, I would go to my office in Lagos once every six weeks. Both of my showrooms, in London and Lagos, are by appointment only, so I'm able to group my appointments around my schedule.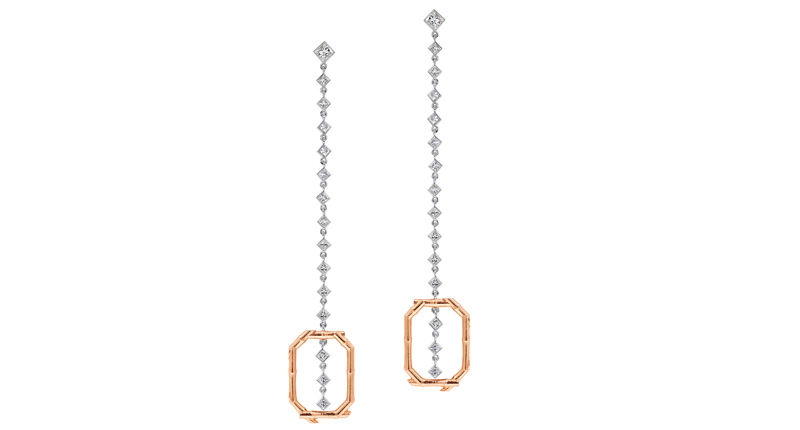 The dramatic princess-cut diamond "Adaeze" drop earrings are that much more interesting with rose gold "Sugarcane" hoop detailing.
AD: I really love your bamboo pieces. It's very unexpected as a band for a diamond solitaire!


TW: They're actually sugarcane!


That was inspired by my time in Lagos.  Growing up, eating right from the sugarcane stalks was our weekend treat.


I decided to make a pendant for myself with the sugarcane [motif], and that's how it grew into the letter pendants and engagement rings.


AD: With ateliers on two different continents you have a unique perspective of luxury. Can you describe the Thelma West woman for me?


TW: The Thelma West woman understands jewelry is an emotional purchase.


She knows what she wants and is confident enough to go for it. She's feminine and powerful—that fine balance. She's a collector and curator of wonderful treasures, especially to mark beautiful moments.


A TW woman is totally up for putting herself first—there's nothing wrong with that.
More on Editors