Gabriel & Co. Launches Men's Collection
The fine jewelry design company has a dedicated men's fine jewelry collection and a men's wedding band array.
New York—As consumer interest in men's jewelry increases, Gabriel & Co. is responding to demand with a dedicated men's collection.
The product assortment encompasses men's wedding bands, bracelets, rings, chains, "amulets" or pendants, cuff links, and money clips.
The brand described the collection as being "a constant and welcome reminder of how precious the bonds of friendship, love and respect are" in a press release.
The New York City-based fine jewelry company noted the current exuberance in men's fashion, seen at the recent
Met Gala
and
Emmy Awards
, and the intricate men's costuming in television shows like "Bridgerton," saying they have been catalysts in forming a collection just for men.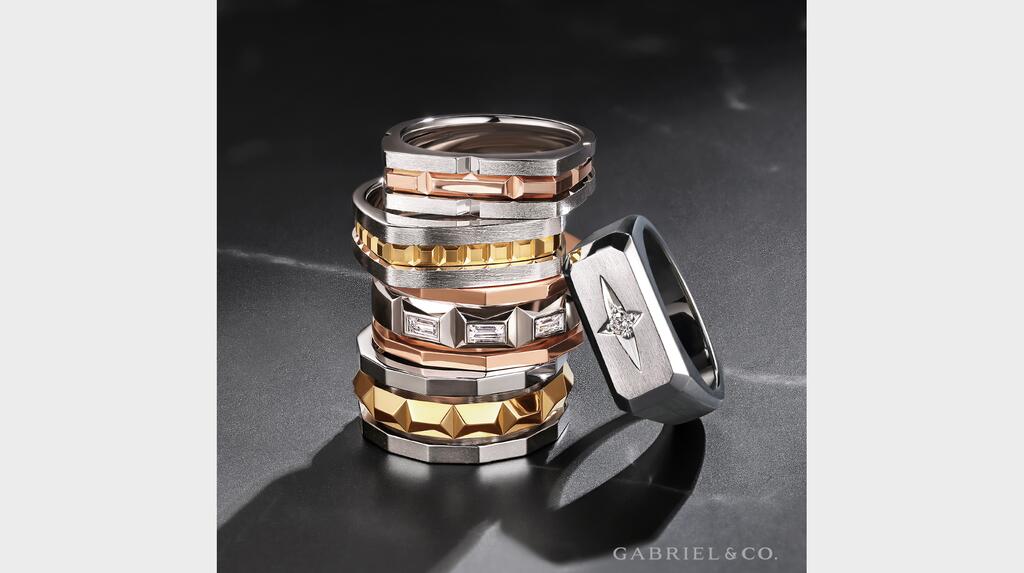 Gabriel & Co.'s men's offerings are more subdued, yet fashion-forward for the everyday man.
Crafted primarily in sterling silver and 14-karat yellow and white gold, the styles feature "faceted metal" rings, heavy chain link bracelets and necklaces, and dog tags.
White and black diamonds, as well as pops of rose gold, are accents throughout.
Pendants are available in religious symbols, as well as anchors and Italian gold horns.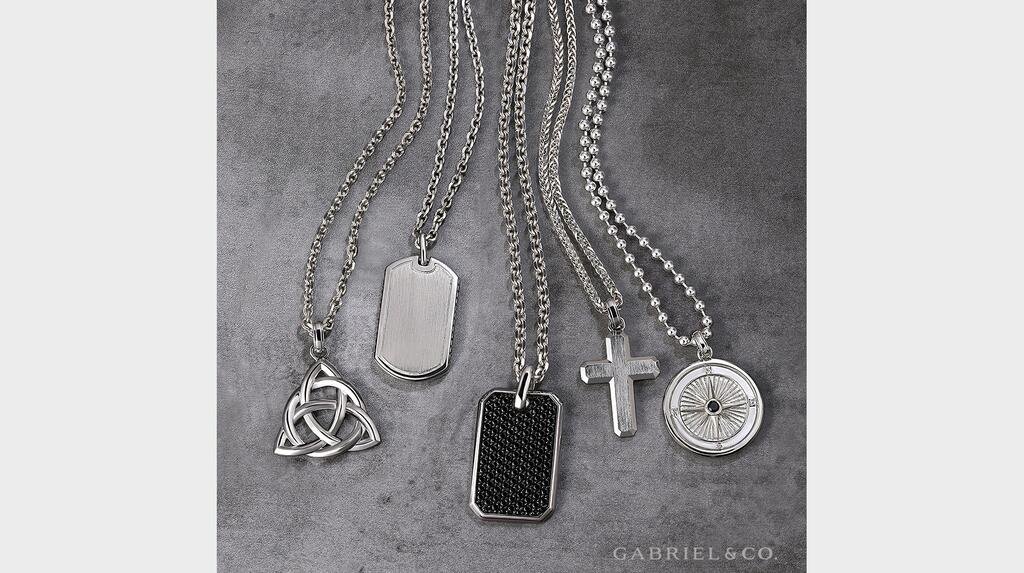 Prices start at $100 retail for a number of sterling silver cross pendants. On the higher end, a 14-karat white and rose gold "faceted" ring with baguette-cut diamonds sells for $4,250, while a 14-karat yellow gold dog tag with black diamond pave sells for $3,995.
The entire selection is available now on the
Gabriel & Co. website
.
There are also dozens of
wedding bands
in different metals—14-karat yellow, rose, and white gold, or combinations of the three—with different finishes and detailing.
Chief Design Officer and Co-Owner Dominick Gabriel stated: "Our men's fine jewelry collection is strong and intensely masculine, not designed to match our women's lines, but to complement them. We wanted to offer a man enough options to allow him the opportunity to establish a jewelry wardrobe that reflected his individuality."
Style Director Hal Rubenstein added, "Men place limits on personal adornment, so it is of vital importance that every ring, amulet, or bracelet we put out there, offers an unmistakable dynamism and a boost to one's confidence."
 Related stories will be right here … 
More on Collections
Collections
Nov 27, 2023