Bringing Sexy Back: The Allure of COUTURE, Italian Style
Take a tour of Italian designers at COUTURE 2021.
Brought To You By the Italian Trade Agency 

In collaboration with Barbara Palumbo

If one could combine the COUTURE show experience with all of the Italian influence that was present and put it on a t-shirt, that article of clothing would simply read, "I'll be ready in a prosecco!" 


The Las Vegas Jewelry shows have officially come and gone, later in the year than usual (three months later), and yet still, despite the summer heat in Sin City, the lower attendance of overseas buyers, exhibitors, and members of the press due to COVID restrictions, and the hesitancy of some to be out and about in large crowds – masked or otherwise – this year's COUTURE show should absolutely be considered a huge success. 


COUTURE 2021 could almost be referred to as the "Field of Dreams" year in comparison to all other COUTURE shows prior. Its mantra could have easily been, "If you build it, they will come." And come, the buyers most certainly did. The show flowed calmly, though not without precautions, and its aisles were frequented by, "the beautiful people" often seen at the show year in and year out. COUTURE was as sexy this year as it usually is, just with a little added coverup and a slightly demurer appearance. This year's COUTURE left a little something to the imagination, and frankly, that can sometimes be what attracts people in the first place. Especially Italians, for Italians love a little mystery mixed in with their beauty. And beauty is largely what the Italians brought with them to the show floors of COUTURE 2021.


First stop on the COUTURE "Italian tour" was a visit to the beautiful (and extremely busy) suite of Marco Bicego (pictured left in top image) where a meeting was set up with the US President of the brand, Moise Cohen. "We're really excited to be back, and to see our clients, and to show them what the brand has been working on during the last year or so." Said Mr. Cohen. "There are some really special pieces in the collection right now and we're anxious to let the world see them." And special pieces, they were. From gloriously vibrant pieces in the Jaipur Color collection to easy-to-wear gold jewels in Marrakesh Onde line, Marco Bicego, once again, pleased the buyers at COUTURE who flocked to their suite, ready to purchase. 


Also showing in the suites at COUTURE was the iconic Roberto Coin, and one of a handful of popular watch brands to come out of Italy: U-Boat (pictured center in top image)


"We're really happy to have U-Boat as part of the BeauGeste Luxury Brand group here in America, and happy to have a space to show off this innovative watch brand at the COUTURE show" said BeauGeste President and Managing Partner, Thierry Chaunu. Located in the heart of Tuscany, U-Boat designer Italo Fontana has often taken a unique approach to the watches he designs. They're edgy and contemporary; wild yet wonderful, and very much representative of the Italian culture, fashion, and overall feel. 


Before moving up to the main ballroom at COUTURE to highlight the phenomenal Italian jewelry exhibiting there, it's worth a mention that there were also many Italian jewelry nominees in the annual COUTURE Design Awards; several of which took high prizes.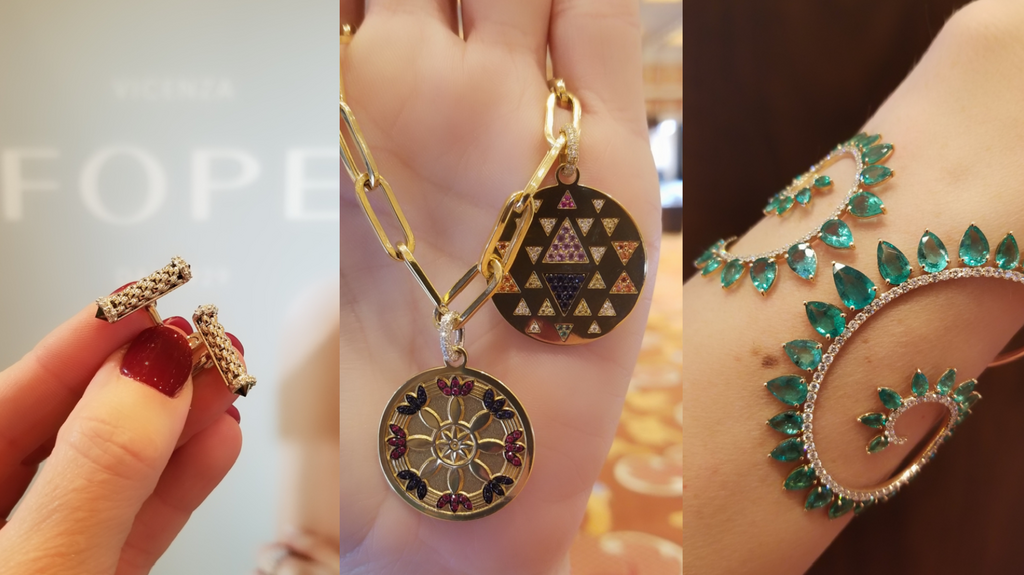 Both Gismondi 1754 and VENDORAFA were finalists in the categories of "Editor's Choice" as well as "People's Choice." Mariani took 1st place in the "Best in Gold" category (picture right in top image), Busatti came in 2nd place in the "Best in Bridal" category, and Fope took 2nd place in the "Best in Men's" category.


Fope – a Vicenza based jewelry brand founded in 1929 – showcased their new men's jewelry line in the center of their booth, which was a refreshing sight to see, as only a handful of other brands (Marco dal Maso out of Venice being one) were diligent in how they displayed their men's jewelry. Fope's win at the COUTURE Design Awards reminded us that fine jewelry for men that goes beyond just cufflinks and watches, is here to stay in a fashion-forward and often affordable way. 


The Crystal Ballroom at the Wynn Hotel in Las Vegas is as vast as it is grand, making it an ideal place to house Italian jewelry designers such as Pippo Perez, Piero Milano, Mattia Cielo, Casato, Bea Bongiasca, and Anna Maccieri Rossi, to name just a handful. There were also brands who showcased their wares at both the COUTURE show as well as the JCK show; brands like Picchiotti, Leo Pizzo, and Crivelli. 


At the Gismondi booth, Massimo Zerbini was busy showing off new collections with his usual enthusiasm to pre-existing clients as well as potentially new buyers. The one-of-a-kind pieces – like the
Genesi Collar
, made with over 23 carats of Colombian emeralds and set with white diamonds in 18K rose gold – caught the eye of a number of passing show attendees. The Essenza di Noi necklace – which was showcased at the COUTURE Design Awards – was as breathtaking as one could image an over $400,000.00 necklace to be. When asked how he felt about being back in Las Vegas, Massimo didn't hesitate. "It's so good to see people again." He stated. "I'm proud of this company for what they've been able to accomplish over this last year and a half. But really, it's just so good to be around people."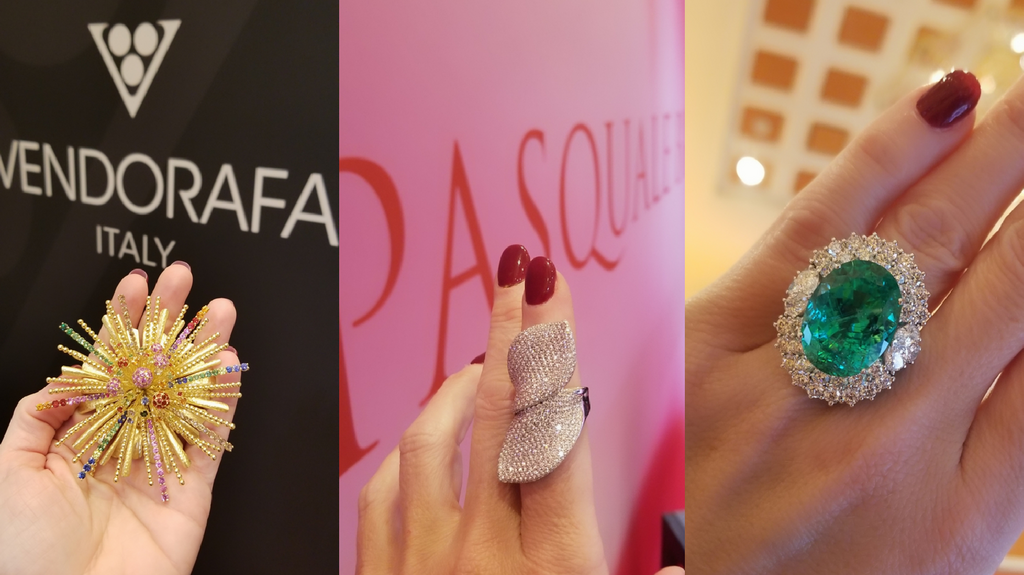 Vendorafa, which had a booth very close to Gismondi, introduced an upcoming series of jewelry that would celebrate seven decades of their, "wearable art." The brand, which was launched in 1951 in the town of Valenza, is reintroducing collections from each of the seven decades it has been in existence. The series will start with the collection known as
Margherite,
produced in the early 1950s before moving on to the
Fireworks
collection which was introduced in the early 1960s. It will continue through the decades of its precious jewels before finally ending with
Bamboo
– a collection influenced by the wood plant – and one which is still being crafted today, in 2021. 
Another Italy-based brand that has become a staple at the COUTURE show is Pasquale Bruni, who had a gloriously decorated booth with pink walls and a bright red carpet. President of Pasquali Bruni USA, Daniele Bruni, was all smiles as he spoke about the brand's new collections and about being at the COUTURE show once again. The brand, which focuses a lot on the femininity of nature and often uses the shapes of leaves and flowers in their collections, is always a popular stop for those walking the aisles at COUTURE. "We're very happy to be here." Stated Mr. Bruni. 


One of the sexiest trends that was still going strong this year and seems as if it will in the future were wide cuff bracelets either in precious metals or accentuated in gemstones. Antonini Milano, as usual, showcased not just interesting cuffs in yellow gold but also stunningly colorful rings and earrings crafted in the highest quality of precious gemstones. Maddalena Allegretti, who was handling sales for the Antonini booth, was anxious to talk about what the brand has been able to create in the past year and how wonderful it was to be able to show those creations off to the attendees of the COUTURE show once again. 


COUTURE has always been a wonderful partner for high-end Italian jewelry brands and even as the world gets back to normal, the show continues to be, because its attendees, buyers, and members of the press realize how important to the world of jewelry Italy remains. The partnership is like no other and is one that will remain solid, strong, and steady no matter what the world throws its way; no matter how many changes have to be made. Because Italians have always found the light. And, because what is considered "sexy" cannot be diminished. 


To learn more about the jewelers mentioned in this article, feel free to visit The Extraordinary Italian Jewelry website,
here
.
More on Events & Awards