50 Years of Tsavorite: A Q&A with Bruce Bridges
As the green gem hits a milestone, Senior Editor Brecken Branstrator talks to the son of the late geologist Campbell Bridges about the latest developments in Kenya.
This year marks 50 years since the late Campbell Bridges discovered tsavorite garnet; he first found gem-quality material in 1967 in Tanzania, followed by a source in Kenya three years later.
The grossular garnet is a popular gem in the industry, benefitting from durability, and a color and clarity that can rival emeralds without any treatments or enhancements.
It's deserving of its golden jubilee year, which kicked off, rightfully so, with an exhibit at the AGTA GemFair in Tucson. There, a number of exceptional specimen from the Smithsonian and
Bridges Tsavorite
, which currently owns a mine in Voi, Kenya, were on display.
(Another gem sourced in East Africa also is celebrating its 50th anniversary this year--tanzanite. A separate story is planned for that this fall.)
In honor of the gemstone's anniversary, I caught up with Bridges' son, Bruce, who currently runs the company, to talk about how the green stone has been doing in the market, developments at the company and current activity in Kenya.
Bruce Bridges lost his father in 2009 when he was murdered after a large group ambushed their vehicle on the way back to camp. Bruce also was in the vehicle, along with four of their security guards. Prior to the attack, Campbell Bridges had received death threats and the family had been filing complaints with authorities for years about illegal mining on their concession.
The interview has been edited for length and clarity.
National Jeweler:
This year celebrates 50 years of tsavorite. What does that mean to you?
Bruce Bridges:
For us, with the history of losing my father, it's very fulfilling to see that, in a sense, we haven't really lost him because his legacy lives on. His legacy will always live on through his discovery. Aside from his family, tsavorite was the love of his life and what he had dedicated his life to, and lost his life over. It's very touching to us as a family to have a 50th anniversary and to see my father's love and dream through his discovery of tsavorite live on.
NJ:
How is tsavorite doing today?
BB:
Tsavorite is doing extremely well. If you look at appreciation of price since my father's tragic murder [in 2009], tsavorite pricing has shot up exponentially. I would liken it very much to when a famous painter dies, their artwork goes up. If you look at the tsavorite market you have very similar situation, where, especially in large gemstones, they've appreciated by 500 to 800 percent in the last seven years after losing my dad. I don't know too many other gemstones that could imagine that sort of appreciation.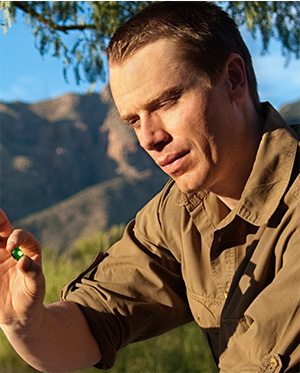 On top of that, you have a big nature theme in the world. And of course,
Greenery
is the Pantone color for 2017, which also fits in perfectly with the golden jubilee for tsavorite. So with everything from the fashion industry to the jewelry industry utilizing green and a big nature push over the last several years, green is a very popular color in jewelry, especially with melee.
NJ:
What are you seeing in terms of production?
BB:
What's happening is that, unfortunately, you have a different situation on the ground as far as tsavorite's concerned. Aside from a shortage of (new) supply, my father was really the glue that held a lot of the colored gemstone industry together in Kenya, and after his death,
there has been a lot of turmoil
for us. You have an upheaval in Taita, southern Kenya, where there's activity from a large organized crime syndicate. We've had continued death threats and a lot of problems since my father's murder.
NJ:
Even after the case involving your father's death came to a close?
BB:
We had a five-and-a-half year, very protracted court case on my father's murder … with about a
50 percent conviction rate
(in late 2014), and that was seen as a huge victory for us in Kenya, because everybody thought that (those who were involved in the murder) would completely get off.
After that, it was quiet for about a year because the ruling sort of shocked them and they took a step back to regroup. But since then we've had encroachments on the land, incursions, just had continued problems here. It's not really subsiding right now, and it's just a way of saying that (our) supply is very spotty. Our mining operations have been consistently interfered with, so we aren't mining at present. We're just in a holding pattern again.
You also have another aspect in Kenya right now: this is a presidential election year. And you always have quite a bit of turmoil in presidential election years. But in the meantime, for the last 18 months or so, the Ministry of Mines hasn't renewed any mining claims, and it's not just for us, it's for everybody in the country. This is a huge issue with miners there.
NJ:
How often do you have to get those renewed?
BB:
It depends on your claim and holdings; it could be anywhere from one year to 20 years. Either way, if you think about it, if anybody has foreign investment, that doesn't give much confidence and security of tenure if no one has existing claim renewals. 
"Aside from his family, tsavorite was the love of his life and what he had dedicated his life to, and lost his life over. It's very touching to us as a family to have a 50th anniversary and to see my father's love and dream through his discovery of tsavorite live on."--Bruce Bridges

NJ: You mentioned that you're not mining right now, but when you reopened the Scorpion mine in January 2015--for the first time after your father's death and trial--you had made a number of changes and upgrades to it. What were those?

BB: We put a lot of investment in there. It was put into hibernation for five and a half years during the court case because we weren't going to mine while (the case) was ongoing. We were waiting to see what happened because here we have the best-documented murder case in Kenyan history and as far as the court case is concerned, if we don't get any justice then basically that's the government telling us: Your time in Kenya is up and you need to leave. If we do get some semblance of justice, then they're basically saying, we're sorry for what happened and please continue. And we did get a semblance of justice.

We reopened in January 2015 and put a lot of infrastructure in there. A lot of it had to do with cleaning everything up and getting everything up and running again. Even though we weren't mining, we kept all of our permanent workers on during that entire time. They didn't take any dip in salary or benefits or anything else. So we didn't have to get new personnel, but we did have to upgrade machinery, get new machinery and really expanded the mine to a stage that we wanted to maximize production.

Then we started to have all of the problems. It's brought everything to a halt again, so unfortunately (new) supply is very short right now. Oddly enough, if you knew my father, he was really into the magic, romance and adventure of gemstones, but he really didn't like to sell, so the only silver lining to it all is the fact that he stockpiled for me for basically 50 years. I have an enormous inventory of tsavorites here to draw upon, but it's not new material unfortunately.

NJ: Are there any numbers you can give me in terms of what Scorpion has been producing or what Bridges Tsavorite has been selling?

BB: (In May) we exported 50 kilograms (about 250,000 carats) of material, so that's quite a bit. But that's old material that we've stockpiled. We haven't been mining since the end of May/June 2016, so you basically have zero new production since then.


NJ:
Bridges Tsavorite cuts most of its gems in house with local cutters. There has been some movement in Kenya to
set up cutting schools
to add value to its stones before they're sold, including a new facility funded by the government. What are your thoughts on the importance of this for the country?
BB:
As far as cutting, we have been the longest fully vertically integrated colored gemstone company in East Africa. My father learned to cut in Idar-Oberstein in the early 1970s. Beginning in 1979, we started training our first local Kenyan cutters to German standard and we've been cutting to German standard consistently since 1980. Anything more than 50 points in weight, we cut in house by local Kenyan cutters. Keeping value in the country of origin is something we always prided ourselves on.
Outsourcing has to do with melee size. Nowadays, you have a lot of people who are wanting smaller and smaller melee, and you'll see 0.8 mm, 0.9 mm, 1 mm, but they're a huge headache to deal with because if you sneeze, you have green dust all over the place. We don't have the capacity for that. I can't cut 50 carats of 0.8 mm, so we'll export the rough and that will go overseas to Asia.
As far as the cutting factories in Kenya, yes, I am fully aware of what's going on. We have tried to bring more cutting to Kenya over the last 45-plus years of doing business there. However, I think the problem that you have right now is that … I'm not seeing the production that would warrant it.
If you think about it, goods aren't going to come up from Tanzania to Kenya to be cut in Kenya. So as far as cutting factories are concerned in Kenya, what are they going to cut, if not that much material is coming out? There's a little bit of the cart before the horse. If Kenya doesn't uphold the rights of its miners, then you're not going to have production, and if you don't have production, you can't cut anything. I think that value-added and cutting in country of origin is a great thing, and could potentially be a great thing, but I think they (the Kenyan government) have to look at the whole picture.
NJ:
What do you see for the future of Bridges and tsavorite?
BB:
I think that, as a company, we're going to continue to see challenges on the ground in Kenya. I don't foresee that subsiding any time soon, sadly, and I think that this upcoming presidential election is really going to dictate the future of Kenya. And I'm not talking about the gem industry; I'm talking about Kenya as a whole.
As far as tsavorite is concerned, I think tsavorite has an extremely bright future ahead. If you look at its intrinsic properties, it is, in my opinion, the king of green gemstones, with a bright color, durable, rare and 100 percent natural. Everybody these days wants something that's 100 percent natural, and I think that's a big boon for us in tsavorite. 
More on Editors
Editors
Jul 05, 2023