Gucci Grows a Garden for Its First High Jewelry Collection
Comprised of more than 200 pieces, Hortus Deliciarum is sold at the brand's new boutique in Place Vendôme.
Paris—Kering-owned fashion brand Gucci just marked a milestone, releasing its first high jewelry collection.

Like many brands before it, the company turned to nature for inspiration, but added an ethereal feel.

Hortus Deliciarum, Latin for "Garden of Delights," consists of more than 200 pieces, most of which are one-of-a-kind.

Inspired by the "poetic and kaleidoscopic universe" of Creative Director Alessandro Michele, it draws on motifs important to him as well as those symbolic of Gucci's iconography and history.

The motifs diverge into a trio of themes, keeping the house's iconography alive through the prism of a mythical garden with vivid gemstones and precious metals.


The first theme pays homage to classic symbols of eternal love.
Think bright gemstones set in arrow designs on brooches with en tremblant movement, crosses that give a nod to the "devotional love of the Renaissance," antique-inspired chandelier earrings, crest of hearts rings, and tiaras.
The second group celebrates the animal kingdom, using lions, tigers and Ouroboros, bedecked with Paraiba tourmaline, yellow and violet sapphires, spessartite garnet, spinel, diamonds and more.
Rounding out the third set of jewels are striking solitaire designs—pear-cut colored gemstones paired with classic settings in colors that evoke a garden in full bloom: imperial topaz, blush topaz, green tourmaline and spessartite garnet.
There are also coiled rings that envelop heart-shaped aquamarines and rubellite.
Hortus Deliciarum ranges in price from $50,000-$900,000 retail.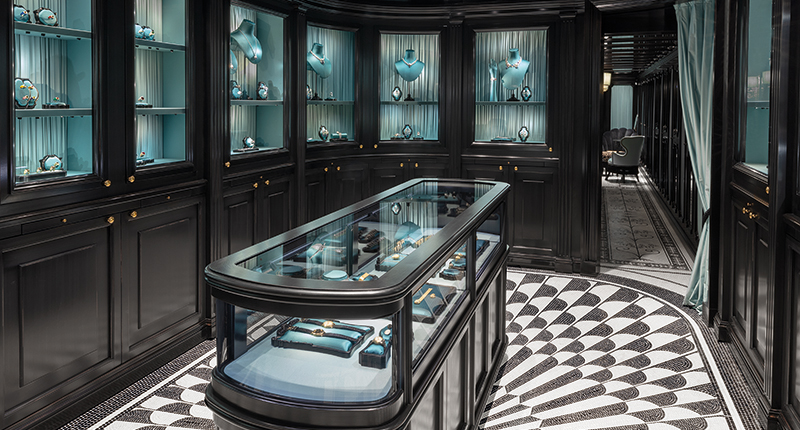 It is displayed and sold at the brand's new boutique, pictured above, dedicated to fine and high jewelry located in Paris' Place Vendôme.

The design of the boutique at 16 Place Vendôme stands in stark contrast to the distinct saturated hues used in the rest of Gucci's boutiques, using an "elegantly muted" aesthetic meant to illuminate the colorful vibrancy of the jewelry.

It has dark wood cabinets lined in blue-green satin, antique mirrors with brass details and a monochromatic marble mosaic floor.
More on Trends