These Rings Were Tracked Through Blockchain
The diamond engagement rings are the product of an initiative called TrustChain, the result of a collaboration between a group of jewelry companies and IBM.
New York—A group of Berkshire Hathaway-owned jewelry companies has partnered with UL, IBM and Asahi Refining to produce what they say is the first cross-industry initiative to produce finished pieces of jewelry traced from mine to market using blockchain.
The initiative, announced last week, is called TrustChain and is being launched with six gold and diamond engagement rings tracked via the IBM Blockchain Platform, which is delivered via the IBM Cloud.
Blockchains are digital ledgers that are decentralized, meaning they exist across multiple computers and servers; they're not housed on any one computer or server, or owned by any one user or organization.
They are used by companies or groups of companies to record the history of transactions in a manner said to be more secure and allow for complete transparency. Transactions are recorded as individual "blocks" that are then "chained" together to show the complete record of transactions.
Each blockchain, whether it's for UPS, Walmart or British Airways, is accessible only by permitted parties, and each block must be validated by the parties before it is added to the digital ledger.
De Beers is
working with Boston Consulting Group
on a blockchain initiative for tracing diamonds from mine to market, while Gübelin Gem Lab has partnered with Everledger to
develop one for colored gemstones
.
The TrustChain initiative, however, is the only one so far for a finished piece of jewelry with multiple components.
Mark Hanna, chief marketing officer for The Richline Group, which is manufacturing and distributing the initial TrustChain rings, said the initiative is important for the industry as it seeks to "raise the collective responsibility and provenance practices to new heights."
The diamonds provided for the proof of concept came from Rio Tinto's mines in Australia and Canada, and the gold from the Coeur Wharf Mine in South Dakota.
The raw gold was processed and refined at Asahi Refining in Salt Lake City, Utah, with LeachGarner transforming the gold bars into 14-karat white and yellow gold casting grain and sending it to Richline's manufacturing facility in India. 
The finished rings were returned to the United States via the Richline distribution center in Florida before being shipped to North Kansas City, Missouri-based Helzberg Diamonds. (Richline, LeachGarner and Helzberg are all owned by Berkshire Hathaway, Warren Buffett's holding company.)
UL provided third-party verification of each transaction along the way.
Hanna said while they started with Canadian diamonds, U.S. gold and manufacturing at Richline's  facility in India for proof of concept, plans call for expansion of TrustChain in the future, incorporating more mines and manufacturers and making the jewelry available to additional retailers. 
"This pilot was done particularly to try to move product globally and … create a worldwide model that we could follow," he said.

 The Berkshire Hathaway companies, along with Asahi and UL, have been working with IBM on the TrustChain project since the beginning of 2017.

The TrustChain rings are set to go on sale at Helzberg in the fall, with the exact number of stores that will carry the rings still being determined. 

Also still up in the air is how it will be marketed, packaged, presented in stores and explained by sales associates to the end consumer.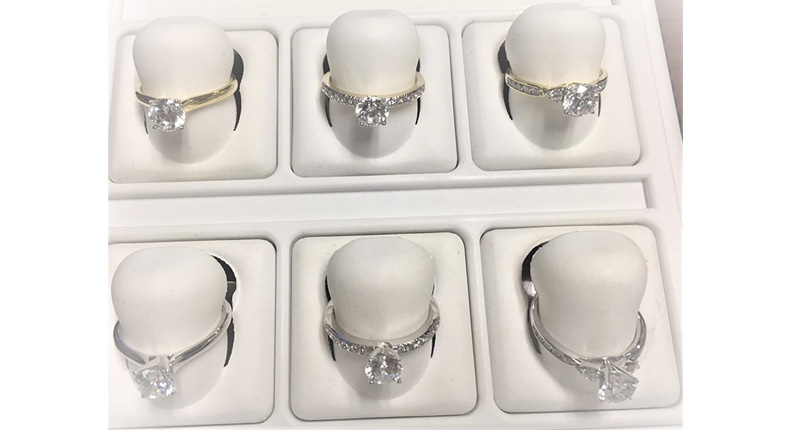 As far as pricing on the rings goes, Helzberg Diamonds Chief Merchandising Officer Julie Yoakum said the retailer "does not anticipate putting a premium on TrustChain product," meaning that the rings tracked through blockchain are not expected to be more expensive for consumers than comparable pieces.
The FAQ section of the
TrustChain website
says when consumers buy a TrustChain ring, they will receive a "permanent digital record" of that ring's journey through the supply chain. If that sounds like a familiar concept, it's because Richline has done a program like TrustChain before.
More than a decade ago, Aurafin (and, later, Richline) worked with Walmart and Pam Mortensen, who then was heading the retailer's fine jewelry department, to launch a line called "Love, Earth."
Each person who bought a piece could go to a now-defunct website, LoveEarthInfo.com, to see on a map where the gold was mined and the piece was manufactured.
It was a pioneering program in jewelry traceability, predating the formation of the Responsible Jewellery Council,
Forevermark
's launch in the United States and most certainly blockchain.
"This is how we (Richline) got to blockchain, from Love, Earth," Hanna said, though he noted the technology used for Love, Earth back in 2006, called string, was much less sophisticated and more manual. 
"We're really going to be bringing back the program with a lot more documentation and a lot more touchpoints. The blockchain is kind of string on steroids."
Hanna said from Richline's perspective, there are additional costs involved in using blockchain in the short term, but the company anticipates those will be offset in the long term by the efficiencies it will create.
He also said he expects that in a year or two, the TrustChain initiative and the other blockchain pilots currently underway in the industry, from De Beers/Boston Consulting to Gübelin/Everledger, will be able to communicate and work together.
More on Majors
Majors
Oct 21, 2021