50 Jewelers/50 States: Maine
Here's how Day's Jewelers brought a young touch to an old business.
Waterville, Maine--In
50 Jewelers/50 States
, National Jeweler interviews one retailer in each of the 50 U.S. states to find out how they are meeting the challenges of the changing retail environment.
In Maine, Jeff Corey grew up in the jewelry business, working at his parents' store before opening his own with wife Kathy.
In 1988, the Coreys were approached by the Day's brothers of
Day's Jewelers
, who were at retirement age, didn't have a successor and were unable to find a buyer for their jewelry retail business that dated back to 1914.
While the Days had sold off 21 of their 22 stores piecemeal, they asked the Coreys if they would be interested in buying the last location in order to keep the company alive.
When the Coreys approached a bank for a loan, they were laughed at.
"The fifth bank we approached was foolish enough to lend us a few bucks and we set off to rebuild Day's Jewelers," explained Jeff Corey.
"In doing so, our mission was to maintain the solid values that allowed Day's to survive and thrive for 75 years at the time, and meld them with technology and new ideas. Very slowly we grew the company. Every three or four years we've opened up a new store."
Today, Jeff Corey's title at Day's is vice president of marketing and e-commerce, while Kathy serves as the vice president of merchandising and human resources.
They've grown Day's to a total of seven locations, six in Maine and one in New Hampshire.
National Jeweler spoke with the Coreys about instilling youthful business practices into an old business, and what it means to them to be ethical jewelers.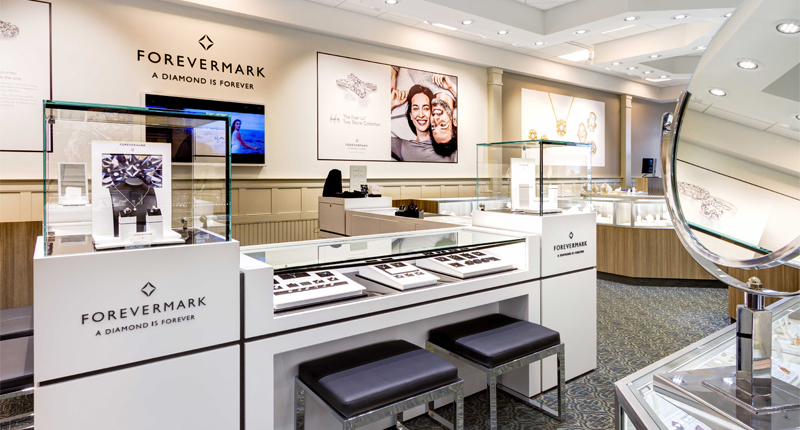 National Jeweler:
What's the biggest challenge your store is facing?
Jeff Corey:
Definitely traffic. 
A very short time ago, three to five years ago, the main objective of our marketing department was to convince people that they ought to buy jewelry from Day's Jewelers. Today our  mission is to convince people they ought to buy jewelry to celebrate special occasions, rather than vacations. 
Kathy Corey:
Or maybe in addition to (vacations). It's been relevant to the consumer in terms of the wonderful things jewelry does to touch your soul. It's been a bit of a commoditization that's occurred in our industry so we've got to sort of retouch the customer in that respect to say, "Jewelry is a really special gift to give and receive," and to remain relevant to the public, (sharing) the beautiful things jewelry does.
JC:
We're very much a family-focused business, and I mean the whole concept of family. Families celebrate special moments in the course of life and we believe fine jewelry should represent those special moments and be carried down through the years, passed on from generation to generation.
That's the beauty of fine jewelry, quality jewelry that lasts. It stands the test of time and that's our company mission, to build a company that will stand the test of time.
NJ:
How do you go about making fine jewelry relevant?
KC:
I think the first thing you have to do is understand what the stigmas are out there, and why jewelry is less popular than it used to be.
First of all, there's a lot of competition for the dollar out there, especially with young people preferring a more experiential way to spend their money as opposed to collecting things like our generation, the baby boomers, perhaps did. Owning things and having possessions was a core part of what really drove us.
We believe that we have to make jewelry buying a fun experience, so how do you do that? You really can't advertise it per se, but social media has been a really important part of our approach to share some experiential things.
One of the things we do in our stores is we're pet-friendly, and you would not believe how much positive response we get when we post pictures on Facebook showing this. For every dog that comes in, we give them a tennis ball with the name Day's Jewelers inscribed on it. So we get these pictures of the dogs with the balls in their mouth and it garners so much response from our Facebook followers. It's shared outside of our realm of followers. It almost goes viral at times.
Jewelry stores don't have to be a stuffy place to go to, they don't have to be intimidating, they can be a fun experience. The most important piece of this is not just what you do but who you are. The experience really matters, the face-to-face experience, when our guests come into our store and how they're treated by our employees.
Each and every one of our employees understand that, the sort of obstacles we need to overcome. If it's not fun, it probably won't be memorable, so that's the type of thing we do to overcome the obstacles that do exist.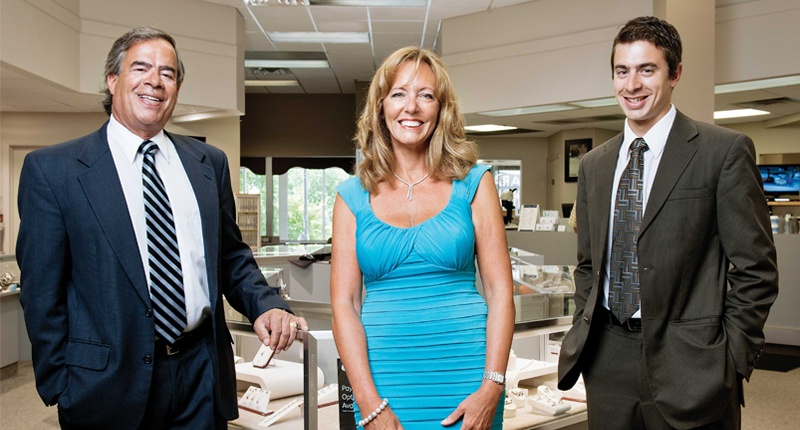 JC:
To add to that, in that vein of being a family jeweler, we have children's play areas in all of our stores and we have lounge areas, refreshment bars where we serve coffee, tea, sodas, beer, wine. We just want our guests to be comfortable.
When a family comes in, the kids go into the play area, the dad sits in the lounge area and watches the game or reads a book or magazine, and mom shops. So it becomes a fun, family experience until it's time to go and the kid doesn't want to leave the play area. You wouldn't believe how many fights happen (laughs).
KC:
It's also a very no-pressure (environment). No pushy salespeople, no judging someone by what they're wearing; none of that. We try to make sure none of those things really matter when people come in and we just try to have fun.
NJ:
What's the top-selling brand and category at your store?
KC:
The top-selling category unquestionably is bridal, which includes engagement rings, wedding bands and loose diamonds as well. That's the core of our business. Our best-selling brand within that category is Forevermark. We became Forevermark retailers right from the inception when De Beers launched the brand, I think five or six years ago.
It's a product we really get behind as a company because its core values really match ours. The diamonds are ethically and environmentally sourced. We believe in that very deeply. They are also very beautiful and provide a great value to our consumers.
JC:
The core of our company is social, ethical and environmental responsibility. One of the proudest moments in our company's history is when we became certified with the Responsible Jewelry Council. We are one of five independent jewelers in the United States that have been certified by RJC.
NJ:
Who is your regional customer?
JC:
As I said earlier, we are a family jeweler and the whole state of Maine, I think, has 1.3 million people. Being the family jeweler we have to appeal to the family and, as we all know, the family demographic is made up of the 15 year old, and grandma and grandpa, and mom and dad, so it has no boundaries when it comes to age, income or gender.
We built our business with products for and attention to all demographics. We want the 16-year-old girl to come into our store to have fun. We want her to learn about jewelry and gemstones and gain an appreciation for the beauty and mystique behind gemstones and jewelry.
KC:
As well as the couple celebrating their 50-year anniversary. And it's everything in between, it really is.
JC:
There are four values that we inherited from the original founders of Day's and they're the pillars of who our company is.
We promise to provide the best value to our customers and we promise to provide the opportunity for everyone to own fine jewelry. We promise to always do business in an environment of trust and transparency. Lastly, we believe the true value of jewelry is not in its cost, but in what it means to the person who wears it.
KC:
We have an acronym for this, VOTS--Value, Opportunity, Trust and Sentiment. They are our guiding principles by which we make decisions within our organization.
JC:
If you asked any one of our 150 or so employees, "What differentiates Day's Jewelers from everyone else out there?" they would say, "Well, it's our VOTS, of course."
NJ:
What trends are you seeing in engagement rings?
KC:
We are seeing a trend toward more simple settings. Halo settings are still very strong, diamond- intensive pieces are still very strong but there's a trend toward more minimalistic designs. Perhaps a solitaire diamond with a thinner shank with diamonds on either side, rather than lots and lots of diamonds. So we're starting to see that more minimalistic look come back.
Another trend that's very strong is anything that has a vintage appeal; just little details on the side profile of the ring or things of that nature. That's also a very strong trend that we're seeing.
We're also seeing a little bit more of a preference for yellow gold, though white is still the stronger of the two looks, whether it be platinum or 18-karat or 14-karat white gold.
Oval diamonds are strong right now. By far and large, rounds are still the favorite choice and I think that we sell 85 to 90 percent round diamonds. Cushions are probably second and third is perhaps oval and princess cuts are still pretty good for us too.
NJ:
Which social media accounts are important to your business?
JC:
They're all important. We're very much involved of course with Facebook, but also Instagram, Pinterest, Twitter and Polyvore. Polyvore is a very interesting platform that we've recently committed to.
KC:
I will tell you, in terms of effectiveness and in drawing customers in, Facebook seems to be in command. When we hold events we're discovering, especially in the last year or so, that what brings most people to these events, Facebook seems to be the first choice. People say, oh yeah, I noticed it on Facebook. It's a pretty important part of our social.
JC:
With our e-commerce business, when a customer does make a purchase, we ask the question, "How did you hear about us?" because our number one e-commerce state is California and we're very curious to know how people learned about Day's Jewelers. We get a wide variety of responses and it's primarily through Google searches but also with our social networks.
NJ:
When did you introduce e-commerce?
JC:
It's been 15 or 20 years.
KC:
We were pretty early.
JC:
E-commerce is a whole different business. We invest a huge amount of resources into our e-commerce business and the primary objective of our website is to bring traffic into our stores.
However, what we found is that before people will walk into a jewelry store they want to do their research, so we've invested a great amount of time and money into our photography, into our product descriptions, into videos, into the functionality, into the search--the ability to find what they're looking for quickly and it's tough when you have over 10,000 unique items in your inventory.
NJ:
What's the best piece of advice you'd offer to other independent jewelry stores?
JC:
I serve on the board of directors for Jewelers Board of Trade and one of the things we're noticing is a decline in the number of jewelry stores and jewelry companies in our country. I think a lot of the traditional jewelry stores, the mom-and-pop single-store operations, are closing down and it's kind of sad.
Part of the reason is that the owners of those companies often haven't planned correctly for transition. One of the things Kathy and I have been very attentive to over the years is involving younger people into our businesses. Today I think that three or four of our seven store managers are under 35 years old and they're running multi-million dollar stores.
These are bright, young people who are passionate about the businesses, who have great leadership skills ... (and) we've given them the authority to make decisions.
KC:
We've empowered them.
JC:
It's hard to do when you run a business for a long time and you know your business really well. When a young person comes in with a new idea it's very easy to say, "I've already tried that. It's not going to work, especially if you think it's going to be a mistake and you have to pay for it. We've kind of said, "Go for it, try it, see what happens," and if it fails then we say, "Hey, you know, you've tried it."
That's part of growing up, and it's the education process that my mom and dad offered to us when we were young.
I'd also say that becoming certified as a member of the Responsible Jewelry Council is one of the best things we've done as a company because it gave us the opportunity to evaluate the way we do business, the way we treat our employees, the way we train, the way we recruit and hire, the safety, education, the way we handle our technology and company security; it forced us to evaluate our organization.
It took us about two years to prepare ourselves for the third-party audit and we've become a better company as a result, and our people are proud of it.
I think that is key; employee engagement to us is really everything because these are the people who come face to face with the customer every day. They have to believe in what they're selling and in what they're doing, and it's our responsibility as leaders of the company to run our business the right way, a way that our employees can believe in and rally around.
NJ:
What's a fun fact about you we can share with our readers?
JC:
Well we've worked in the business together, Kathy and I, for gosh almost 40 years now and we still like each other.
NJ:
We'll file that under incredible facts.
KC:
It is an incredible fact. One thing I hear a lot from married couples is, "How do you work together and get along? (laughs)
It can be challenging for couples but what we've done is (establish that) Jeff has his areas of expertise and so do I. We have a mutual trust for each other and a respect for each other's talents and a common goal and as long as we stay focused on those three things, everything is beautiful. 
More on Surveys