Sotheby's 'Vienna 1900' a White-Glove Sale
The Geneva auction of royal jewels garnered nearly double what the auction house expected.
Geneva—A total of more than 200 lots all found buyers at Sotheby's Geneva auction of a single-owner private collection of Viennese imperial and royal jewelry, which was offered in two dedicated auctions on Nov. 6 and 7.
"Vienna 1900: An Imperial and Royal Collection" garnered more than 9.6 million CHF ($10.7 million), nearly double its highest pre-sale estimate of 5 million Swiss Francs ($5.6 million).
Nearly every lot shone with more than 82 percent selling above their high estimate.
It is the largest collection of imperial and royal jewelry ever put up for auction, according to Sotheby's.
The leading sale of the auction was a pearl and diamond devant-de-corsage, which sold for $1.2 million—well above its pre-sale estimate of $302,000-$504,000, per current exchange rates.
The piece, pictured at top of article, is designed as a garland supporting "exceptional" natural pearls, which "reigned supreme" in the 19th century, Sotheby's said.
It was presented by Philipp, Duke of Württemberg (1838-1917) to Archduchess Marie Therese of Austria-Teschen (1845-1927) as a wedding gift in 1865.
"This is without a doubt the most significant 19th-century jewel to come to auction in recent years," Sotheby's said.
The groom's father, Alexander, Duke of Württemberg (1804-1881), also gifted the Archduchess a natural pearl and diamond brooch in 1865 on occasion of the marriage.
It sold for $959,000, also earning above its same pre-sale estimate of $302,000-$504,000.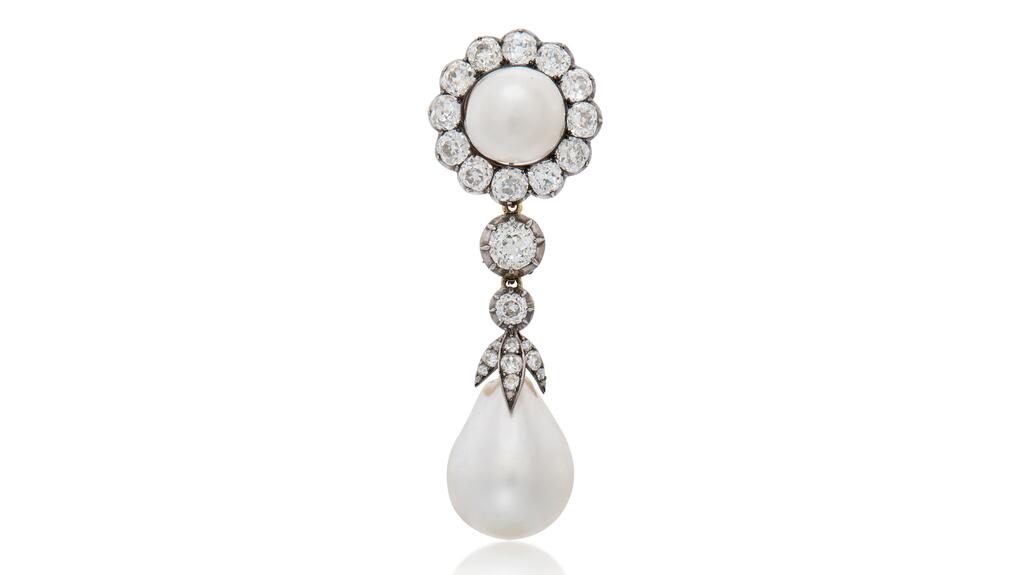 Both pieces were created by Viennese jeweler Emil Biedermann.
After the revolution of 1848, a young Emperor Franz Joseph jointly named Biedermann and another prominent Viennese jeweler, Köchert, crown jewelers. Biedermann held the position for the following 20 years.
Köchert is still in business today.
The auction featured several other lots by the jewelers, with Sotheby's noting the sale was an "unsuspected celebration" of the two.
Over two sessions, a wide mix of hundreds of bidders globally "fought over" every lot in the room, said Sotheby's, online, and on the phone – many garnering more than five active bidders' interest.
Especially strong bidding came from Europe and North America, Sotheby's said, from a "rich blend" of private individuals, dealers, and some institutions.
Another highlight, an "exceptional" garnet parure set from the mid-19th century saw a flurry of bids and, in the end, sold for nearly $99,000, over 25 times its high estimate of about $3,900.
The set comprises a tiara, a necklace and three studs.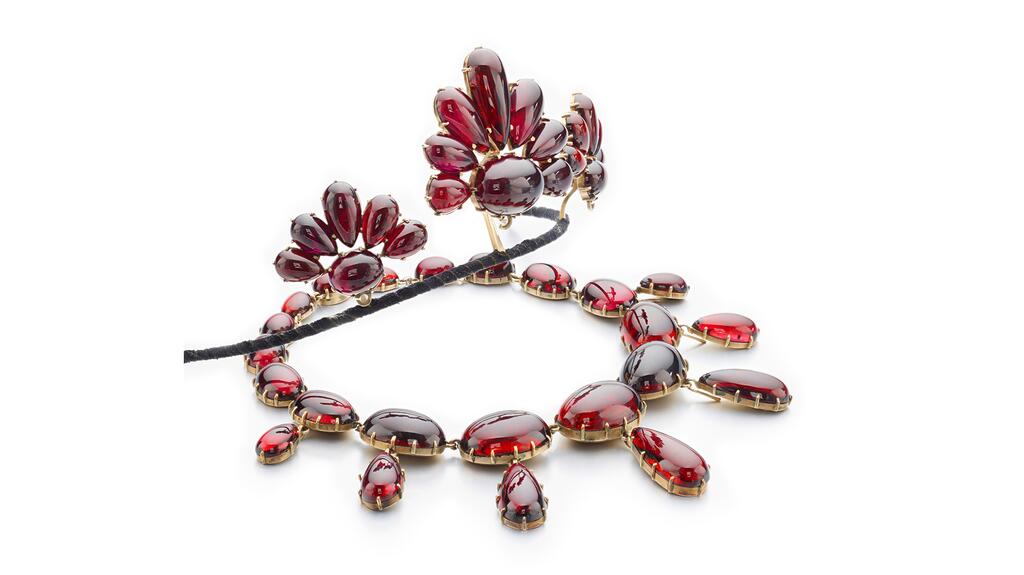 The royal and imperial jewels were rediscovered earlier this year after having been tucked away in a bank vault in Germany since 1946.
Some of the jewels in the offering were saved from the Red Army in 1946, tied to the
heroic story of Princess Eudoxia of Bulgaria
, who escaped the Russian advance at the end of the Second World War.
While held prisoner in her home, Eudoxia's secretly dug up the family jewels she had previously buried in the garden, hiding them in a wheelbarrow under books. Later, she asked to take the books to her sister-in-law Giovanna of Savoy, wife of Tsar Boris III of Bulgaria. A few days later, the two were given permission to leave the country with the children.
Carrying the bags loaded with the jewels, the family traveled across Europe to Germany.
The contents of those bags tell the story of her family, and 19th and 20th century European history through the great houses of Habsburg, Bourbon-Parme, Bourbon-des-Deux-Siciles, and Saxe-Coburg-Gotha, and those jewels appeared in "Vienna 1900: An Imperial and Royal Collection."
The
offering of jewels
also included pieces from the collections of Archduchess Margarete Sophie of Austria (1870-1902), Archduchess Maria Immaculata of Austria-Tuscany (1878-1968) and Archduchess Marie Therese of Austria-Teschen (1845-1927) as well as of Tsar Ferdinand I of Bulgaria (1861-1948) and Princess Marie Louise of Bourbon-Parma (1870-1899). 
The most awe-inspiring splendor and glory in Western court life were in Vienna at that time, Sotheby's said, and this collection is its "most faithful witness" and "most dazzling representative."
"This exceptional group has been deeply personal for me, stirring my passions for jewels with the greatest provenance and likewise inspiring bidders around the world to compete to own a piece of this treasured past," said Andres White Correal, Sotheby's deputy chairman and jewelry senior director, who called the sale "perhaps the greatest and proudest moment of my career so far." 
 Related stories will be right here … 
The offering, the auction house said, also provided insight into the styles of the Houses of Habsburg, Bourbon Parma, Bourbon-Two Sicillies, and Saxe-Coburg-Gotha, as they were setting fashion trends at the Court that radiated across Europe from early 19th century and for the next century.
According to Sotheby's, Emperor Franz Joseph (1830-1916) and his consort Empress Elisabeth (1837-1898), known as "Sissi," largely dictated court fashion of the day.   
An 1865 portrait of Sissi by Franz Xaver Winterhalter portrayed star-shaped diamond jewelry adorning her elaborate updo, which fueled a taste for diamond stars for the rest of the century.
A suite of diamond brooches or pendants, circa 1900, by Wilhelm Haarstrick, replicates the star motif made famous by the consort and initially created by Köchert, who Haarstrick once worked for.
It sold for $183,000, above its estimate of approximately $10,000 to $14,550.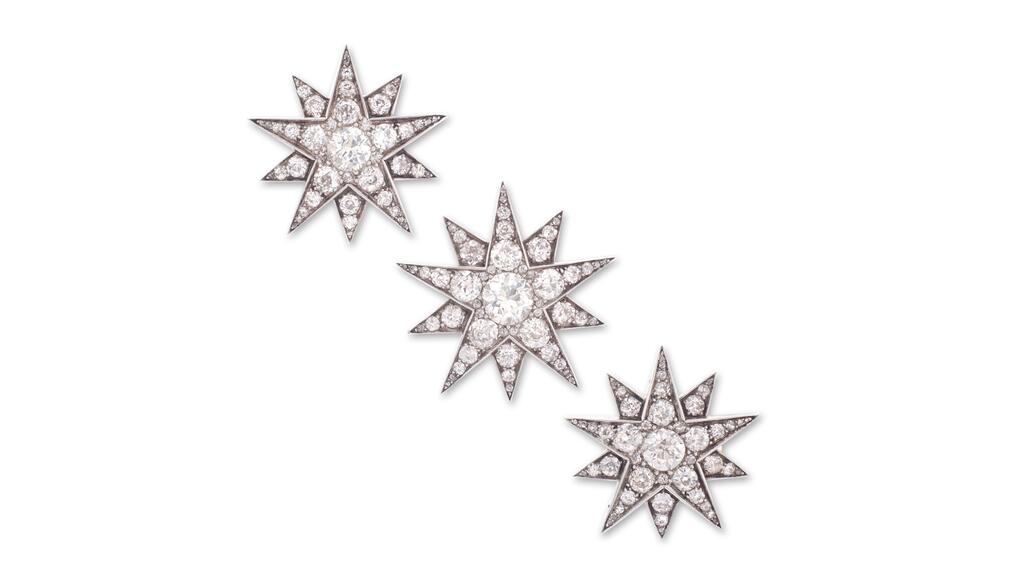 The suite is from the collection of Archduchess Maria Immaculata of Austria-Tuscany, Duchess of Württemberg (1878-1968).
It was a wedding gift from her uncle and aunt, Grand Duke Ferdinand IV of Tuscany (1835-1908) and Princess Alice of Bourbon-Parma, Grand Duchess of Tuscany (1849-1935), on occasion of her 1900 marriage to Robert, Duke of Württemberg (1873-1947).
Another star-shaped diamond brooch, created by Köchert circa 1887, also outdid its estimate, selling for $296,000, multiples above its estimate of $18,000-$24,000.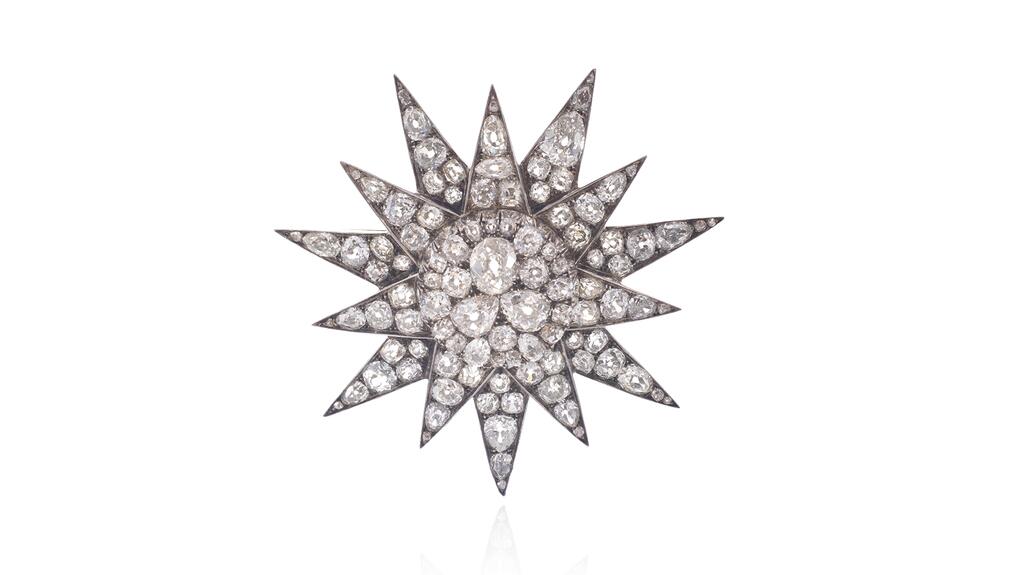 The brooch is from the collection of Wilhelm, Duke of Württemberg (1828-1896).
The diamonds in the piece were originally set in the upper part of the eagle of the Order of St. Andrew, the most elevated order of knighthood within the Russian Empire, Sotheby's said. 
Eugen, Duke of Württemberg (1788-1857) was awarded this distinction for serving in the Russian army as General of the Infantry at the time of the Napoleonic Wars.
He left his badge of the Order of St. Andrew to his eldest son Wilhelm, Duke of Württemberg (1828-1896) as a testamentary gift. 
Wilhelm had the current star-shaped brooch created by Köchert in 1887 re-using diamonds originally set in the order.
The unmarried and childless Wilhem wished his sister Alexandrine Mathilde, Duchess of Württemberg (1829-1913) to have the brooch. She refused, believing he may still have descendants, but ultimately noted in 1891 that she accepted it temporarily. In his final days, he repeated his wishes that she consider it a gift rather than a loan.
In her last will and testament dated 1909, the Duchess bequeathed this brooch to Queen Charlotte of Württemberg (1864-1946), who in turn gifted the brooch to Princess Nadezhda of Bulgaria, Duchess of Württemberg (1899-1958).

Starting early in September, the collection went on a world tour, stopping in New York; Cologne, Germany; Paris; Hong Kong; Bangkok; Singapore; Dubai, United Arab Emirates; Taipei, Taiwan, and London, where its most significant lots were showcased in events, culminating in a celebratory dinner in Paris with guests from Europe's aristocratic society, some directly linked to the collection, and foremost antique jewelry collectors. 

Sotheby's worked in collaboration with the Philipp Württemberg Art Advisory to bring this collection to auction. Founded in 2019, the company specializes in advising national and international clients in the acquisition and sale of visual and applied art.

"I am delighted with the sale results generated by the Vienna 1900 collection which I've been privileged to be entrusted to sell by the consignors, through my company," said Art Advisor Philipp Württemberg.

"Collaborating with Sotheby's on bringing this sale to such a level of success has been a joy and I cannot praise and thank highly enough the commitment and passion of the whole Sotheby's team involved in making it happen." 
More on Auctions