Tupac's Crown Ring Sells for Over $1M at Auction
It more than tripled its $300,000 high-end estimate at Sotheby's hip-hop sale.
New York—A ring commissioned and designed by late rapper Tupac Shakur sold for just over $1 million at Sotheby's online-only hip-hop auction on Tuesday.
According to the auctioneer, it's the most expensive jewelry artifact related to hip-hop ever sold, more than tripling its
$300,000 high-end estimate
.  
Worn at the MTV Video Music Awards in 1996 during his final public appearance, the ring marked an important new chapter in Tupac's life.  
Following a period of incarceration in 1995, Tupac signed a deal with Death Row Records, founded by executives and artists including Dr. Dre, and representing rappers including Snoop Dogg. At the end of that year, Tupac contacted his godmother, advisor, money manager, and caretaker Yaasmyn Fula to outline his plans for the future. 
 Related stories will be right here … 
During the first half of 1996, Tupac launched a media group and community organization called Euphanasia, which Fula headed, and focused on his music, screenwriting projects, and youth outreach programs. 
Working with Fula as his go-between with various New York jewelers, Tupac designed a ring to commemorate all he was working toward. Influenced by Niccolo Machiavelli's "The Prince," which he read in prison, as well as European Medieval crowns, Tupac's crown ring was a symbol of his own "self-coronation," according to Fula. 
Crafted in gold with diamonds and rubies, an inscription on the outside of the band reads, "Pac & Dada 1996," to mark the rapper's engagement to Kidada Jones.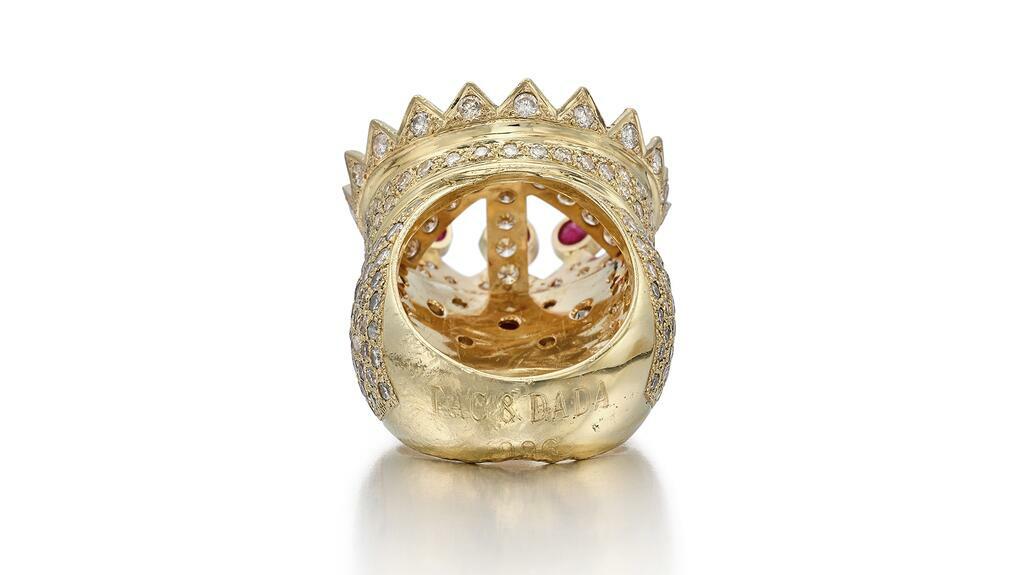 Tupac wore the ring on his left ring finger at the VMAs on Sept. 4, 1996. He was shot in a drive-by shooting on Sept. 7 in Las Vegas and eventually succumbed to his injuries on Sept. 13. He was 25 years old. 
Godmother Fula offered Tupac's ring at the Tuesday Sotheby's sale.  
In all, the sale featuring original art, historic studio equipment, sneakers, jackets, and archival flyers and posters garnered $1.8 million. 
The sale was Sotheby's third dedicated to hip-hop and marks what is being referred to as the 50th anniversary of the music genre this year.  
More on Auctions
Auctions
Sep 27, 2023