Five Men Arrested in Connection to NYC Jewelry Store Robberies
The alleged robbers stole $2 million worth of jewelry, including a diamond necklace weighing 76 carats.
New York—Five men have been arrested and charged with the armed robberies of two jewelry stores in Manhattan, in which they got away with around $2 million worth of jewels.
The U.S. Attorney's Office in the Southern District of New York named the defendants in a press release Tuesday.
The men are Vincent Cerchio, 69, of Howard Beach, New York; Frank DiPietro, 65, of Red Bank, New Jersey; Vincent Spagnuolo, 65, of Monmouth Beach, New Jersey; Michael Sellick, 67, of Franklin Square, New York; and Samuel Sorce of Florham Park, New Jersey.
Defendants Cerchio, DiPietro, Spagnuolo, and Sellick are charged with the Jan. 3 robbery of a store on Madison Avenue, while Sorce is the sole defendant charged in connection with the May 20 robbery of a jewelry store on Elizabeth Street.
The store in Midtown was Bayco Jewels on Madison Avenue near East 61st Street, according to an NBC
report
, while the downtown store was not named.
On the morning of Jan. 3, the four men charged with the Midtown robbery traveled to the store via multiple vehicles.
At around 10:20 a.m., when a store employee was moving jewels into the front window display, DiPietro and Sellick entered the store dressed as construction workers, said authorities.
The store only lets customers in by appointment, as per court documents, but would routinely remove jewelry from the safe around that time to bring to the window display.
DiPietro allegedly pointed a gun at the employee and said, "Give it to me," while Sellick told the employee to, "turn around and get in the closet."
The two men allegedly stole three pieces of diamond jewelry, including a 73-carat diamond necklace, a 6-carat ring, and a pair of earrings weighing 17 carats, before all four defendants fled.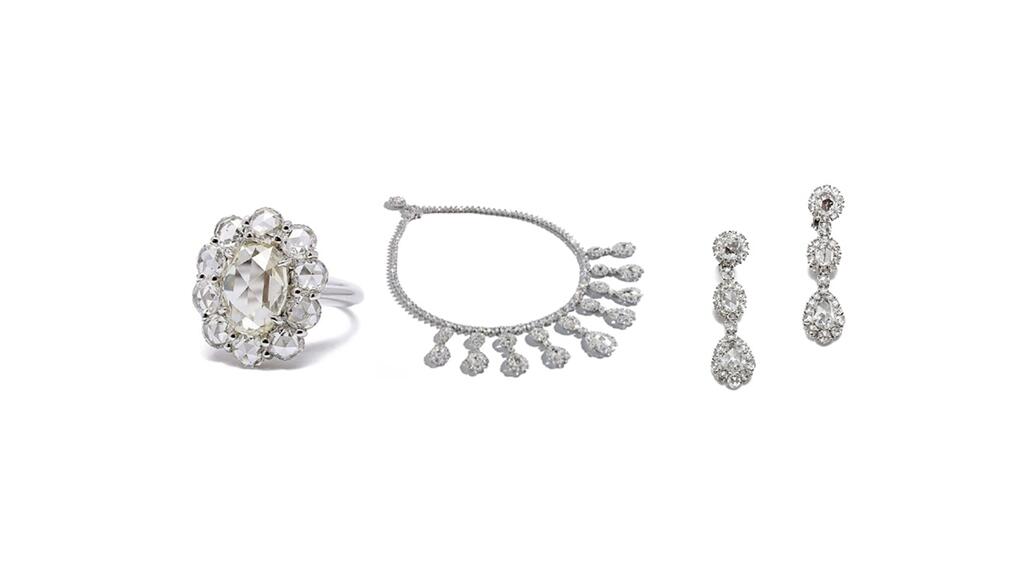 Surveillance footage shows all four men by the store the day before, likely "casing" the place, said authorities.
The second robbery took place on the morning of May 20. Similar to the first robbery, employees had just opened for business when DiPietro and Sellick allegedly entered wearing masks and construction vests.
Sellick allegedly pointed a gun at the store's employees and instructed them to get down on the ground while DiPietro took jewelry.
The two men fled and got into a getaway car driven by Sorce, also dressed as a construction worker, said authorities, then switched to a second getaway car driven by Spagnuolo.
Sorce is the only suspect charged in the May 20 crime. 
 Related stories will be right here … 
The defendants are each charged with one count of Hobbs Act robbery and one count of conspiracy to commit Hobbs Act robbery, each of which carry a maximum sentence of 20 years in prison.
They are also charged with one count of brandishing a firearm during and in connection with a crime of violence, which carries a mandatory minimum sentence of seven years in prison, which would be in addition to any sentence imposed for Hobbs Act robbery.
The men are alleged to be linked to the Lucchese and Gambino crime families, as per the NBC report. DiPietro has previously served 19 years in federal prison in connection with the murder of a witness who testified against the Lucchese family, detailed in a
report
from a local Staten Island publication.
The defendants were taken to Manhattan federal court Tuesday and held without bail, said NBC.
FBI Assistant Director in Charge Michael J. Driscoll said, "The defendants allegedly brazenly robbed Manhattan jewelry stores of approximately $2 million worth of merchandise at gunpoint.  Violent robberies, especially those with firearms, will not be tolerated by the FBI and our partners in law enforcement. 
"The arrests today should serve as a warning to anyone willing to engage in armed robberies – you will face the consequences."
NYPD Commissioner Keechant L. Sewell said, "The swift arrests in this case reaffirm the NYPD's steadfast commitment, with its law enforcement partners, to hold everyone accused of violent acts accountable. The charges these defendants face reflect a callous disregard for life, and they will now be held accountable."
The case is being handled by the Office's General Crimes Unit with Assistant U.S. Attorneys Alexandra S. Messiter and Justin Horton in charge of the prosecution.
More on Crime