Hari Krishna Exports Hosts Gala Amid UN Water Conference
The CEOs of Signet, Helzberg, and GIA spoke on a water conservation panel, and had lakes named in their companies' honor.
New York—The Dholakia Foundation, the charitable arm of Indian diamond giant Hari Krishna Exports, hosted a gala on March 19 in New York as part of the United Nations 2023 Water Conference.
The nonprofit, founded by Savji Dholakia, chairman and founder of
Hari Krishna
, celebrated the creation of 111 lakes in drought-stricken areas of India as well as the planting of 2.5 million trees.
The event drew high-profile industry leaders, including Signet Jewelers CEO Virginia C. Drosos, Helzberg Diamonds CEO Brad Hampton, and GIA CEO Susan Jacques.
Everledger CEO Leanne Kemp hosted a panel on sustainability and water conservation, which featured Drosos, Hampton, and Jacques, as well as Paul Rowley, vice president of sales at De Beers Group, and Ghanshyam Dholakia, managing director of Hari Krishna.
"I look at sustainability as a form of stewardship in that we are responsible for taking care of all the resources we're privileged to have at our disposal," said Hampton.
Drosos added, "Being at the end of our industry's supply chain and dealing with customers every day, I can say it's very important to them."
The consumer is continually evolving, said Jacques, and understanding what shoppers want is critical.
"The younger generation has an expectation of this industry to responsibly source products and have traceability, to be able to say where products are coming from."
Rowley noted his daughter is quick to tell him what his carbon footprint is, and that his environmental impact is something he keeps in mind when making personal as well as professional choices.
As for the costs associated with sustainability, the panel was unanimous in saying it's a necessary investment.
"As a former retailer, I would say if you don't do it, you won't have a business," said Jacques. "There are costs that will be incurred, but the increased value you're providing to the consumer will only come back to you tenfold."
"We make investments in things we believe are of value to our consumers and this is certainly one that is. We all bear that responsibility and it's in partnership that we can deliver it in the most cost-effective way," said Drosos.
She noted the importance of driving down the costs consumers don't see or care about in order to be able to invest in the ones they do.
"I don't think sustainability should be a competitive advantage. I think it should be an industry mandate."
Ghanshyam Dholakia added that the principles of honesty and hard work inspire the foundation's sustainability efforts.
A special dedication ceremony followed the presentation, introducing lakes named after several companies in attendance, including De Beers Lake, Signet Lake, Helzberg Lake, Watches & Jewellery Initiative 2030 Lake, and the UN 2023 Water Conference Lake.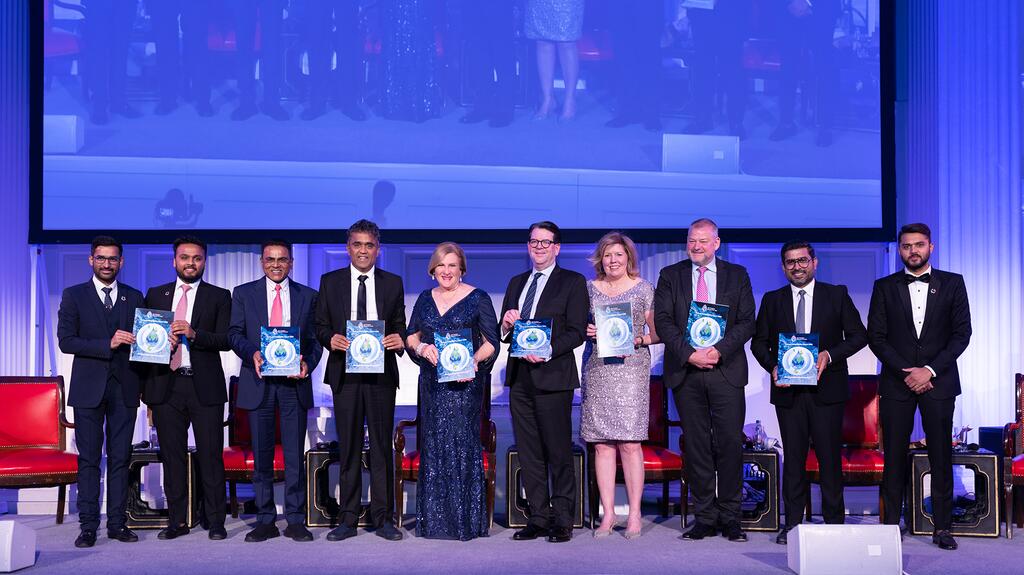 Johannes Cullmann, chief scientific advisor to the president of the United Nations General Assembly, accepted the dedication award on behalf of the organization and lauded the lakes project. 
"It's a good example of how business leadership does not think in terms of corporate social responsibility alone but actually includes the thought and culture of sustainability in their operations. That, for me, is inspiring," said Cullmann.
 Related stories will be right here … 
At the ceremony, Hari Krishna also announced it has joined
the Watch & Jewellery Initiative 2030
. 
Founded by Cartier and Kering, the organization's goal is to create a more sustainable watch and jewelry industry by addressing climate change, preserving resources, and encouraging inclusiveness.
Hari Krishna will take on a leadership role in WJI's biodiversity and water-focused initiatives.
Iris van der Veken, executive director and secretary general of WJI, took the stage to express her gratitude for the lake dedication and shared how WJI is approaching the water crisis.
"The 2030 agenda recognizes the centrality of water resources to sustainable development and the vital role that improved drinking water, sanitation, and hygiene play in progress in other areas, such as health, education, and poverty reduction," she said.
"The global water crisis is also a woman's issue in what UNICEF calls 'a colossal waste of time.' Women and girls spend an estimated 200 million hours hauling water every day."
Water conservation requires immediate action from the industry, she said.
The Dholakia Foundation has plans to create an additional 75 new lakes, with a groundbreaking ceremony taking place in India on March 26 to celebrate the first five lakes.
Shri Ram Nath Kovind, former president of India, and Shri Acharya Devvrat, governor of Gujarat, are scheduled to attend the ceremony.
The company also released its 2022 Sustainability Report during the event, outlining its annual achievements.
For more information about the Dholakia Foundation, visit its
website
.
More on Events & Awards