Shipwreck Emerald Sells for More Than $1M at Auction
The 5.27-carat stone, salvaged from the wreck of the Spanish ship Nuestra Señora de Atocha, blew pre-sale estimates out of the water.
New York—An emerald recovered from a 400-year-old shipwreck blew pre-sale estimates out of the water Wednesday at Sotheby's "Magnificent Jewels" sale in New York.
Estimated at $50,000-$70,000, the 5.27-carat octagonal step-cut emerald mounted on a gold band sold for $1.2 million after a five-minute round of bidding. 
Recovered in its rough form, the emerald was among the treasures salvaged from the wreck of the Spanish ship Nuestra Señora de Atocha, which was sailing back to Spain from Colombia and Panama when it sunk amid a storm in the Florida Keys in September 1622.
Treasure hunters found the lost ship in 1985.
One of the financial backers of its recovery was the late Frank Perdue, longtime head of Perdue Farms.
While Perdue donated some of the treasures pulled from the shipwreck, he had one rough emerald cut and mounted into the ring he used to propose to his wife, Mitzi Perdue (née Henderson), an author and philanthropist, in 1988.
The emerald came to Sotheby's directly from her collection, with all the proceeds from its sale benefitting humanitarian efforts in Ukraine. 
"Outside of its superb color, cut, clarity and size, when one considers that this gem is part of one of the richest discoveries of sunken treasure in all of history, the appeal to collectors in search of superlatives is extraordinary," said Sotheby's senior jewelry specialist Alexander Eblen. 
"It's been a privilege to have been a chapter in the emerald's continued storybook journey, and to know that the proceeds will benefit such a worthy cause." 

Sotheby's said Thursday the previously reported weight was an approximation derived from measurements, explaining that the stone was in a bezel setting when Mitzi brought it to the auction house, which did not allow its specialists to see its full breadth.  

Prior to the sale, she allowed the auction house to remove the emerald from its mounting and have it evaluated by American Gemological Laboratories, which determined its exact carat weight. 
 
 Related stories will be right here … 
Part of Sotheby's "Magnificent Jewels" sale in New York, the emerald was one of a number of notable jewels up for auction Wednesday in a sale that totaled $50 million and was 81 percent sold by lot.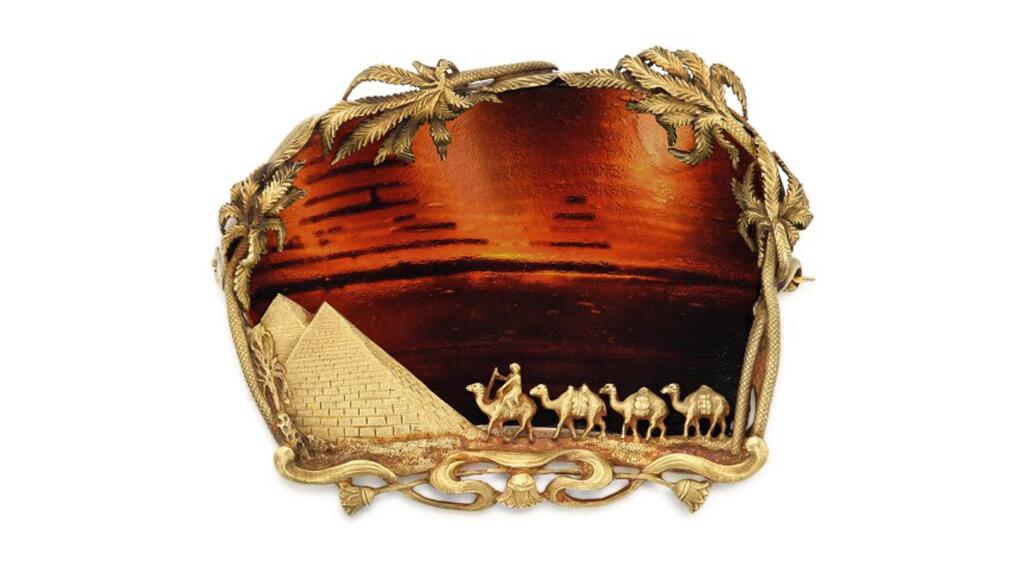 Their sale totaled $1.8 million.
Among the highlights was the circa 1901 gold and ancient glass "Desert" brooch pictured above, which sold for three times more than excepted. Estimated to go for $10,000 to $15,000, a buyer paid $44,100 for the piece. 
A diamond and colored stone bracelet from Lacloche Frères garnered $1.2 million while a pair of Lacloche Frères ear clips circa 1925 garnered $352,800, toward the low end of their estimated range of $300,000-$500,000. 
A brooch from Castellani featuring a scarab made out of Egyptian faience (a ceramic material) and carved with the baboon god sold for $63,000 against an estimate of $50,000 to $150,000. 
Another jewel from the Italian jewelry house—a gold necklace featuring micromosaic and scarabs carved in soapstone estimated at $450,000 to $600,000—was the lone Egyptian Revival piece that did not sell.
An Egyptian Revival necklace Louis Comfort Tiffany made for Tiffany & Co. in 1913, pictured directly above, sold for $75,600, near the top end of its estimated range of $60,000 to $80,000. 
The double-strand necklace features an amulet with an oval-shaped lapis lazuli cabochon suspended from a double strand of gold, lapis lazuli, turquoise, carnelian, and green hardstone beads.  
Sotheby's said the necklace can be viewed as a modern interpretation of an ancient Egyptian "menat," a type of beaded necklace intended to bring good luck, fortune, and protection.
More on Auctions
Auctions
Sep 27, 2023