9 of My Favorite Pieces from the AGTA Spectrum Awards Editors' Day
Senior Editor Brecken Branstrator's highlights include a chrome tourmaline ring, a giant opal necklace, and an American mined stone.
A few weeks ago, I flew to Dallas for a whirlwind 24 hours with the American Gem Trade Association.
They invited a few editors out to see the entries in this year's Spectrum Awards, and it was such a joy to be back at an event I had been severely missing the past few years.
We were given a whole day to look through the jewels, stones, carvings, and works of art. (The cherry on top of the day was the location: fine mineral dealer
The Arkenstone
hosted the competition in its stunning gallery, so we were surrounded by the most beautiful pieces. I kept finding myself looking back and forth between the jewelry and the specimens in the background as they caught my eye.)
The level of artistry we see every year in Spectrum was definitely still there, and I was blown away by the creativity and talent.
I rounded up the pieces the judges awarded with winning honors
in a story
that ran earlier this week, but I wanted to highlight the entries that caught my eye too. Here are some of my favorites.
The opal I'd add to my #neckmess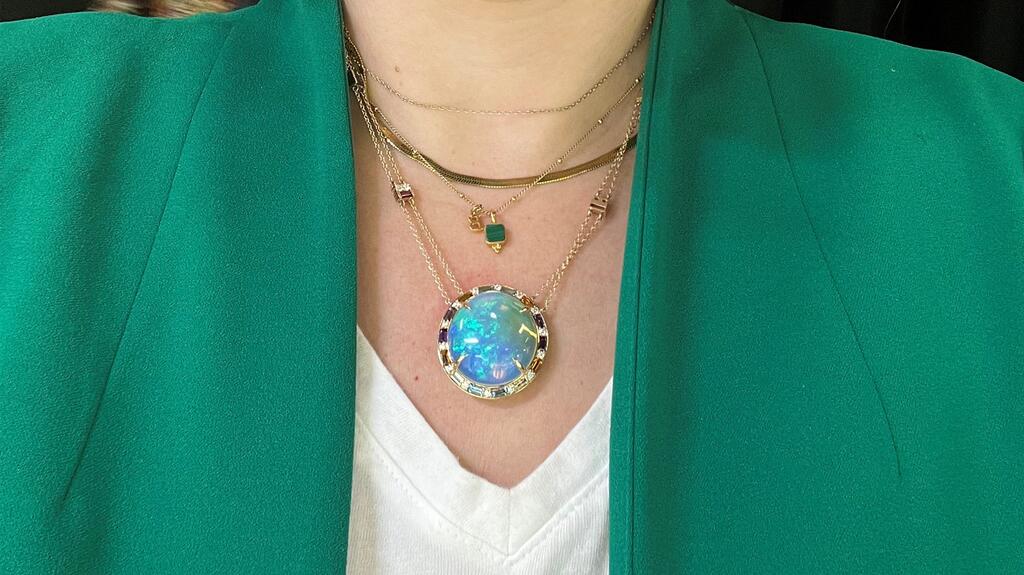 I love everything about this necklace from
Emily Chelsea Jewelry
. That fantastic opal, sourced from Agere Treasures, is what initially caught my eye and had me immediately trying it on, but the more I looked at the whole piece, the more I fell in love with the concept overall.
The designer complemented the giant opal in a perfect modern setting with aquamarine, citrine, amethyst, heliodor, and garnet baguettes as well as diamond accents, and hung it from a double chain.
I know now that it's already in someone's private collection, so I will just have to continue admiring it from afar, but to me it was the perfect combo of fantastic stone and thoughtful and wearable design.
You can see a video of it on our Instagram
here
.
The pearl ring that captured my heart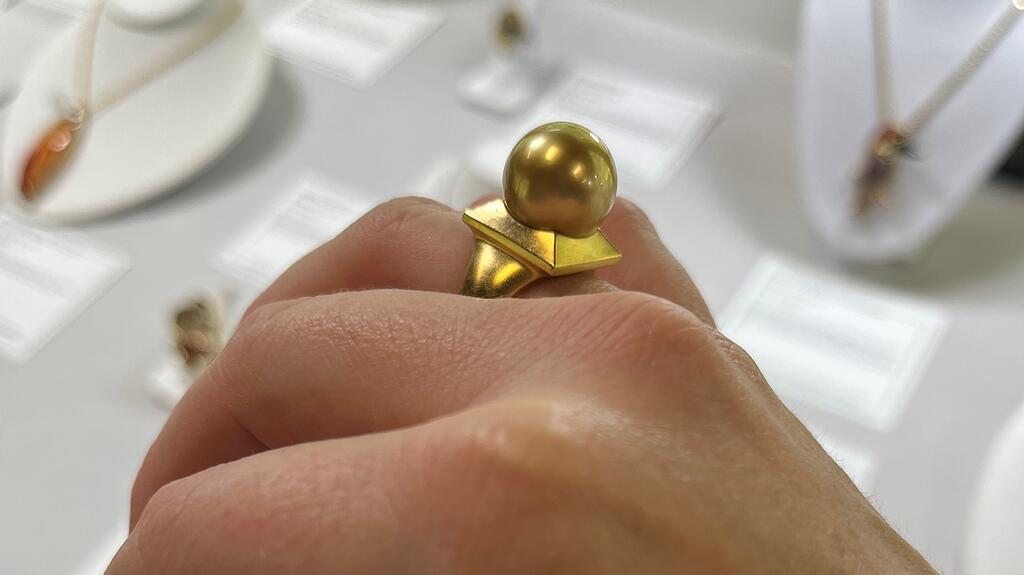 I'll admit, I sometimes struggle with pearls. I think today's designers have done a lot of magical things with them to reinvent the category, but for whatever reason, it's not often I find myself wanting to own a pearl piece.
Then walks in this golden pearl beauty from Laurie Reid of
LFR Studios
to change my mind.
Is it the way the gold metal perfectly matches the gold color of the pearl that is so special? Or is it the way the roundness of the pearl perfectly complements the geometry of the ring setting? I think it's both.
I love the thoughtfulness behind this ring; the work that went into it is obvious. I'd happily wear this pearl any time.
The loose rare stone I want to set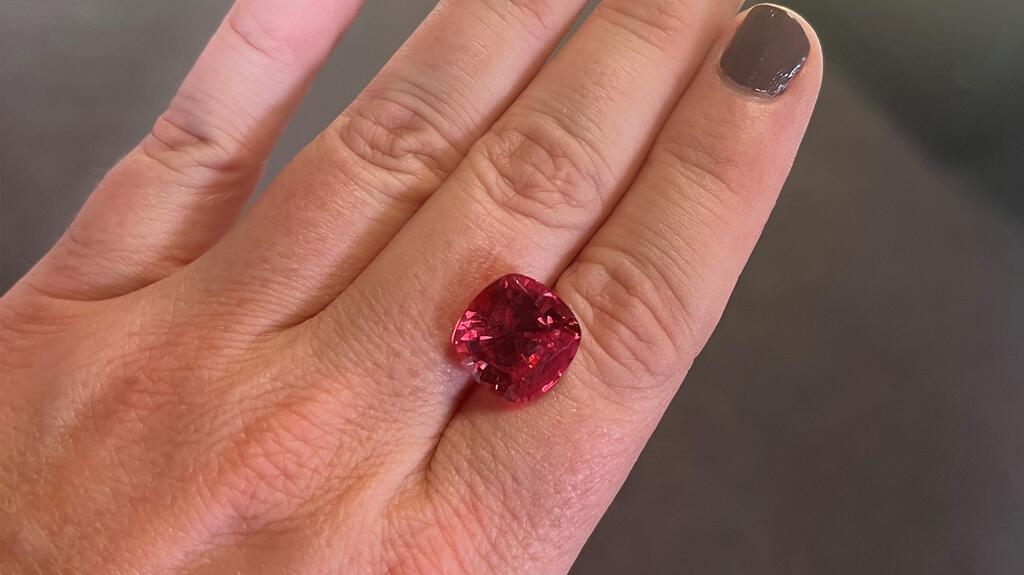 I have really been getting into rhodochrosite lately, probably ever since I first dove into its world when I made it the topic of a
"5 Things to Know About…" article
.
The fine mineral specimens are so pleasing, and there's something about the faceted red material—which doesn't show up that often—that always attracts my attention, so it wasn't at all surprising to me that I kept coming back to this 11.46-carat stone during Editors' Day, mined in Colorado and cut by Ben Kho of
Kho International
.
It's definitely one for the wish list.
The set rare stone I want to wear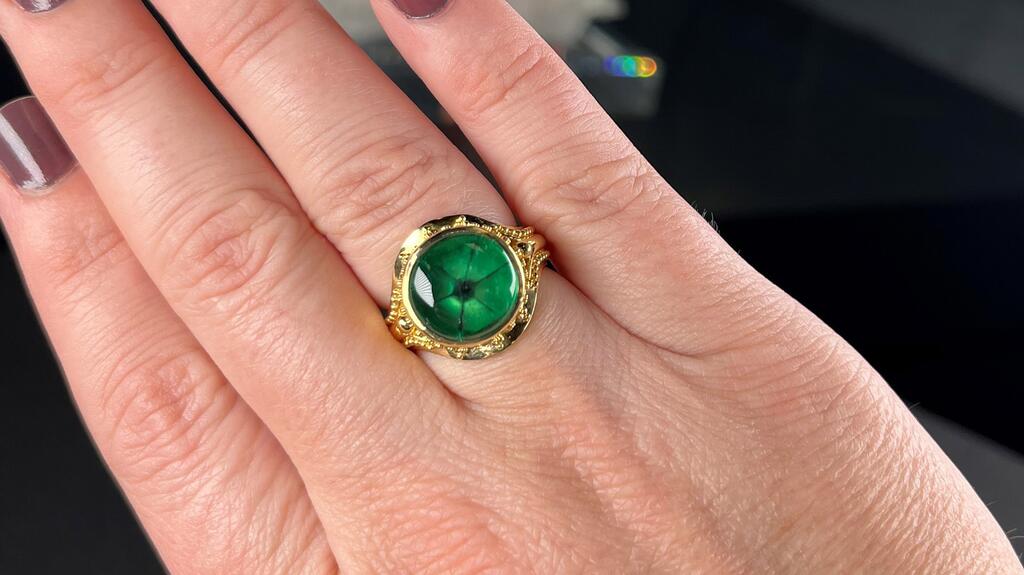 Give me a trapiche gem any day of the week—they're visually interesting and have a fascinating story, gemologically speaking. (For anyone who wants to dig into them more, I wrote
an article
on that material, too.)
I love the simple gold setting on this ring from
Paul Farmer Goldsmith
, with just enough details in the granulation on the side to lets the trapiche emerald speak for itself.
The jewel I'd wear daily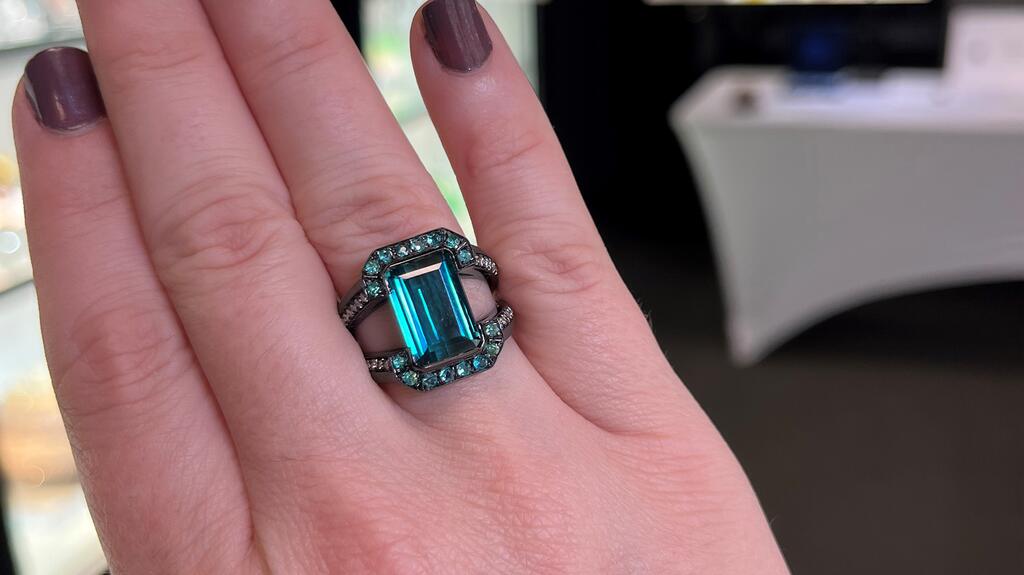 This ring from Ian Delucca of
Khobe Delucca
was a no-brainer for me—it's got a striking stone (a tourmaline, for those wondering), a modern Art Deco setting, and an edge with the darkened metal via ruthenium plating over 18-karat gold. Just perfect.
I instantly knew I'd wear this ring all the time if it was mine and heard several editors expressing the same admiration for it, hence it's honor as the Editors' Choice award winner. 
I'm still thinking about it weeks later.
The one that swayed me to diamonds … for a bit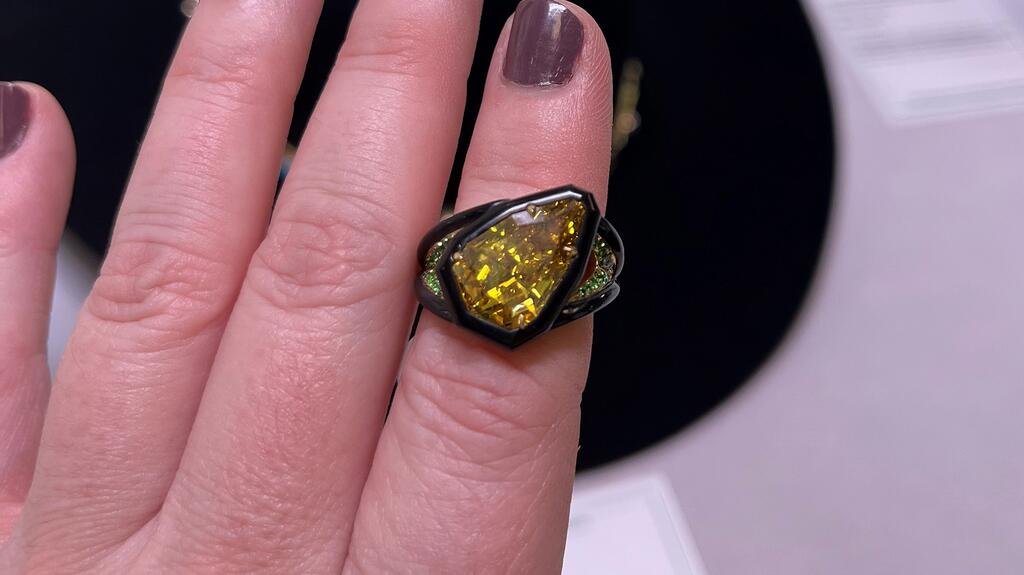 I admit to having been surprised to see a diamond ring in the mix, but as AGTA reminded, it does feature color. And it does it well.
The ceramic edging and sideways direction of the diamond in this ring from
Jeffrey Bilgore
is very of the moment, in the best way, and I love the combo of the yellow stone and the green accents (done with tsavorite garnets) for a pop.
It's another one I think hits on all the points a Spectrum piece needs, and I could definitely see myself wearing it. Another to add to the wish list.
The suite I think would make a killer piece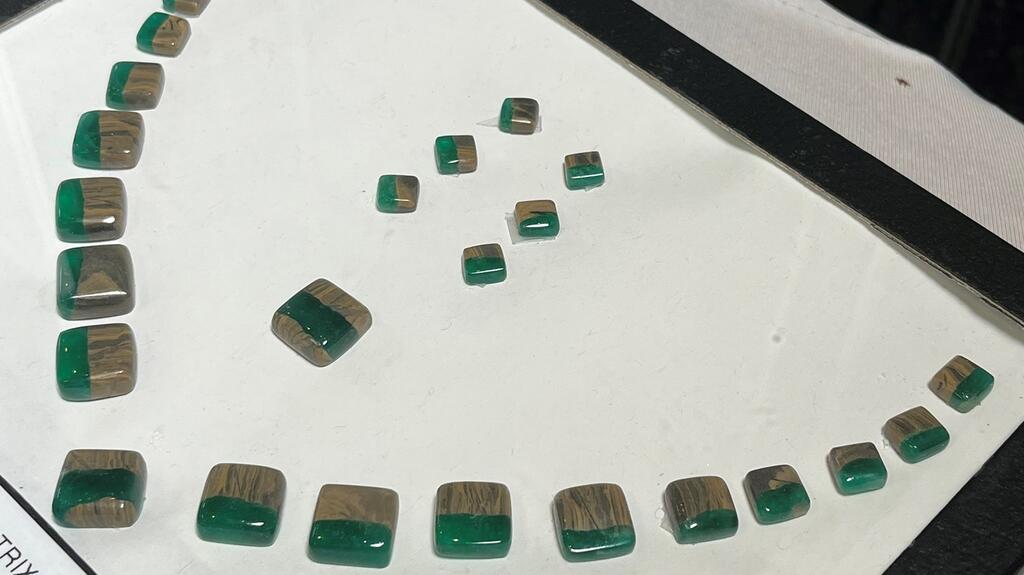 I've never seen anything like this—a suite of cabochon emeralds and matrix. It's such a cool way to show the beauty of emeralds and their formation story and could really be a conversation starter.
I'm dying to see what this 112-carat suite from Desmond Chan of
Gem Arts International
could become in the right hands—just think of the potential statement necklace.
The ring with the perfect classic-setting-and-brilliant-stone combo

I fell in love with this chrome tourmaline. It's as simple as that.
In this classic three-stone design from
Samuel Getz Designs
with emerald-cut diamond accents, the setting adds just enough beauty to allow the vivid color and clarity of the stone to shine.
My favorite spinel jewel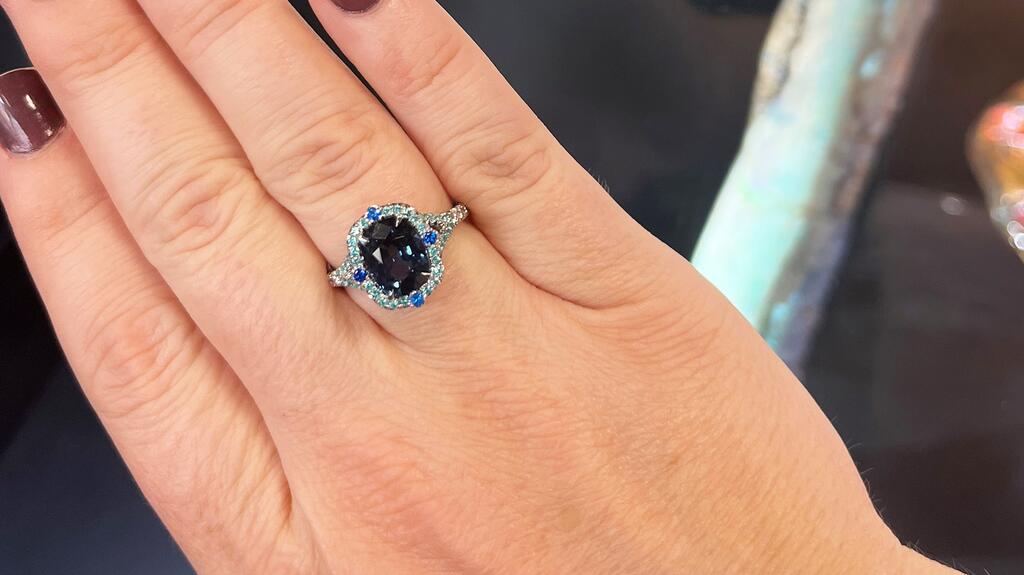 Would it be a complete list from me if it didn't include a spinel? It's hands down my favorite stone, and it felt like there were more in play in the Spectrum entries this year than in years past.
There were a range of colors, from red and pink to purple and the steely grays that have been popular for some time now, but my pick is this blue spinel ring from none other than
Omi Prive
.
I loved the cobalt blue spinel, of course, and the very classic Omi setting, but this ring also gives gem connoisseurs an extra little treat in the halo—as if Paraiba tourmaline and diamonds weren't enough, those vivid little blue gemstones are very rare stones called hauyne.  
It's something you'd only expect from a place like Omi. 
 Related stories will be right here … 
More on Editors