Inaugural 'Gems Keep Giving' Project Brings Clean Water to Kenyan School
The Kamtonga Primary School Potable Water Project will expand to the larger community in its second phase.
New York—Gems Keep Giving, a charitable development fund started by the International Colored Gemstone Association (ICA), has completed its first project.
ICA launched Gems Keep Giving last year to aid and support colored stone mining and cutting communities around the world.
Key areas of concern are safety, human rights, fair work, inclusiveness, environmental impact, resource sustainability, and community amenities, the organization said. 
ICA's board of directors identified the Kamtonga Primary School Potable Water Project for its first project based on information that had been gathered by directors Miriam Kamau and Evan Caplan as well as reports from engineers and hydrologists.
With a population of about 3,000, the village of Kamtonga—located in Kenya's Taita-Taveta district—is home to many miners, mine workers, and their families. The area produces tsavorite garnet, rhodolite garnet, tourmaline, ruby, sapphire, aquamarine, and other colored stones.
But Kamtonga is a dry area with no piped water. According to ICA, the village's school and its 550 students, as well as the local community, depend on unprotected springs, shallow wells, and rainwater through roof harvest for domestic and livestock needs.
The school received two water tanks a few years ago, but those are only filled once a year, and the water in the tanks are generally depleted in a month.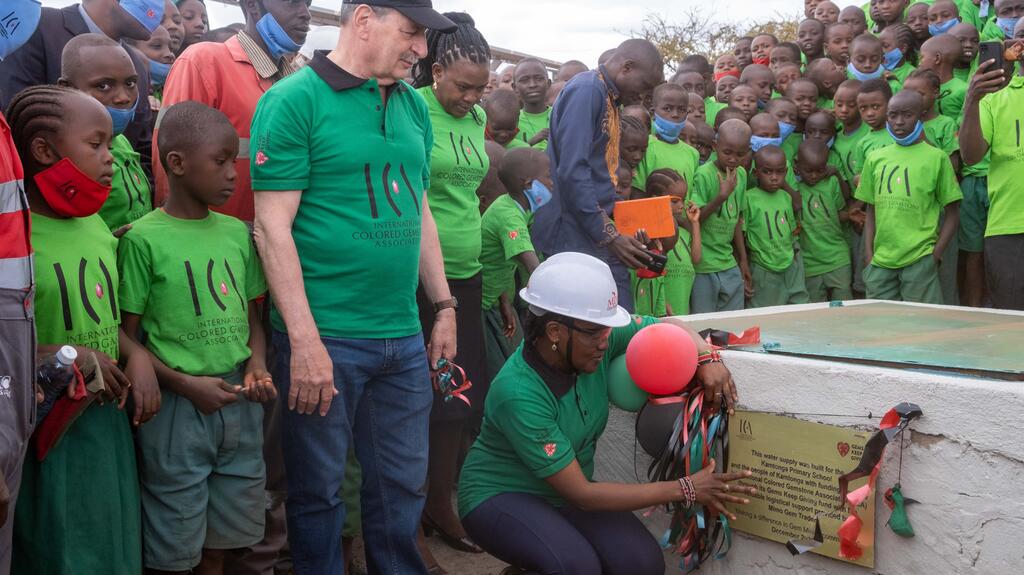 This leaves the women and children in the village with the task of walking several kilometers every day or two to fill plastic jugs with water. But this isn't even possible when there's bad weather, which is when they would then try to collect the rainwater in pots and buckets.
Needing to help with these tasks often impacts the kids' school attendance, ICA said.
But with the Gems Keep Giving project, their school is supplied with clean water for the students and teachers to drink and wash.
The second phase of the Kamtonga project will provide the piping of water to kiosks in the wider community.
Gems Keep Giving's funds are generated from ICA member donations and an award from the JCK Industry Grant, but the team behind it said it welcomes donations from anyone.
One hundred percent of donated funds are spent directly on its projects.
Donations can be made to Gems Keep Giving at 132 West 31st Street, 9th floor, New York, NY 10001, or online at
GemsKeepGiving.org
. 
The team also invites anyone with an idea for a future project to reach out. 
 Related stories will be right here … 
More on Sourcing