In 'The Radiance,' 13 Talented Designers Offer Distinctive Points of View
Editor-in-Chief Michelle Graff tells the stories behind the pieces that comprised "The Radiance by Couture."
I spent nearly two hours at "The Radiance by Couture" booth in Las Vegas last month, and every second was well worth it.
I loved meeting the 13 BIPOC individuals who are part of this collective, the culmination of the Couture show's Diversity Action Council and its inaugural mentorship program.
The goal of the DAC is to create a more inclusive and diverse industry by lifting up the BIPOC community and it is off to a great start with The Radiance.
In addition to Couture, The Radiance couldn't shine without De Beers Group and its team.
De Beers provided the designers with a budget for production as well as diamonds from its Code of Origin program, diamonds that have a unique inscription number and are verified as natural, conflict-free and mined by De Beers in one of the four countries where it operates.
The result was 13 incredible capsule collections, available for retailers to carry in their stores, that showcase the talents of a diverse group of individuals whom I'm sure we'll see more from in the future.
Their collections and their stories are showcased below, in no particular order.
Lorraine West
I first met Lorraine West at the launch of NYC Jewelry Week's
"Here We Are"
initiative in 2019 and immediately loved her unique takes on two often-used motifs in jewelry, the heart and the horseshoe. (Her heart even landed on my
2020 holiday wish list
.)
At Couture 2022, West introduced the "Luminary" collection inspired by groundbreaking actress, singer, dancer and civil rights activist Josephine Baker. 
Within Luminary, West created a sub-collection called "Stack Your Carats," an incredible set of three diamond rings that look as beautiful by themselves as they do when worn together as a set.
I love West's wavy take on stacking rings and, apparently, she's inspired as well. West told me she plans to make "Stack Your Carats" its own collection as she continues to introduce more styles.
To see more of West's work, visit
her Instagram page
.
Khadijah Fulton
For her capsule collection, Khadijah Fulton, the designer behind White/Space, elevated a bestseller to form the centerpiece of "Touch" while staying true to her dedication to exploring line, form and simplicity. 
Fulton's sold plenty of her "Diamond Continuity" ring, and it's easy to see why—it's simple, elegant, universally flattering and attainably priced. The simplest version retails for $695, making it an easy purchase decision for someone looking to treat themselves to a piece of fine jewelry. 
For Touch, she took the Continuity ring and bulked it up, then extended her simple-yet-elegant aesthetic to east-west-set ovals and emeralds cuts, as well as a toi et moi style. 
Simply gorgeous.
To see more of Fulton's work, visit
her website
. 
Angely Martinez
Animals have long provided inspiration for jewelry designers and were all over Couture and the JCK show in 2022.
I saw crabs, snakes, butterflies, a starfish and a seahorse, to name a few.
But designer Angely Martinez—who caught my eye last year with her
"Aqualesence" rings
—introduced an animal I haven't seen represented in fine jewelry before, the busy and vital earthworm. 
Martinez said she chose to recreate this invertebrate as a metaphor for the cycle of life, from birth into adulthood, with the stages of life reflected in each piece's individual name, like the "Birth" necklace and the "Mother Earth" ring. 
All the pieces in "Fertile Ascension" are little works of animalia art, but I particularly like the "Union" earrings and the Mother Earth ring.
To see more of Martinez's work, visit her
Instagram page
.
Lola Oladunjoye 
Many of my personal favorite jewels are the ones my grandmothers passed down to me, so I immediately connected with the inspiration for Lola Oladunjoye's capsule collection—family tradition.
Alongside her jewelry at Couture, Oladunjoye displayed pictures of her great-uncle, Sir Adesoji Tadeniawo Aderemi, the first African governor in the British Empire who played a key role in negotiating Nigeria's independence from Great Britain. 
Oladunjoye first met her great-uncle when she was 7 and was awestruck by all his jewelry, particularly by the rings he wore on every finger. Those rings inspired Oladunjoye's first designs, and they continue to inspire her today.
She blends this familial love of jewelry with the traditions of her native Nigeria's Yoruba people in her capsule collection, "Beaded."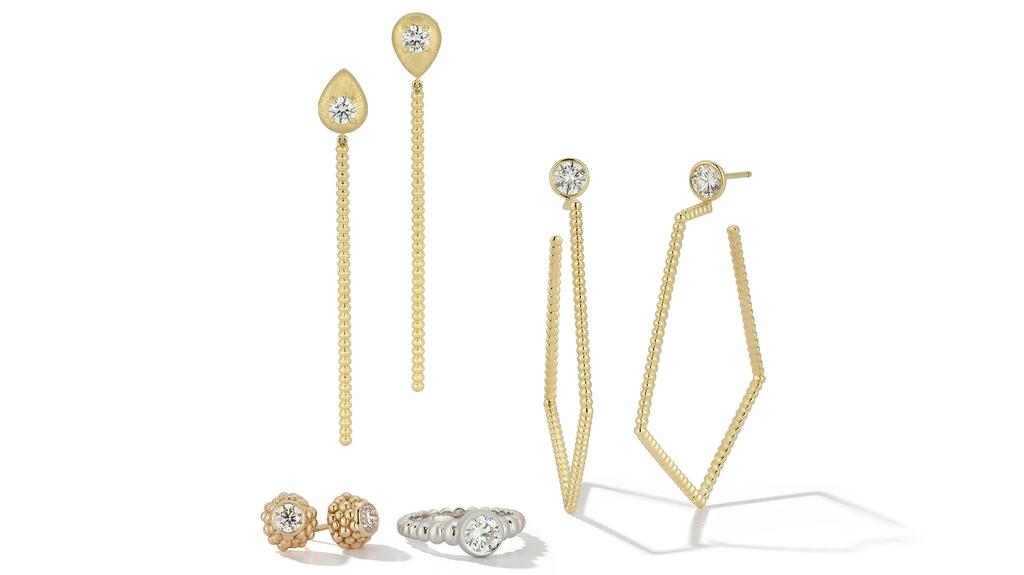 Whether it's via a larger statement piece, like her "Pentagon IV" earrings, or the simple, sweet "Téton" studs, the London-raised, Paris-based designer skillfully blends the simple aesthetic of European jewelry with nods to traditional African adornment.
The "Edan Staff" earrings, for example, were inspired by the hand-carved staff used during the inauguration of a Yoruba king or high chief that features a depiction of Edan, the Yoruba goddess of order and governance.
Oladunjoye's brand is Lola Fenhirst, and you can see more of her work
on Instagram
.
Zulaikha Aziz
Zulaikha Aziz, the designer behind Mazahri, has at least two things in common with Oladunjoye.
First, both are attorneys who practiced law before getting into jewelry design. Oladunjoye practiced intellectual property law in Silicon Valley for almost 20 years while Aziz, who fled Afghanistan with her family when she was a child, focused on human rights law, particularly in her home country.
Second, both use their jewelry to pay homage to those who came before them.
On top of her vitrine at Couture, Aziz kept a small-but-meaningful piece of jewelry, and she was kind enough to share its story with me.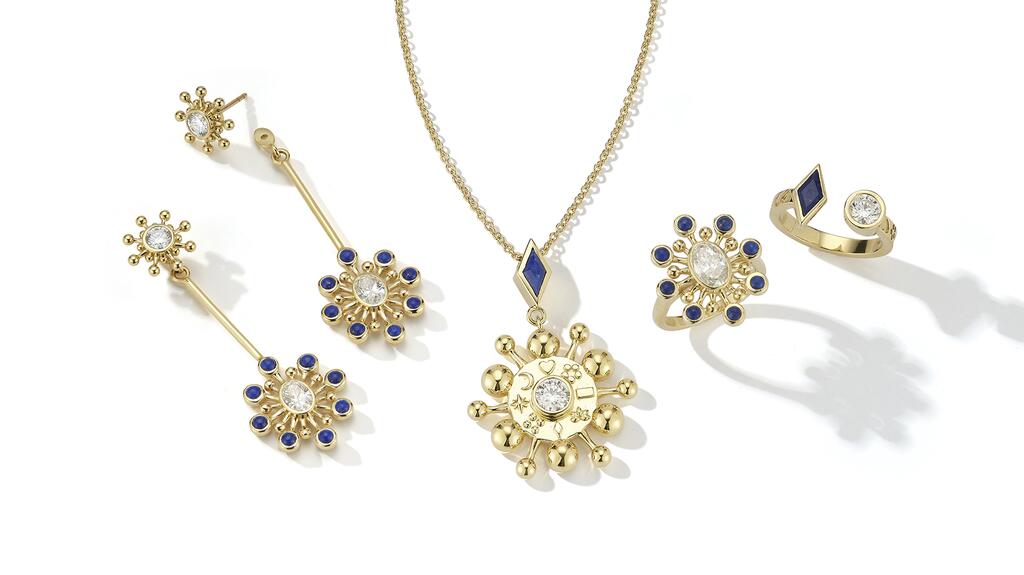 The piece, an earring that had been converted into a ring, belonged to her great-great grandmother.
Her grandmother Mazari Majid, who also serves as the namesake for her brand, carried it with her when the family was forced to flee Afghanistan in the 1980s in the midst of the Soviet invasion.   
This treasured ring, along with the strength of Afghan women as a whole, served as inspirations for her capsule collection, the aptly named "Origin."
Alongside diamonds, Origin fittingly features lapis lazuli, the mineral most commonly found in the designer's home country; some lapis in the collection was responsibly sourced from Afghanistan as well.
To see more of Aziz's work, visit
her website
.
Maggi Simpkins
Maggi Simpkins focuses on creating future family heirlooms and she doesn't miss the mark with this her elegant diamond-centric take on the signet ring that she calls the "Bubble Ring" collection. 
The 18-karat gold rings are simple and timeless, something a man or a woman could buy now, wear forever and pass on without a second thought.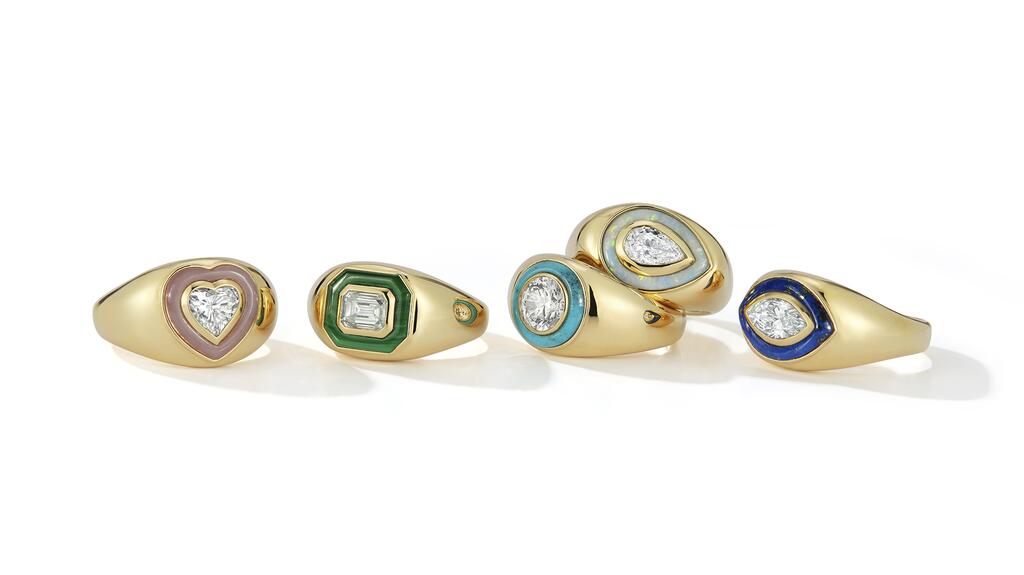 My favorites are the pear-shaped diamond framed by opal and the marquise surrounded by lapis lazuli, both pictured far right. (As a side note, lapis lazuli and malachite, which is framing the emerald-cut diamond second from left, were two stones I saw all over the Vegas shows this year.)
To see more of Simpkins' work, visit
her Instagram page
.
 Related stories will be right here … 

Melanie Eddy 
Melanie Eddy's jewelry looks great in the case, and fantastic on the body. 

It has heft without being overbearing, with Eddy expertly employing angles and asymmetry to make sure the pieces conform to the wearer and not the other way around. 


The piece from "Vega," her capsule collection, that really drew me in was the ring stack, pictured in the second photo above.
It reminds me of my mother's engagement ring and wedding band (which are soldered together) but with a fresh, modern vibe and the versatility my mother's '70s stack lacks.
Eddy said the name inspiration for her collection came from a trio of bright stars—Vega, Altair and Deneb—known as The Summer Triangle.
The Triangle is most visible in mid- to late June, a time when the seasons change as spring gives way to summer.
In the same way, Eddy says she hopes the launch of these collections collectively at Couture are the start of a welcome change in jewelry, a shift to a more diverse, welcoming and inclusive industry.
To see more of Eddy's work, check out
her Instagram page
.
Jules Kim
I played the flute from fifth grade all the way through high school. So needless to say, I was intrigued when I saw one displayed among the pieces in Bijules designer Jules Kim's gorgeous capsule collection, "Compassion." 
Turns out, she is a former (or, as I believe Kim put it, recovering) flautist too as well as a former DJ, and she's drawn on her classical training when designing jewelry. 
For those who spent years in the school band memorizing sheet music, it's easy to see notes and other musical symbols amid the fluid lines of Kim's designs. 
Pictured above at right, the "Median" handlet—a combination of a fitted bracelet and ring that has been a signature Bijules design for over a decade—twists in and out of shapes that echo the bass clef and the treble clef, while the "Passion" bangle on the left reminds me of the bass clef.
Another interesting note on Kim's collection: It was handmade exclusively by a team of all-women jewelers in Bangkok.
Kim is the designer behind Bijules. To see more of her work, visit
her Instagram page
.
Viviana Langoff 
Viviana Langoff's four-piece capsule collection is called "Elemental," a nod to the elements the Ancient Greeks believed comprised the universe: Fire, Water, Earth and Air. 
Her "Earth" hand chain (below, at left) features a 0.50-carat emerald-cut diamond representative of Earth's stability, while the Air necklace (center) with a 0.78-carat oval-cut diamond was designed to mimic a gentle breeze across the neck.
The "Fire" ring features a 1.1-carat round-brilliant cut diamond while the "Water" earrings—my personal favorite, as they look incredible on—feature two pear cuts and can be worn three different ways.
The collection also sends a message: even though we all have a unique origin, there are common elements that connect all humankind.
Langhoff is the founder of Chicago independent jewelry store Adornment + Theory, which specializes in jewelry created by Black, brown, indigenous and woman-identifying designers from across the globe.
See more of her work
on her website
.
Sara Bautista
Sara Bautista and her jewelry are a lot of fun. But underlying her sense of playfulness is the work of a true artist who is using their chosen medium—jewelry—to send a message. 
On June 27, three days after the U.S. Supreme Court overturned Roe v. Wade, Bautista shared a picture of her "Paradigm" ring (pictured below at left) on Instagram and wrote that the design of the ring was inspired by "everything going on right now." 
She said she made the post in reference to the Supreme Court's decision but was also speaking to the broader culture wars currently engulfing the United States. 
From a distance, the ring looks like barbed wire but, upon closer inspection, the viewer can see it depicts hands, an expression of the idea that we all have a hand in what is going on right now. 
We are all, Bautista wrote on Instagram, "witnesses and conspirators in our shared realities," some with the power to make others' lives more difficult and to rob them of choice.
Bautista is the designer behind Common Rite Supply and her capsule collection is called "Realize True Riches."
You can see more of her work both on
her website
and on
Instagram
.
Olivia Shih
I love the simplicity of Olivia Shih's work.
The idea behind her capsule collection, "Lucid," is to visually convey the moment when an answer becomes obvious, that moment of lucidity that pulls you in the right direction, whether you are trying to solve a problem or simply make a decision.
Also serving as inspiration for the collection, and for her journey into using rock crystal in her work, was a photo she saw in art school of an iceberg that had flipped upside down, a picture that, to Shih, conveyed both vulnerability and strength.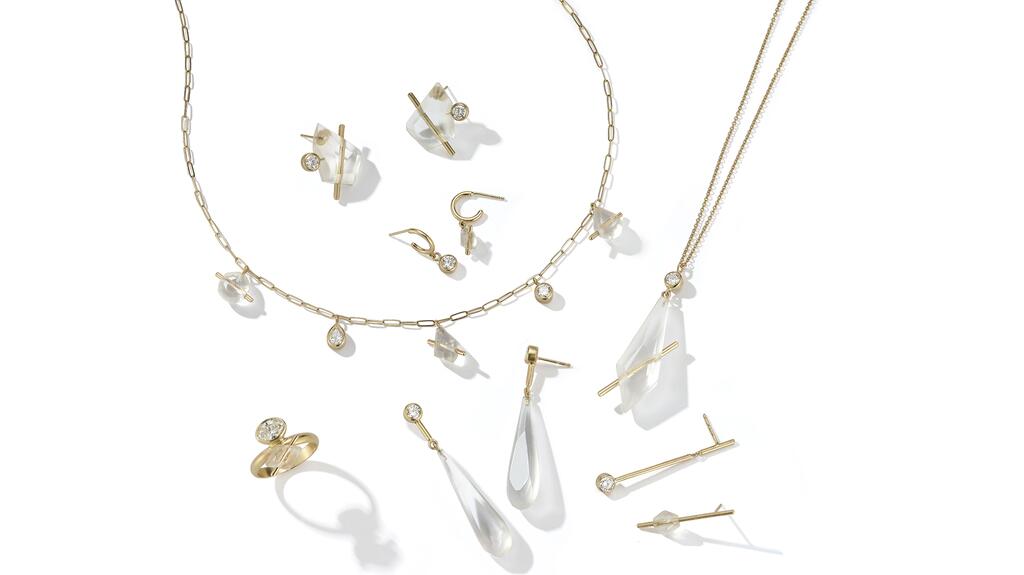 Shih illustrates this in her capsule collection using small 14-karat gold bars that cut through hand-carved rock crystal at an angle, also gracefully incorporating diamonds into the designs.
One of my favorites is her rock crystal-and-diamond take on the toi et moi ring (pictured lower left), a style that is
definitely having a moment
.
To see more from Shih, visit
her Instagram
.
Ashley Thorne
Ashley Thorne, the artist behind A.M. Thorne, started the creative process for her collection using clay, hand-molding the curves that eventually became "Flow."
The result is an aesthetically pleasing six-piece set that explores the concept of continuous movement, with the designer giving each piece a name that is related to either motion or mindfulness.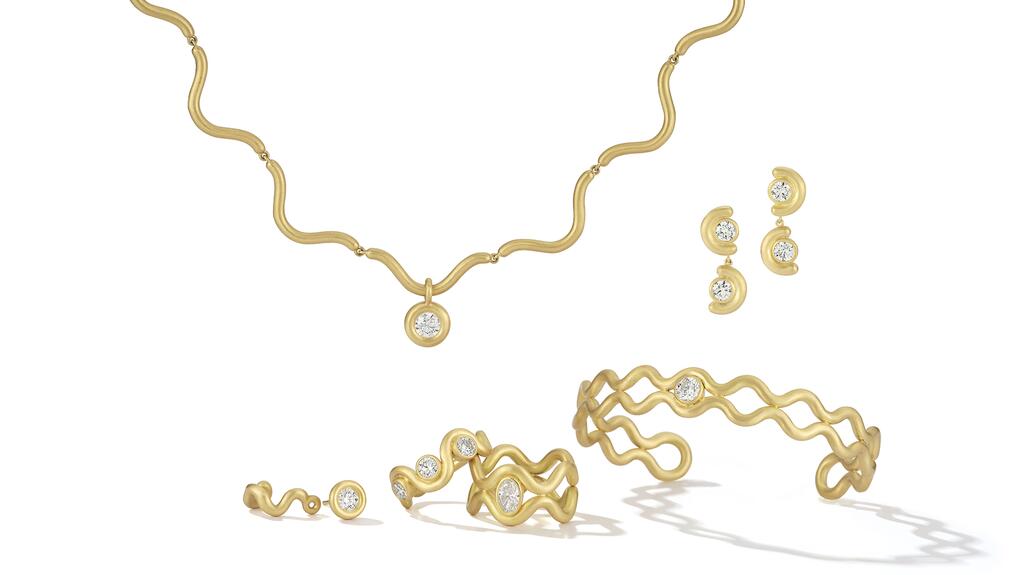 There is, for example, the "Rhy" huggie—"rhy" is short for rhythm—and the "Yemaya" necklace, named for the goddess of water, who represents the never-ending rise and fall of the ocean waves.
Then there are the "Ana Pana" and "Sati" rings. These pieces, Thorne explained, are named for "Anapanasati," the Buddhist and Tibetan term that means mindfulness of breathing, something I definitely need to do more of.
For more of Thorne's work, visit
her website
.
Kassandra Gordon
I round out my look at the 13 creators behind "The Radiance by Couture" with another designer who draws inspiration from family for her work—Kassandra Gordon, the designer behind KLG Jewellery.
Gordon said she is interested in heritage, legacy and relationships.
Because of this, she's been looking into her ancestry and genealogy—she is British Jamaican—and thinking about the hybridity and intersectionality of spaces living in multicultural Britain.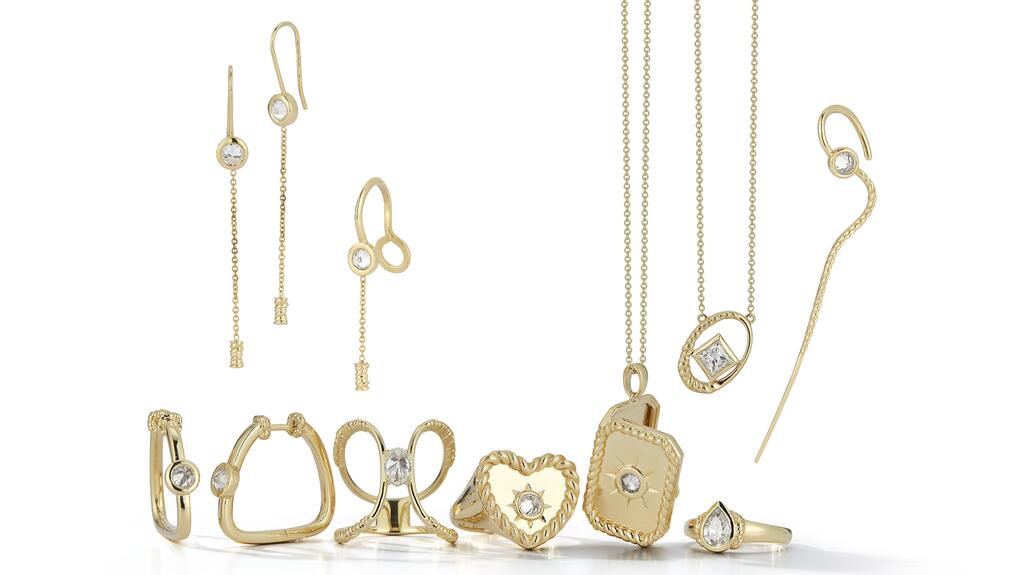 She calls her capsule collection "Hairloom," a clever play on heirloom that is also a nod to braids, which inspired the twists that are present in every piece in the collection.
"Hairloom" explores how individuals persevere and create future cultures via jewels that are meant to be passed down from one generation to the next. 
To see more of Gordon's work, visit
her website
.
More on Editors