Jade Trau's Latest Jewels Mix All the Fancy-Cut Diamonds
"Poppy" is a tribute to the designer's late grandfather.
New York—Jade Trau's newest collection is an ode to the man who taught the designer behind the brand the family business.
The fourth-generation diamantaire was inspired to create her range "Poppy" in memory of her grandfather, whom she called Poppy both at work and home. 
"He taught me to be a person of integrity and honesty and told me many times that in this business, you are only as good as your word," Trau said. 
She also turned to the poppy flower for inspiration. She began designing the collection during lockdown in 2020, finding mental stimulation in the flowers and trees she noticed on her daily walks.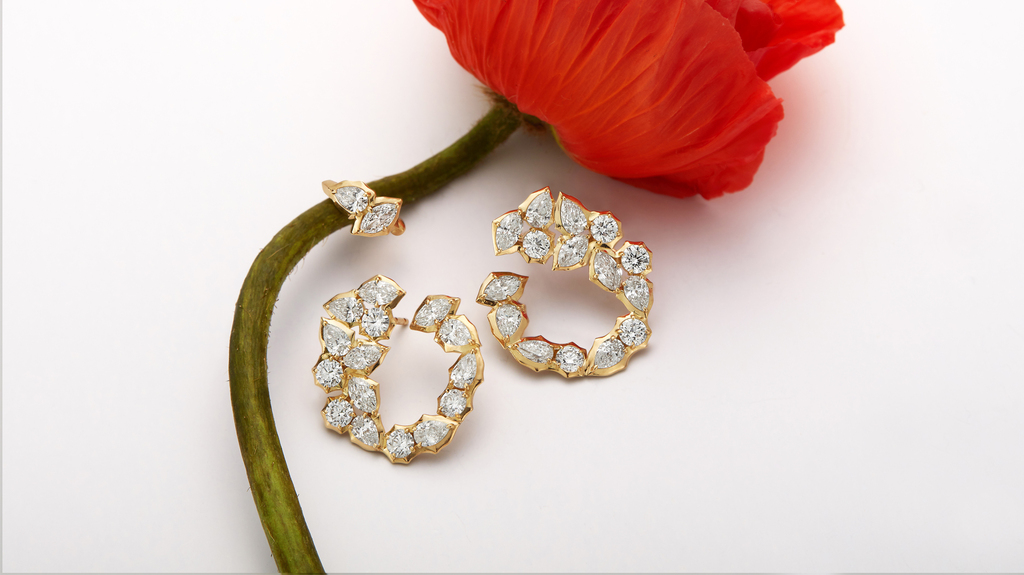 Fancy-shaped diamonds regularly figure in the Jade Trau portfolio but looking to flowers led the designer to interact with the shapes in a different way. 
"Poppy" is the most organic side of Trau she's shown in her career so far. 
It combines pear-shaped diamonds, marquise-cut diamonds, and round brilliants in unique clusters, inspired by floral groupings. 
The interpretation is loose enough to resonate with fans of Jade Trau's more classic offerings, and blends well with other collections thanks to use of the brand's telltale diamond settings that are best described as an angular hybrid of a bezel and prong. 
Diamond clusters are also toughened up when integrated into chunky chain bracelets, earrings, and necklaces, suiting even a woman who might not typically gravitate to florals. 
Available in 18-karat yellow, rose, or white gold, Trau is also offering select styles in two-tone designs, like a diamond pendant set in white gold and attached to a yellow gold chain. It's a trend Trau 
previously remarked on
when discussing bridal styles, which she's incorporated into
other fine jewelry designs
.
Eternity bands, a front-facing pair of hoop earrings, and simple pendant feel entirely different with the new Poppy configuration of diamonds. 
The collection starts at $2,500 for an ear cuff sold individually. The most expensive piece is a multi-line bracelet priced at $59,000. 
 Related stories will be right here … 
More on Collections