GIA Examines Largest Known Diamond Grown Using CVD
It is more than 16 carats and G color/VVS2 clarity as grown, which is unusual in CVD diamonds.
Carlsbad, Calif.—Scientists at the Gemological Institute of America recently examined what is believed to be the largest diamond grown using the chemical-vapor deposition process, breaking a record set just last year. 

The lab said Tuesday that the diamond is a 16.41-carat princess-cut stone grown by Shanghai Zhengshi Technology Co. Ltd. 

The diamond had the "observable characteristics" of diamonds grown using the CVD process, including strong graining throughout—common in CVD stones—that gives the diamond a "wavy" appearance, as visible in the video below.
The 16.41-carat lab-grown diamond is exceptional for another reason in addition to its size.
The diamond is G color and VVS2 clarity. GIA confirmed through detailed spectroscopic readings it was not treated post-growth to improve its color, which is unusual.
GIA Vice President of Research and Development Dr. Wuyi Wang, who examined the diamond, noted, "We have seen very few CVD diamonds of this quality."
The 16.41-carat stone breaks the previous record for largest CVD diamond—a 14.60-carat emerald-cut stone produced in India and
reported on by the International Gemological Institute
in August 2021—by nearly two carats.
And it tops the record-holder before that, a 12.75-carat round brilliant lab-grown diamond, by almost four carats.
In article on the 16.41-carat lab-grown diamond authored by Wang and GIA research associates Stephanie Persaud and Elina Myagkay, the authors noted how the technology behind both CVD and high-pressure, high-temperature growth processes for diamonds has advanced significantly in the last two decades.
Wang noted in a GIA news release that he first examined a CVD diamond back in 2003, and it was less than half a carat, pear shaped and brown.
"This 16.41-carat laboratory-grown diamond demonstrates the advances in CVD growth technology. This achievement has important implications for the many scientific and industrial applications for high-quality laboratory-grown diamonds," he said.
The article is available on the
GIA's website
. It also will be published in an upcoming issue of Gems & Gemology, GIA's quarterly research journal.
 Related stories will be right here … 
Another lab-grown diamond record was set recently, this one for a rough stone that was examined by IGI.
The lab said Jan. 20 that it recently analyzed a 150.42-carat blue diamond grown by biotech company Meylor Global using the HPHT method.
It is the heaviest rough lab-grown diamond on record, breaking the previous benchmark of 115 carats, also set by Meylor Global in September 2020.
The record for a faceted and colorless/near-colorless HPHT-grown diamond is
15.32 carats
,
tested by GIA
in 2018.
The 150-carat diamond is gem-quality, IGI and Meylor confirmed, but Meylor hasn't decided what it will do with the diamond.
IGI also noted that it recently examined another large lab-grown diamond from Meylor, this one a gray diamond weighing 141.58 carats.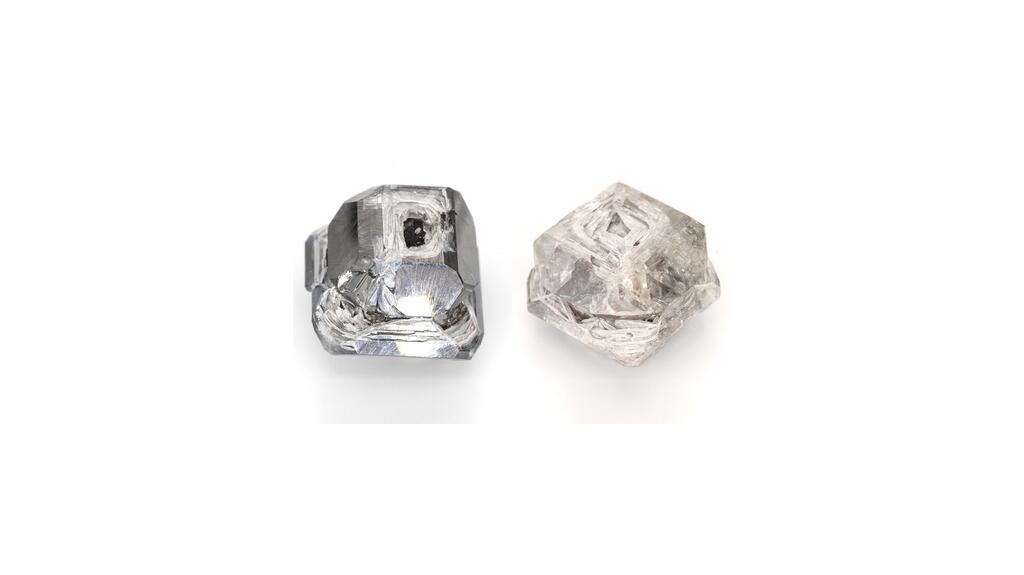 Like GIA, IGI noted that the technology used to grow diamonds continues to improve.
"The acceleration of technology in the lab-grown diamond sector is significant," said John Pollard, IGI's
recently appointed
director of education.
"In addition to record-setting weights, they're type IIb crystals, a semiconducting category associated with diamond-based electronics. At IGI, we're seeing new benchmarks from the world's most advanced producers in jewelry applications and beyond."
More on Lab-Grown