The Jewelry Insider's Guide to 'The Sopranos'
A well-known woman in the jewelry world helped shape the stylistic narrative of one of the most iconic television series of all time.
You might know Lauren Kulchinsky Levison as the uber-fashionable proprietor of family-owned and -operated
Mayfair Rocks
, snapped by street-style photographers in an array of to-die-for designer gowns heading into fashion shows in New York, London, Milan and Paris. 
Or maybe you recall Levison as only the second woman to be inducted into National Jeweler's Retailer Hall of Fame in 2002, when she was 31 years old (at the time, the youngest inductee).  
Before dedicating herself to the fourth-generation family business Levison was an actress, perhaps explaining her ease with having all eyes on her.  
But her most surprising role was totally behind-the-scenes, for no pay and little credit, when she styled the jewelry for "The Sopranos," arguably one of the most iconic television shows of our era and one I began watching for the first time while quarantined at home.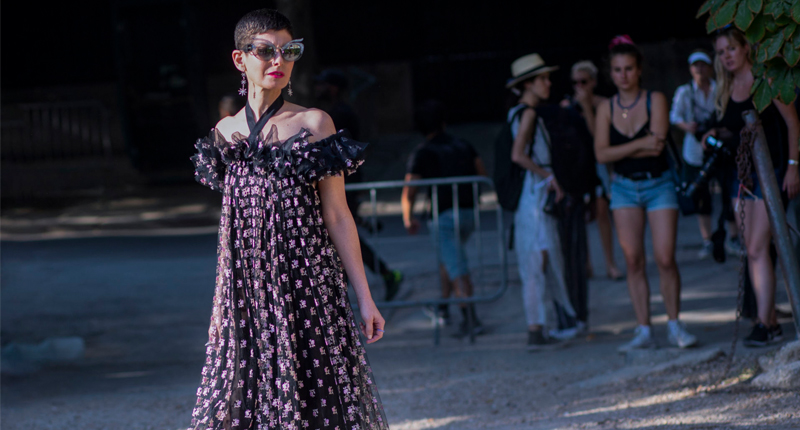 The HBO show ran from 1999 to 2007, heralding the current Golden Age of television, bringing the kind of character-driven, meaty roles typically reserved for film to the small screen. (In fact, creator David Chase originally conceptualized "The Sopranos" as a feature film.) 
Levison found her way to "The Sopranos" by way of the show's lead, the late James Gandolfini. The two got to know each other through New York's close-knit acting community, meeting on set of the 1996 film "The Juror." 
Levison had already inadvertently been dabbling in blending her worlds —acting and jewelry/watches—on the set of the 1990s TV series "New York Undercover."
She said after seeing the elaborate sets and props used for the Dick Wolf-powered police drama, she was amazed that the actors wore fake timepieces. 

"The guys were wearing fake TAG Heuers," she noted. "They were empty. There was no movement." 

A crew member knew Levison's family was in the jewelry business and asked her to help him buy a watch he wanted. Soon, she was helping the busy cast and crew pick out gifts for their significant others, bringing items from jewelry store to set. 

Actors also wanted to wear watches—the real deal—on camera. Levison supplied pieces on loan and was charged with handling them. 

"I was just happy I was still working," she said. "It was really hard to be a New York actor at that time, let alone part of a weekly episodic show. I got a job on a movie set for the summer and word got out that I was 'the jewelry girl.'"
That movie was "The Juror," where she met Gandolfini, and again, Levison was sourcing birthday gifts and push presents. 

A few years later, Gandolfini gave Levison a call. He had just booked the pilot for a new HBO show—"The Sopranos." 

"He said, 'You should see if you can get on it,'" Levison recalled. "I said, 'What, am I going to just call and see if I can get on it?'" 

The pilot was already cast, but Gandolfini suggested she act as a stand-in to be part of the production. 

"I get there and I was literally standing in for Jamie-Lynn Sigler, Lorraine Bracco and Michael Imperioli, and they were all different heights," she laughed.
 
"How are you supposed to be the best Carmela you can be if you're in fake jewelry? Tony would never have his wife in fake jewelry. She'd be in the best he could bring home." – Lauren Kulchinsky Levison 

She couldn't help her jewelry and watch expertise from creeping into her job description, again. 

"I started to notice that Edie Falco was in this mesh necklace, tons of chains, a big cross, and it was all fake." 

Levison thought the look was right for a mob wife, but not the quality. She had her own ideas of how to amplify characters' stories through jewelry, plus an all-hands-on-deck helpful attitude that had been honed through years of theater. 

"Growing up in show business, [a production] is a group effort. You want to make the best show possible. You want the group to succeed. In New York, it's a tight-knit community. You're one big family. There was no separation between the cast and crew."
Levison offered her jewelry and watch styling services to "Sopranos" creator and head writer Chase. Gandolfini vouched for her talents. 

With that, an accidental jewelry stylist was born. 

Levison received copies of the closely guarded script, typically only given out in bits and pieces on an as-needed basis, to fulfill her costume design needs. 

"It was never, well I'm going to make this about me and my jewelry," Levison explained. "It was about making [the look] authentic and real, and developing how and why pieces would be worn. It was about getting into character and making sure an actor's character is dressed. That was the main hole. 

"How are you supposed to be the best Carmela you can be if you're in fake jewelry? Tony would never have his wife in fake jewelry. She'd be in the best he could bring home. How can Lorraine Bracco's character, Dr. Melfi, be in something fake when she's trying to teach someone to be their authentic self?" 

Levison supplied Breitling watches for the show's male Mafia characters, like Gandolfini, Imperioli and Steven Van Zandt (better known to some as Little Steven from Bruce Springsteen's E Street Band). Gandolfini wore a medallion on a curb-link chain that was his own.
Levison got to flex her styling muscles with the female characters, collaborating with the actresses on looks that would best bring their personas to life. 

"There's a mesh necklace that you'll see [worn by Edie Falco's character, Carmela Soprano] and it looks like it's fabric and that's Christian Tse," Levison recalled. "He was just starting out. Everyone wanted that necklace. I must have sold 20 a week of that necklace."

It was an "elevated" take on a similar item Falco sported in the pilot episode, Levison noted, and Carmela wore some version of it as her layering "base" piece every season. 

The necklace, worn among Carmela's gold layers, carried a special symbolism Levison associated with the character, the matriarchal cornerstone of an Italian-American family. 

"I wanted something that looked almost like fabric because it was reminiscent of a family quilt. She was in charge of the family; she makes the sauce, she makes the food." 
Stefan Hafner, Christian Tse, Antonini, Garavelli and Orlando Orlandini were designers Levison turned to regularly throughout the series. 

Lorraine Bracco expressed a preference for Ten Thousand Things, so Levison sourced pieces from the New York-based brand for Bracco's character, psychiatrist Dr. Melfi. 

Drea de Matteo brought lots of visual notes for her character Adriana La Cerva (seen below), down to her long fingernails. 

"She was really in charge of her wardrobe and jewelry," said Levison.
"I wanted it to be like 'Peter and the Wolf;' you hear an oboe and you know it's that character. You see Drea's nameplate necklace and Playboy bunny necklace and it's so Drea, it couldn't be anybody else. That was really her choice."
One of her favorite characters to style was Gloria Trillo, played by Annabella Sciorra in season three.
"I'm really proud of that part. She was an elevated woman coming into Tony's world. I was able to play more with pieces and style them as individual pieces instead of piled one on top of another."
"The Sopranos" aligned with what Levison feels was the beginning of women purchasing jewelry for themselves.
"Women were watching jewelry they could emulate, beyond the basic pieces like the diamond studs. They saw a housewife wearing her jewelry and a professional woman wearing different jewelry every time you see her, in pieces that correlate with who she is."
Sciorra's character, Tony Soprano's girlfriend, was a prototype of the self-purchasing woman.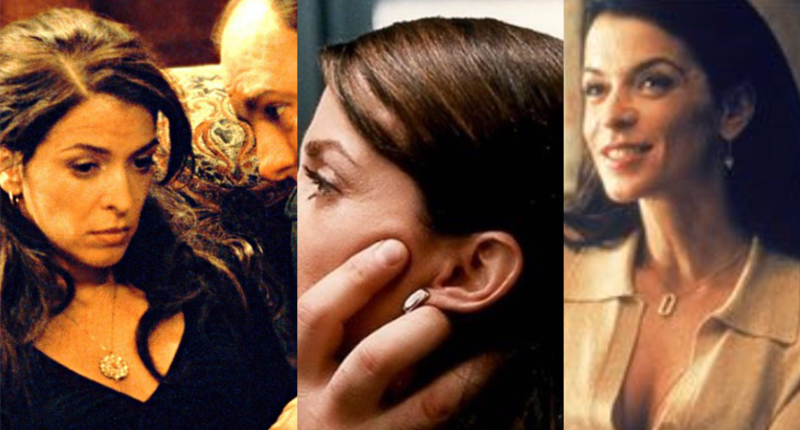 Working as a Mercedes Benz salesperson, she proudly showed Tony the watch she bought herself after a good commission.
Levison dressed the character in lots of Antonini because, "it was sleek and modern and cool like she was."
One particular piece that stood out was a personal pendant Levison loaned for the Gloria Trillo character.
"It was all hand-enameled on one side and had all rose-cut diamonds on the other side. I felt because she was such a dual personality, it was fitting for her. Sometimes we'd put it on one side or the other."
"It was this perfect storm," said Levison of women beginning to buy themselves the pieces they wanted, knocking down the old wait-to-be-gifted paradigm.
"It was a huge disruption in the jewelry industry when we went from giving jewelry as gifts to collections that work with fashion, to jewelry being considered an accessory instead of an inaccessible item.
"'Sopranos' was a really big part of that and I'm proud to have been involved in a small way."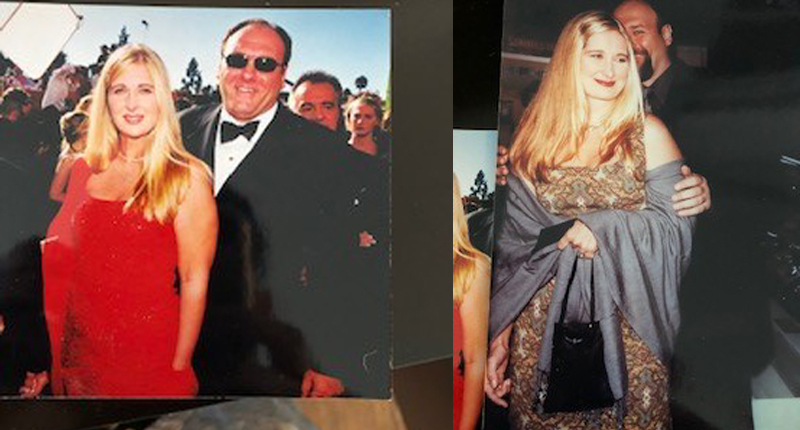 Just as Levison's role as the set's resident jewelry and timepiece whisperer came about organically, so did her transition from on-set jewelry costume design to red carpet styling.
As "The Sopranos" quickly rose to acclaim, she found herself styling many of the cast members' red carpet jewelry looks, outfitting the actresses in incredible jewelry suites to go to the Emmys or Golden Globes.
At the end of each season, there was a special credit to Mayfair Jewelers for Levison's assistance.
When Levison and her family opened their Hamptons outpost in 2000, "The Sopranos" cast was there to fete the occasion.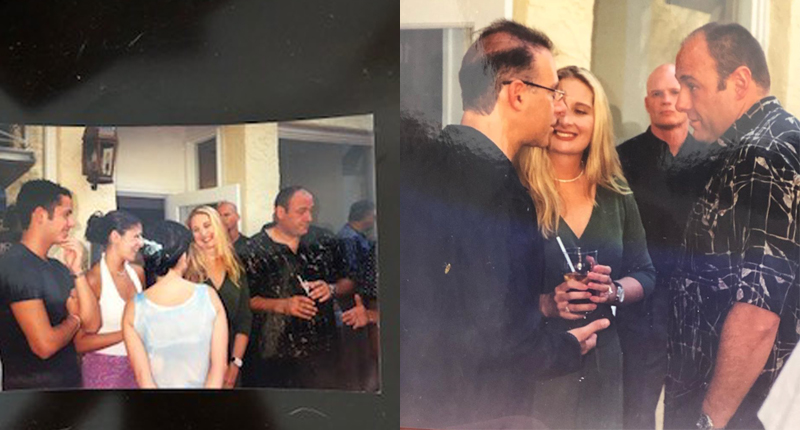 "It wasn't even the strongest moment of "The Sopranos" heyday yet, only maybe the first 10 episodes maybe had aired," Levison recalled, "and the whole town of East Hampton was shut down because nobody could get down Main Street; that's how many people showed up." 
The legacy of the show is one Levison couldn't have imagined as she shaped its jewelry narrative, script in hand. 
The best part was, "just being in the presence of these actors, how David Chase put them all together," she said. 
"I had never read anything like that for TV. I stood in for a boy, that's how much I wanted to be a part of that show. I would have held a light to be there every day."
Just as Gandolfini brought Levison to the show, he was also the impetus for her switching gears to the family business full-time. 

"Jim had come to my family's business [at the old store location in Commack, New York]. It was out of the blue, he just showed up. He bought his engagement ring for [first wife] Marcy from me. He saw the business and saw how I worked with my family. 

"He said to me, 'I don't know why you even come to set, you should be a jeweler full time you're so good at it and your family is so wonderful.' 

"I started to not do anything but drop the jewelry off, pretty much, and go in for certain, really strong acting scenes, and I started to do jewelry full time. I have Jim to thank, I think." 

Gandolfini, who died unexpectedly in 2013, was a major influence on Levison. 

"I stopped walking both lines after that [conversation]. I was still dressing the actors for awards and bringing jewelry over but I wasn't pursuing acting anymore. Jim Gandolfini was one of the greatest people in the entire world and he set the tone for an incredible work environment. He was an amazing guy. 

"I miss Jim a lot." 


More on Editors
Editors
May 24, 2023