The History Behind … Posy rings
In the latest installment of The History Behind, National Jeweler explores the origin of posy rings, one of the first examples of personalized jewelry. 
New York--Long before today's couples were engraving their wedding bands with initials or dates, lovers of old were swapping secret messages and vowing their lifelong commitment on posy rings. 

Also spelled posie or poesy, these rings derived their name from the French word "poésie," or poem, because of the short sayings with which they were engraved that were religious, friendly or amorous in nature.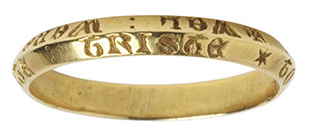 "It's continued down through history," observed Mary Borchert, a historian with Antique Jewelry University. "Nowadays, we don't call it a posy ring but we technically could because it has the inscription inside." 


National Jeweler dug into the online archives of the Victoria & Albert Museum in London, which houses what is arguably the largest collection of posy rings in the world, and spoke with one modern-day jewelry designer inspired by the poesies of old for this latest installment of The History Behind.


What are posy rings and when were they worn? 

According to the Victoria & Albert Museum, posy rings were popular from the latter half of the Middle Ages, which extended from the 5th to 15th century. 


In medieval times, when religion was very much a part of everyday life, it was common for saints' figures or religious text to appear on the rings alongside romantic expressions or even expressions of friendship. In this way, the rings functioned both as a religious talisman and a gift of love. 


Jewelry designer
Monica Rich Kosann
, who recently launched a line of posy-ring inspired jewelry, said posy rings also were exchanged between kingdoms and religious houses as a show of support. 
According to the Victoria & Albert, posy rings from Medieval period mostly have the words engraved around the outside of the band, while in later examples the lettering is found inside. 


What were some of the most common inscriptions? 

Like much personalized jewelry today, the posy ring provided the wearer the chance to don something completely different than what their neighbor had. They could dictate a saying that was personal to them and the person with whom they were exchanging the ring.
The Victoria & Albert Museum also noted, however, that certain inscriptions appear on multiple rings, indicating the goldsmiths of the day had a book of stock phrases from which clients could choose. 


Borchert said George Kunz's 1917 book,
Rings for the Finger
, contains a list of posy rings phrases, including "Joy without end" and "Let liking last." 
The phrases were written in Latin, Old French or Old English. Until about 1350, the lettering was done in a script with rounded capital letters known as Lombardic, while later examples use Gothic script.  


How can retailers add posy rings to their antique jewelry inventory?
 
In her 25 years in the jewelry industry, Borchert said she has seen only a few true posy rings.

Because they are so old--the above example dates from the 1300s--most end up in museums like the Victoria & Albert in London or in the hands of private collectors. 
There are, of course, modern interpretations as seen in Kosann's collection, which was created to benefit three different charities, the Breast Cancer Research Foundation, the North Shore Animal League and Win, a charity for homeless woman and children in New York. 


"They were one of the most romantic pieces in history," Kosann said when explaining why she picked this particular category as the inspiration for her new collection. 


The designer opted to make her modern-day posy rings smaller than the average ring so her customers mostly wear them on a chain, a "really cool look" she said she's seen on a lot of young women and that has, apparently, resonated with customers.


"It's just gotten such a great response," she said. "It's really exciting for us." 


While Kosann had the foresight to link her collection of engraved rings to the poesies of old--giving her retailers a story with which to sell the pieces--Borchert pointed out that one could make the argument that any ring with a meaningful phrase inscribed is, in fact, a posy ring.


"The message is the thing. If it has the message, you could make a point that it's a posy ring," she said. 


More on Trends
Trends
Nov 22, 2023