The History Behind … Art Nouveau jewelry
The latest installment in National Jeweler's antique and estate jewelry series examines Art Nouveau jewelry, which was created in France between 1895 and 1910.
New York--It was a short-lived period of design that focused on women and nature and was worn by only select members of society.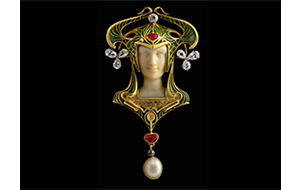 One example of Art Nouveau jewelry is this ivory face pendant, created around 1859 by French designer Leon Gariod.
It was Art Nouveau jewelry, created in France in the late 1800 and early 1900s, a time before the first World War, when mass manufacturing got its start and the absinthe was flowing.
Recently, Elyse Zorn Karlin, co-director of the Association for the Study of Jewelry and Related Arts, walked National Jeweler through this fascinating, but short-lived, period in jewelry design.
When and where was Art Nouveau jewelry popular? Art Nouveau ("new art") jewelry was created in France between about 1895 and 1910, coming on the heels of the "overwrought" designs of the Victorian era (which ended with Queen Victoria's death in 1901) and creating a striking contrast to the mainstream Edwardian designs of that time, Karlin said.
While jewelry with a similar aesthetic was being made in other countries during the same time period--for example, Jungenstil in Germany and Austria--true Art Nouveau jewelry is decidedly French.
It was a short-lived period in jewelry design, lasting only about 15 years, because of the onset of World War I and because the pieces were so over-the-top that people quickly lost interest in them.
Why was Art Nouveau jewelry created? Like all art, the zeitgeist of a particular era is written in the design of its jewelry.
Karlin said Art Nouveau jewelry was a reaction to a number of things going on in French society at that time, including women's fight to secure more rights for themselves outside of the home by getting an education and a job.
The French in particular seemed to have an "inordinate" fear of what would happen to their society if women won the equal rights they were fighting for, she said.
This was due in part to the nation's loss in the Franco-Prussian War, which was hugely humiliating and left France feeling vulnerable. The idea of women leaving to work outside the home stoked fears of the birth rate dropping, leaving the country without enough men to support future armies.
This is why, Karlin said, so much of Art Nouveau is woman-centric.
The pieces depict a lovely, unthreatening woman with flowing hair and a sweet face; "fantasy" women, such as sexualized
mermaids or fairies with wings; or "scary" women, figures like Medusa, which represent the dichotomy of how French men thought about French women at that time, Karlin said. They were revered but they also were feared.
In addition to women, Art Nouveau jewelry incorporated nature in a way that never had been done in jewelry before, with insects and flowers that had a sexualized nature to them.
"All of this was totally new for jewelry. There had never been anything like this before," she said. 
Who wore this jewelry? "There's no doubt Art Nouveau was meant for a very select sample of society," Karlin said.
The pieces were large and "in-your-face" and a lot of them depicted naked women, which was shocking at the time.
It also was expensive, so most pieces were donned by wealthy, artistic types.
Demimonde, unmarried women who were supported by wealthy lovers and considered to be on the fringes of acceptable society, wore Art Nouveau jewelry as did a number of well-known entertainers.
Karlin said probably the most recognizable was actress Sarah Bernhardt, who helped to make jewelry designer René Lalique famous. "If she didn't wear Lalique jewelry, I don't think it would have become known like it was," she said.
What materials were used for Art Nouveau jewelry? While this certainly cannot be said for other periods, for Art Nouveau jewelry "The materials were not as important as the design," Karlin said.
The pieces were less about gemstones and more about enamel, including plique-à-jour enamel. French for "letting in daylight," plique-à-jour enamel is translucent, meaning it allows light to pass through; think of a stained-glass window.  
Horn, usually from domestic animals such as cows, was heated and bent into different shapes for Art Nouveau pieces, and a lot of carved ivory was used as well.
Diamonds were used too, but mostly as accent stones.
How much is Art Nouveau jewelry worth today? Because much of it was made of enamel, which breaks easily, and it was a short-lived period in jewelry design, Art Nouveau designs in good condition are not abundant.
This, of course, also makes them highly desirable.
Karlin said while Art Nouveau pieces haven't gotten up to the million-dollar range yet, pieces that are attractive and in good condition will fetch a few hundred thousand dollars. To wit: Last month, Sotheby's sold a Lalique pendant for $212,500, more than double its highest estimate. 
"If you can buy them at a good price, I would buy them, no doubt about it," Karlin said.
More on Trends
Trends
Nov 22, 2023