My 7 Picks from the AGTA Spectrum Awards
Senior Editor Brecken Branstrator blogs on the pieces she loved and why.
Being a part of the AGTA Spectrum competition is the stuff of which a gem hound's dreams are made. 

This  year, my participation started with having the privilege of judging, along with four other amazing women, the entries for WJA's Gem Diva awards. We had to narrow down the 150-plus entries to four winners.

After judging on Sunday, I was itching to spend more time with all the entries and to take pictures. Luckily, just two days later, I returned to the beautiful, sunlit loft space in New York where AGTA holds the Editors' Event every year to spend hours playing with the hundreds of pieces that were submitted.

The quality of the entries seemed better than ever, and there were a few things, stone-wise, that stood out to me: I was so happy to see a few trapiche sapphires in the competition this year, as well as some jade and a stronger showing from spinel.

While it's always hard to narrow it down to a few favorites, I wanted to go beyond the winners list a little to show you some of my selects from the day.

(It goes without saying: this is a non-exhaustive list. I probably could've written about four times as many entries but wanted to spare you all a long blog. Check out our Instagram, though, as we'll continue to post more favorites there.)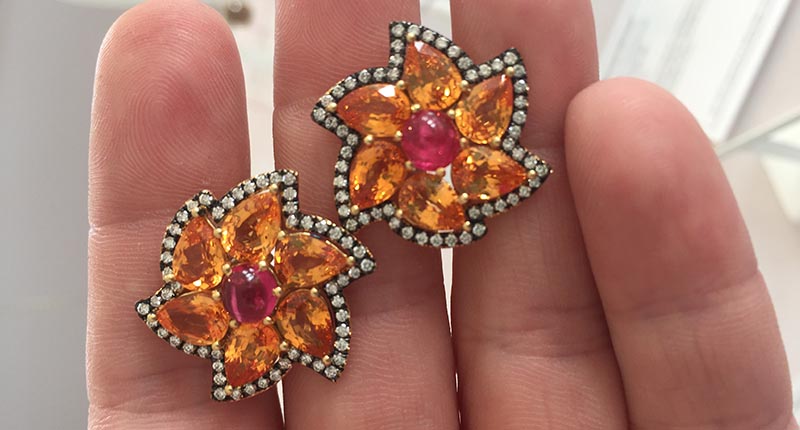 The summer jewel. 
Bella Campbell of Campbellian Collection knows how to pick gems, how to pair them and how to set them. I love the vibrancy of the orange in the spessartite garnets in these earrings and the cabochon spinel in the center. The black rhodium over 18-karat gold gives them a little edge to create a pair of earrings I think anyone would be happy to wear in the warm days of summer.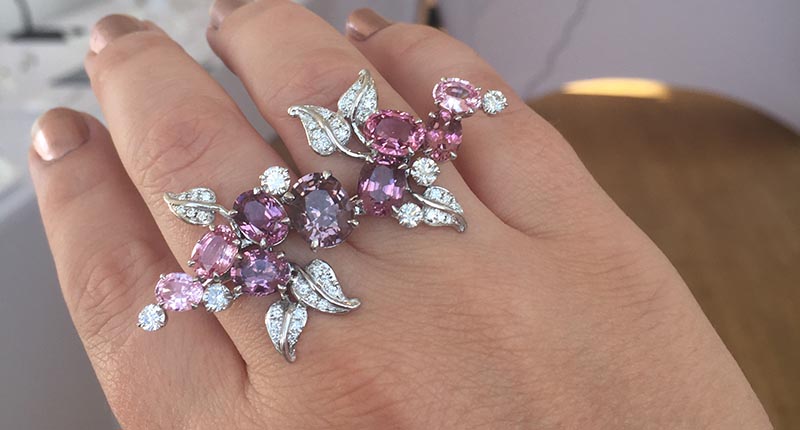 The fashion-forward piece.
Look, I'm not going to lie. The thing that first had me speed-walking to this piece was the cluster of spinels. But there was so much more to it, as I found out as soon as I put it on. This two-finger "Pink Peony" 14-karat white gold ring by Dallas Prince Designs was comfortable--I could easily move my hand around--and well made. I fell for it hard and fast, and was ready to push for this ring to be a winner during the Gem Diva judging. Happily, I didn't need to because
we were all pretty much on the same level with this ring.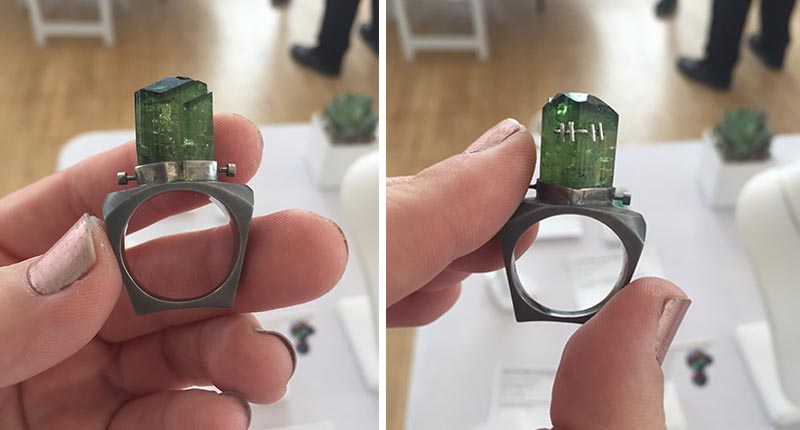 The creative use of a crystal.
Readers, meet "Frankenstein." I grabbed this piece, which is 14-karat white gold with rhodium and black rhodium plating, off the table to take a look at the green chrome tourmaline crystal and then saw the wiring in the back. Confused, I looked down at the label, saw that it was titled "Frankenstein," turned the piece around to take a look, and then cackled once I took it all in. I love the creativity behind this piece and its sense of humor. Thanks for that treat, Jennifer Kellogg. I'm a fan.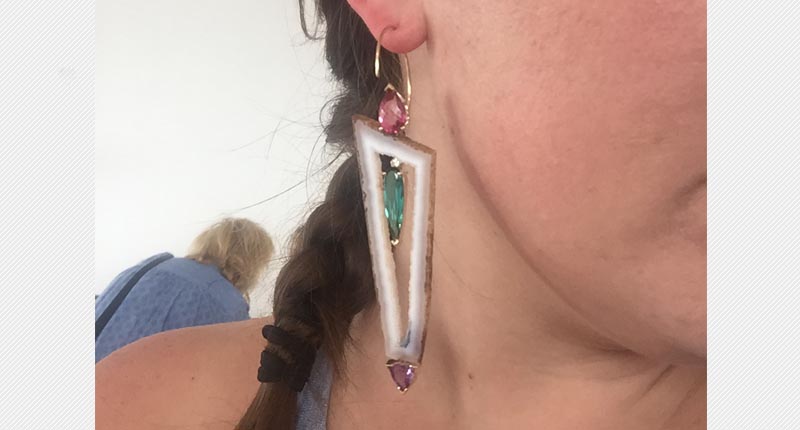 The everyday piece.
These earrings from Mark Loren ended up winning the Editors' Choice Award once the Spectrum press day had wrapped, and it's not hard to see why--the contrast of the agate druzy slices with the faceted green tourmalines, pink topaz, amethyst and diamonds is perfect. I would wear these time and time again, both dressed up and dressed down.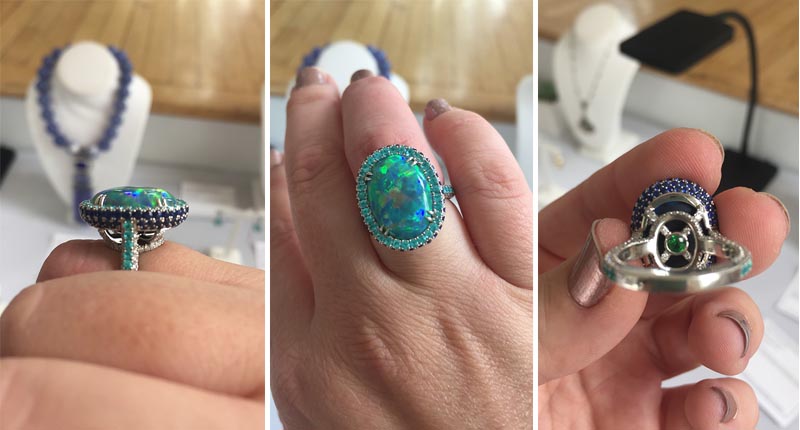 The hidden accent.
Everyone loves the romanticism of a hidden feature on a piece of jewelry, something that no one but the wearer, and a few others, know is there. This platinum ring from Omi Prive is perfect from start to the finish of a secret gem: a vibrant black opal on top, accented with paraiba tourmalines, blue sapphires and diamonds. Then flip it upside down and you've got a sweet tsavorite garnet acting as the cherry on top (or, rather, on bottom) of one gorgeous sundae.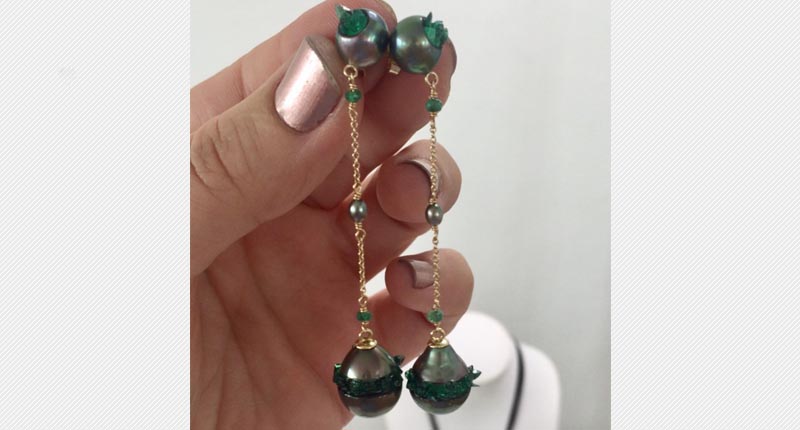 The innovative pearl.
A lot of companies and designers are trying to do new things with pearls to make them relevant to today's consumers, but I think
little h
is one of the designers doing it best. Her innovative way of slicing open pearls and embedding them with gemstones has such an edgy, updated look, and I think the design of these earrings, with Tahitian cultured pearls, emeralds, keshi pearls and baroque pearls, offers an intriguing look but in a way that's subtle enough and delicate enough they could easily be worn by many and on a regular basis.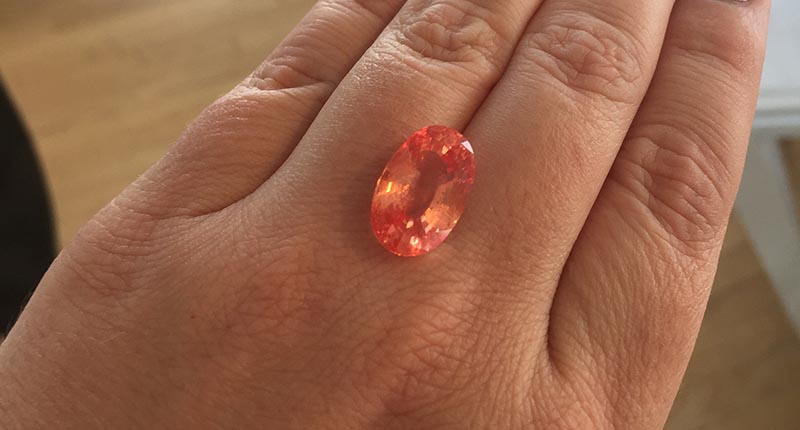 The gem in my future collection.
That title may be hyperbole, but I'm going to be optimistic and pretend like it's not. It's amazing how stones can elicit such strong reactions from people, and this 12.56-carat unheated Ceylon padparadscha sapphire--honorable mention winner in the Classic Gemstone Cutting Edge category--swept me off my feet. The color and saturation were out of this world and kept drawing me back, like a moth to a flame. After I got to hold it, I looped back around to the display case a few more times just to see it again.
More on Editors
Editors
May 24, 2023