'The Moon of Baroda' is Going Back Up on the Block
Christie's will attempt to sell the 24-carat yellow diamond again in Hong Kong next month.
Hong Kong—It is a 24-carat yellow diamond with an intriguing back story, and it's going back up on the auction block this fall.

As part of its fall jewelry auction in Hong Kong, Christie's is offering "The Moon of Baroda," a fancy yellow pear-shaped stone from the legendary Golconda mines probably best known in the modern world for adorning Marilyn Monroe's neck.

The actress wore it in 1953 while promoting the release of "Gentleman Prefer Blondes," the film where she famously sang "Diamonds Are a Girl's Best Friend," a phrase that, incidentally, found a new owner earlier this month.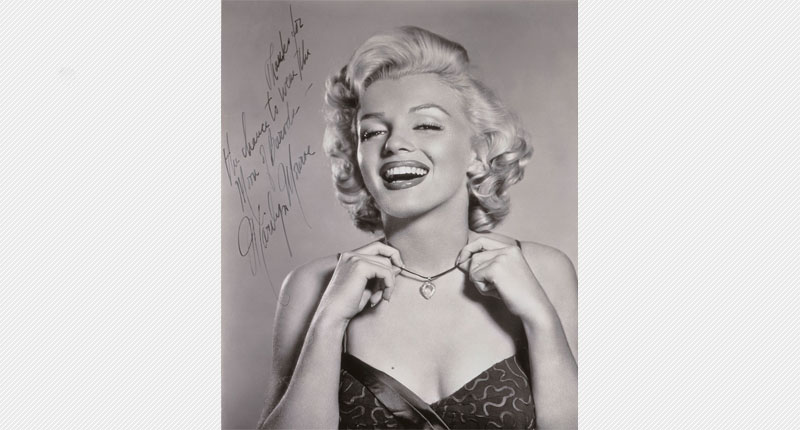 This autographed picture from 1953 of Marilyn Monroe wearing "The Moon of Baroda" will be auctioned off along with the diamond. The 24.04-carat, VS2 stone goes up for sale next month at Christie's Hong Kong.
While Monroe made the diamond famous in the mid-50s, its storied history stretches back hundreds of years.

Christie's said the Gemological Institute of America determined recently that the diamond was from Golconda, the region of India known as Hyderabad today that produced some of the world's biggest and most beautiful diamonds until its mines dried up in the early part of the 20th century.

The Hope Diamond, Dresden Green and Wittelsbach-Graff all came from Golconda, and Christie's said The Moon of Baroda was likely mined there between the 15th and 17th centuries, as were the 105.6-carat Koh-i-Noor and the 19.07-carat Grand Mazarin.

At one time, the diamond might have been part of the collection of the Gaekwads of Baroda, one of India's wealthiest ruling families.

In more recent years, the diamond has belonged to Cleveland, Ohio-based diamond cutter Samuel H. Deutsch, who bought it in 1944 and sold it to Meyer Rosenbaum, president of Detroit's Meyer Jewelry Company, in 1953.

Nearly four decades later, The Moon of Baroda went up for auction, selling at Christie's New York for $297,000 in 1990.

The current estimate on the diamond, which is being sold with an autographed picture of Monroe wearing it, is HK $4-6 million ($510,300 to $765,450).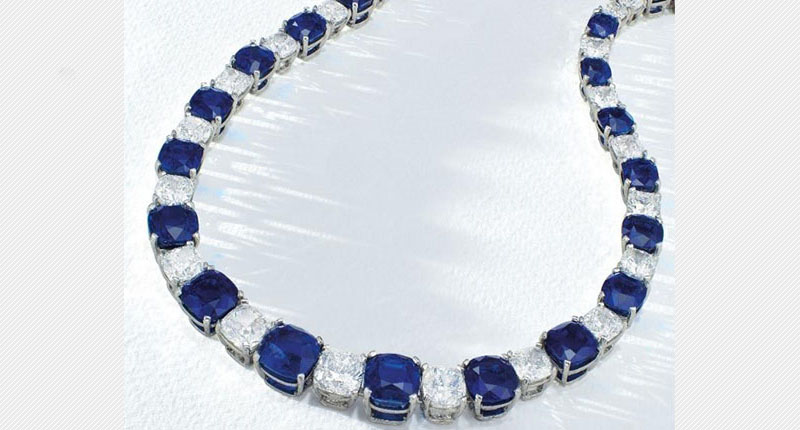 The Moon of Baroda is part of the Nov. 27 Magnificent Jewels sale at Christie's Hong Kong.  

Also included in the sale is "The Peacock Necklace" (pictured above), a diamond and sapphire necklace set with 21 Kashmir sapphires weighing a total of 109.08 carats.

Christie's estimated the Peacock will set for HK $95 million to $120 million ($12-15 million).
More on Auctions