Analysis: The State of Jewelry Design
The most exciting design voices today are coming out of Los Angeles, and the community is determined to keep production domestic.
Chances are, if you hear about an up-and-coming fine jewelry brand worth watching today, it's based in Los Angeles.


Global design capitals like New York, London and Paris have long had the infrastructure necessary to support and attract jewelry talent, who flock to these cities' respective jewelry districts to work with industry suppliers, dealers and craftspeople.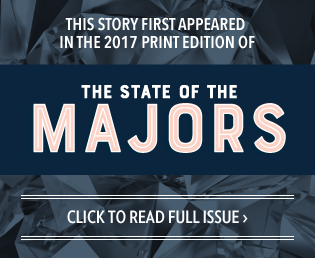 In the United States, the same goes for Los Angeles, which has its own jewelry district downtown. But the City of Angels has traditionally played second fiddle to New York, both in terms of industry scope and design credibility.
That's all changed.
"When I started my collection, New York was still the center of the industry. I feel like it's flipped now. There are so many designers based in L.A.," says Ariel Gordon of
Ariel Gordon Jewelry
, who has been producing entirely in the latter city since she launched her brand of wearable, personalized fine jewelry in 2009.
In terms of fashion, Los Angeles is saddled with the reputation of a beach city, more concerned with showing skin than innovating or pushing aesthetic boundaries, a responsibility that traditionally has been left to New York.
This still holds true for clothing, but jewelry is transcending the stereotype, expanding from baubles that are merely beachy to some of the most interesting designs found stateside.
"From a marketing perspective, there was a feeling for years that Los Angeles wasn't a high culture place capable of putting out pieces of the same level as Paris or New York," says Vram Minassian, the designer of Los Angeles-based
Vram Jewelry
, known for its abstract and inventive pieces. "But that has changed gradually over the last 20 years, and now it's understood that L.A. is a market that has incredible relevance and creativity on par with the older, denser cities. It takes some time for people to notice, for the attitudes to shift."
Gemstone dealer David Bindra joined his family's gemstone wholesale company, B & B Fine Gems, nine years ago, and in that time has witnessed the rise in prominence of the city's designers. 
"It's amazing to see the diversity in talent that we have in L.A.," Bindra says. "We have several of our industry's powerhouses here in town, from important wholesale brands like Simon G. and Tacori to high fashion jewelers such as Irene Neuwirth, Victor Velyan and Arunashi. It's a great place to be, creatively." 
Jewelry editor and author Marion Fasel, whose books include "Hollywood Jewels: Movies, Jewelry, Stars" and who recently launched online jewelry magazine
The Adventurine
, notes that jewelry has had a special relationship with Los Angeles ever since the inception of Hollywood.
The New York-based Fasel spends January and February in L.A. to cover the jewelry featured on the award show red carpets and says that besides the usual red carpet heavyweights, she's noticed a rise in the number of independent jewelry designers in Los Angeles over the last five years.
"Los Angeles is the hub of innovative and emerging jewelry design today," she asserts. "I feel like there are many more new names in Los Angeles than in New York. It seems every young designer tells me a story about how they started learning about jewelry design in the manufacturing district of downtown Los Angeles."
The Jewelry District
Proximity to production is the most obvious factor in the current prevalence of the L.A. jewelry design scene.
Azlee
, the Los Angeles-based fine jewelry brand designed by Baylee Zwart, has made waves among editors and stylists for its structural boldness and chic simplicity, which would seem more at home in Paris than southern California.
Zwart learned metalsmithing in Guatemala and originally crafted her pieces herself before realizing she "wasn't going to be able to scale the business if I didn't partner with a manufacturer."
She explains: "I tried to start the company in San Francisco after I was living in Guatemala, but there just wasn't the infrastructure up there. A big reason I ended up in L.A. was because of the jewelry district. I wanted all of our manufacturing to be local as well as all of our vendors, which is possible in L.A. Since I am no longer making the jewelry myself, I love that I still get to be so hands-on. I get to see and touch every single piece that is made … I love the collaboration and intimacy of producing locally."
Designer
Zoe Chicco
is also able to make the San Francisco/Los Angeles comparison. Chicco's namesake brand, which specializes in essential, everyday fine jewelry meant for mixing and matching, was founded in the former city in 2000, as a new wave of independent fine jewelry designers began to blossom.
"From what I can remember of San Francisco, Los Angeles has a much larger jewelry district," she says. "As a result, there are a lot more options available. Very rarely is there something I need that I cannot find readily available the same day, whether it is tools, materials, or a service."
Today, Chicco's designs are manufactured in-house, affording her the utmost creative and quality control, but she still relies on the jewelry district for keeping her business streamlined and efficient.
"In the past year, there have been times that we have had to outsource some of our pieces when we've been too busy or short-staffed and we have more work than our team can handle," she explains. "In those cases, we have turned to some local manufacturers to help us with our workload. It is unusual, but it is definitely great to have other resources available if it is necessary."
LA vs. NYC
Though Los Angeles's jewelry district might be better developed than San Francisco's, it's not as large as its New York City counterpart, and access to supplies and manufacturing doesn't fully explain why L.A. has begun to exert such a dominance in design.
There are other factors at play, and the first is lifestyle.
Designer
Polly Wales
, known for her "cast, not set" technique, moved to Los Angeles from London a year and a half ago, along with her entire production.
"For me, the light and the space in L.A. have been such game changers," she says. "We have more space than I could have ever dreamed of here, and to have such openness and light where we work has changed the way we make jewelry. We have grown into the light."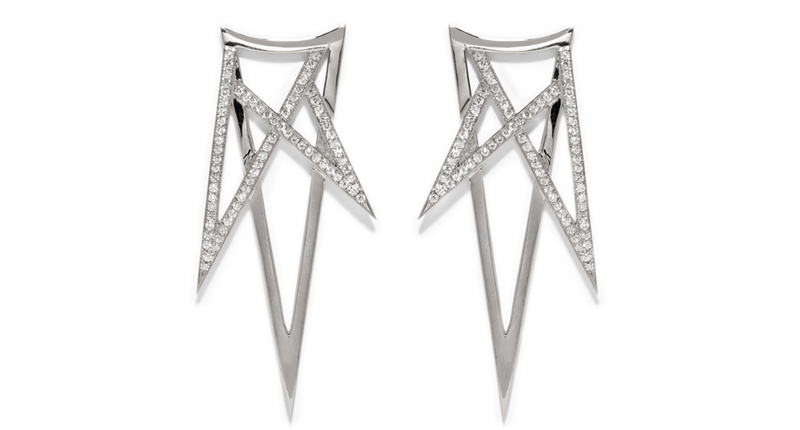 Other designers echoed that sentiment.
"Los Angeles is central to so many areas of inspiration," says
Tacori
CEO Paul Tacorian. "Virtually no matter where you are, you're an hour or two from the mountains, the ocean, the desert, the vineyards, the city. All of these things inspire our team of designers and everyone who works at Tacori."
In comparison to New York, designers have found that everything—from the cost of living to the cost of production—is more manageable in L.A.
Designer Yves Spinelli of
Spinelli Kilcollin Kilcollin
says that while Los Angeles might never be the U.S. hub of jewelry and manufacturing that New York is, the cheaper rents and slower pace allow for a lot of creativity and flexibility for designers.
While lifestyle is one draw to Los Angeles, the other is more romantic—the idea that Los Angeles is a place where dreams come true and you can be anyone you want to be.
"Working and designing in Los Angeles has such a different energy than any other place in the world," says Tacori COO Nadine Tacorian Arzerounian. "There's a sense of manifest destiny, that anything is possible; it's a city of dreamers."
The Tacorians believe anything is possible because, for their family, it's been true. Founder and Chairman Haig Tacorian didn't speak any English when he immigrated to California from Romania in the 1970s.
Today, the massively successful brand boasts its own 25,000-square-foot workshop, where everything is produced on site.
"We are inspired by the spirit of California," Paul Tacorian says. "We have an insatiable appetite to do better tomorrow than we did yesterday."
DTLA's Renaissance
While the weather, laidback lifestyle, and lower cost of living has been a draw for designers, the number of manufacturers operating out of L.A.'s jewelry district has shrunk since the recession.
And as downtown L.A. (DTLA) undergoes the same kind of gentrification seen in urban areas across the United States—think, New York's Brooklyn, or San Francisco's Mission District—some are excited to witness the development of the area, while many fear that old-school artisans won't be able to keep up with rising rents.
"It's not been long since we landed (in Los Angeles)," says Wales, "but I see the changes every day as I walk down the street. Downtown L.A. is changing so fast, evolving and coming up. I'm seeing more and more people move to L.A., like Anna Sheffield, and brands like Catbird doing pop-ups."
The Tacorian family has been a longer witness to the district's evolution.
"We've seen downtown Los Angeles continue to go through a renaissance. The downtown scene is virtually unrecognizable today from when we were based there," says Nadine Tacorian Arzerounian.
"We have a great retail partner, Icing on the Ring, who has a beautiful, upscale store based in the jewelry district. Ten years ago, some customers wouldn't have wanted to have that downtown jewelry district experience. Today, it's much more vibrant and exciting."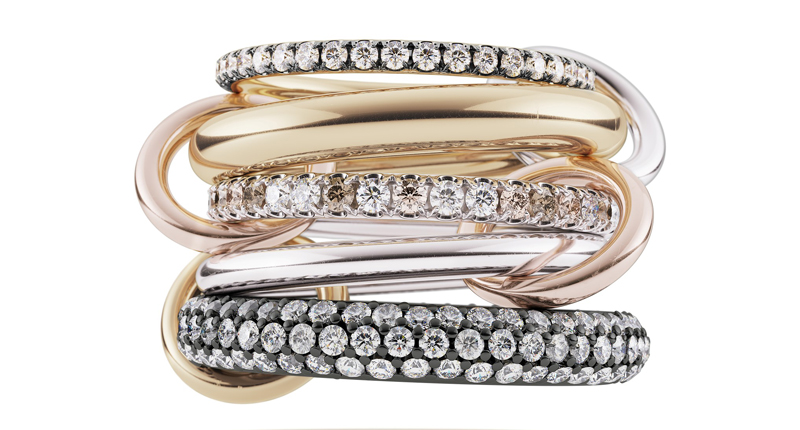 With growth, however, comes the aforementioned fear of displacement. 
"The number of new luxury condos in downtown Los Angeles over this past year is astonishing," says Kilcollin. "National chains are popping up around the jewelry district: Whole Foods is here, Trader Joe's is said to be building soon. It will be interesting to see how the jewelry district around Pershing Square will survive the higher rents and need for more condos."
The easy answer for designers looking for access to more manufacturers, and at cheaper costs, would be to outsource production to Asia, but keeping production domestic is essential to many of L.A.'s established and rising jewelry stars.
As Gordon watches downtown L.A. rents rise and new condos populate the area, she worries about how this will affect the artisans with whom she works.
"The cost of labor here is so much higher than if I outsourced my production overseas, but paying my team living wages and supporting their artisan skillset is so much more important to me," she says.
Gordon continues: "I've seen rents go from $1 per square foot to over $6 per square foot in the last eight years. I hope that the city is smart about how it lets developers grow downtown L.A., otherwise the old-school jewelers, diamond setters, and casters will get forced out of the neighborhood. What makes it so magical, and makes my production hum along, is that all these old-timers are all within a block of each other. There is such a synergy there that I hope is preserved as the district gentrifies."
With the demand for manufacturing from independent jewelry designers in L.A. at an all-time high and growing, many more designers, like Gordon, hope that the downtown jewelry district, and the number of craftspeople in the city, will be able to keep up the supply. They are dedicated to producing in Los Angeles. 
"(Outsourcing) and competing with each other on price is not what this art is about," Azlee's Zwart says. "It's about craftsmanship and quality and supporting other local artists. I hope that we can all recognize that and strive to keep our products made locally and in the U.S.
"This isn't fast fashion, and this isn't about beating each other's prices."
More on Trends