Why the Biggest Rough Diamond in a Century Failed to Sell
The CEO of the company that found the 1,109-carat Lesedi la Rona said, "the historical significance of the stone seems to have been missed based on the bids offered."
London--Even after a lot of publicity and excitement around Lucara's 1,109-carat Lesedi la Rona rough diamond, the tennis-ball sized stone failed to sell at auction Wednesday.

Discovered at Lucara Diamond Corp.'s Karowe Mine, the stone is the largest rough diamond found since the 3,016.75-carat Cullinan Diamond in 1905.

Lucara said that bidding at the auction at Sotheby's London did not meet the reserve price--Sotheby's pre-sale estimate on the stone was $70 million--so it will "retain" the stone for now. The highest bid reached was $61 million, $68.3 million with buyer's premium.

Lucara CEO and President William Lamb told National Jeweler, "It needs to be understood that this is the first time anyone has attempted to sell a rough diamond via the auction process. Lucara wanted to understand whether there was a market for truly exceptional diamonds where they would be purchased as collectables the same as high-value art.

"We understand that it is not easy to see the true value in a diamond when the only mechanism is to value the polished. The historical significance of the stone seems to have been missed based on the bids offered."

When asked what role he thought Brexit or other global economic situations might have had on the outcome, he said, "We cannot say. In today's volatile times, there is always some level of economic uncertainty. Saying this is the reason the auction did not conclude with the sale of the stone would be incorrect, although it may have in some way played a small part."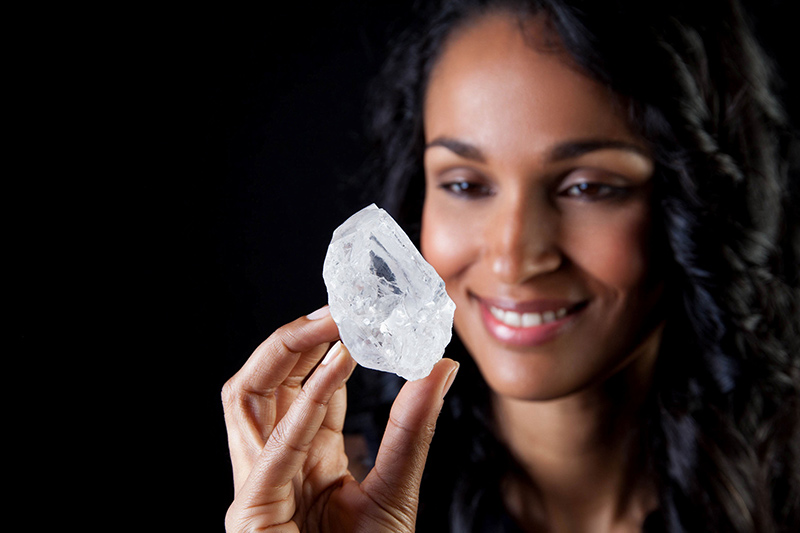 Lucara said it could go a number of routes with the rough diamond now, from partnering on the stone to holding a regular tender within the diamond market or even putting Lesedi la Rona on display at a museum.
When the news first broke that the stone would be put up for auction, Sotheby's said it commissioned independent reports on the potential yield of Lesedi la Rona from the Gem Certification and Assurance Lab (GCAL) and Diamex Inc./Crodiam Consulting DMCC.

The reports weren't made public, though a few details were released, including the fact that experts believe that the Lesedi la Rona could yield a polished white diamond that tops the "Great Star of Africa" (530.20 carats) in size.

The reports also stated that there is a "high probability" that the polished diamonds cut from the 1,109-carat rough will be D color.

Aside from its size, the fact that
the Lesedi la Rona was a rough diamond offered up at a public auction--one open to more than just the trade--was another notable aspect of this diamond find.
With the auction having failed, Lamb said there are a number of options available to Lucara, ranging from partnering on the stone to holding a regular tender within the diamond market or putting the stone on display at a museum.
He said with no pressing need to sell the stone, Lucara has time to decide what might be the best route to take.
Aside from Lesedi la Rona, Wednesday's auction also featured three other pieces of rough, proceeds from the sale of which will go to the
Lady Khama Charitable Trust
. The trust supports existing charitable organizations working on community development and projects that benefit vulnerable women and children.
All three lots' pre-sale estimates were between $10,000 and $15,000 but came in well above that.
A rough diamond weighing 5.44 carats and octahedron in form garnered $57,500. A 5.62-carat rough diamond of octahedron form went for $42,500, and a third piece of rough weighing 5.78 carats of rhombic dodecahedron form sold for $40,000.
More on Sourcing