Nirav Modi Nabbed, Held on Bail in London
The billionaire fugitive was reportedly arrested in a bank while trying to open an account.
London—Nirav Modi has been arrested in London and is being held on bail, numerous news outlets reported earlier this week.

The Indian government, which has been on the hunt for the billionaire diamantaire since he fled the country early last year after being implicated in a $1.8 billion bank fraud scheme, said it wants Modi back in the country to face charges of criminal conspiracy, corruption and money laundering as soon as possible.

"We welcome the fact that Nirav Modi has been arrested by the United Kingdom authorities pursuant to the arrest warrant issued by the Westminster Magistrates' Court," the country's Ministry of External Affairs said in a statement issued Wednesday. "The Government of India continues to actively follow up this matter with the authorities concerned in the U.K., with a view to have Nirav Modi extradited to India at the earliest."

Reports first surfaced that Modi was living in London in August, but his arrest didn't come until after journalists with The Telegraph newspaper tracked down the tycoon last week. Reporters found him living in a £8 million ($10.5 million) flat in London's West End, working in the diamond business again. (Full story available to subscribers only.)

London's Metropolitan Police arrested Modi on Tuesday at a bank where he was trying to open an account after the teller alerted police. District Judge Marie Mallon denied him bail in Westminster Magistrates' Court, deeming him a flight risk, The Telegraph reported.

While the Indian government wants Modi back in the country as soon as possible, there are conflicting opinions on how long his extradition could take, if it happens at all.

Some experts are saying it could be done in as little as six months, while others cite the ongoing saga of Vijay Mallya, the Indian liquor tycoon who also is charged with financial crimes but has been fighting his extradition for nearly two years, as an example of how Modi's case could drag on.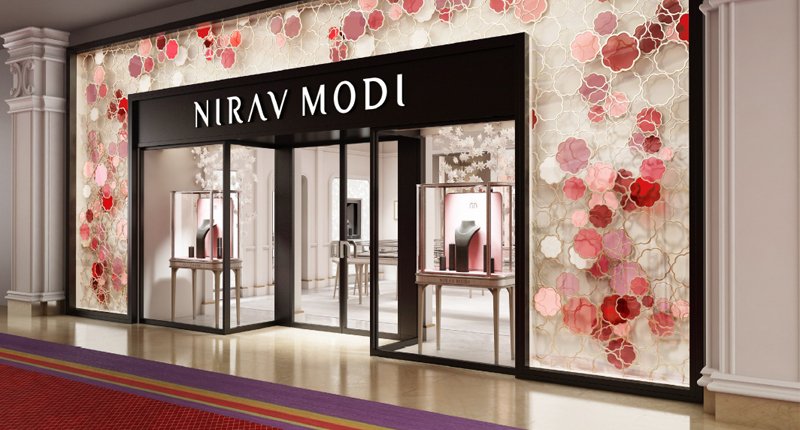 A rendering of the Nirav Modi store at Wynn Las Vegas. Before his empire came crumbling down, the billionaire diamantaire had three high-end, eponymous jewelry stores in the United States and his one-of-a-kind works were becoming red carpet staples.


The scandal in which Modi is implicated first came to light in early 2018, when India's Central Bureau of Investigation accused the diamantaire, his brother Neeshal, and his uncle Mehul Choksi (the former managing director of
Gitanjali) of bilking the state-run Punjab National Bank out of nearly $2 billion.
Modi, who has maintained his innocence throughout, left India shortly before the CBI levied its accusations.
Authorities have been on the hunt for him since, requesting Interpol
issue a Red Notice
, a notice to law enforcement worldwide requesting they locate and provisionally arrest a person pending extradition, on charges that now number five: punishment of criminal conspiracy, criminal breach of trust by public servant or by banker merchant or agent, cheating and dishonestly inducing delivery of property, prevention of corruption act and money laundering.
The fallout from the Indian bank scandal had a worldwide ripple effect in the diamond industry, pushing numerous companies in the United States with ties to Modi and Choksi into bankruptcy, forcing the closure of his high-end jewelry stores in New York, Las Vegas and Honolulu, and putting a lot of people out of work in the process of both.
It was also another
"nail in the coffin"
to the diamond industry in terms of bank financing, one longtime banker told National Jeweler after news of the scandal broke, making those few banks that still are financing the midstream sector of the industry even more stringent about lending money, while giving those that aren't involved another reason to stay out of it.
More on Sourcing
Sourcing
Dec 04, 2023