Diamonds International Opens a Store at Disney World
It is the company's first non-cruise-related store in the contiguous United States.
Orlando--Diamonds International is opening its first non-cruise-related store in the contiguous United States, a watch-focused boutique located at what is perhaps the world's most well-known amusement park.

Luxury of Time By Diamonds International, a new concept for the chain, has opened at Disney Springs, an outdoor shopping center at Walt Disney World Resort in Orlando.

Designed by Kenneth Park Architects, the 3,073-square-foot boutique is comprised of shop-in-shops for a wide range of watch brands and also sells diamond and tanzanite jewelry, including Diamond International's Crown of Light and Safi Kilima brands.

Watch brands sold at the store include Breitling, Bulgari, Chopard, Citizen, Hublot, Movado, TAG Heuer, Tissot and TW Steel.

In a news release announcing its opening, store General Manager Julius Slaughter said the company has "repeatedly been asked" over the years when Diamonds International would be opening a store in the contiguous U.S.

He said Disney Springs is "the ideal location to expand our reach into new tourism markets."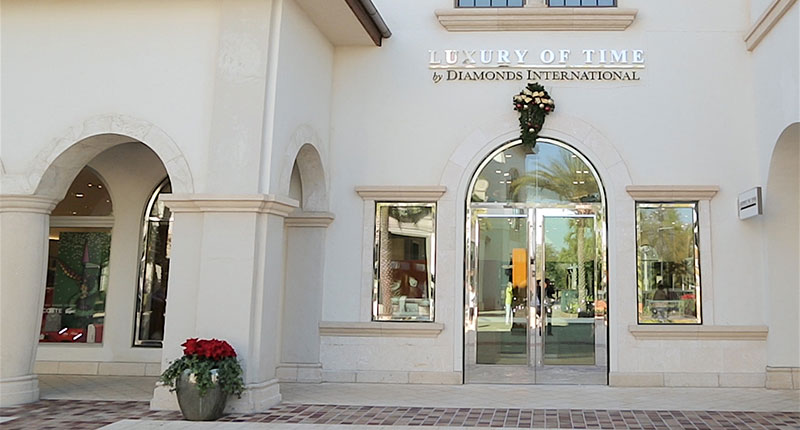 An exterior shot of Diamonds International's new store at Disney Springs
Diamonds International operates Diamonds International, Tanzanite International, Diamonds International Watch & Design and, now, Luxury of Time by Diamonds International stores in cruise ships ports-of-call all over the Caribbean, as well as in Mexico, Central America, Key West and Alaska.

The company ranked No. 5 on National Jeweler's Top 50 Retail Jewelry Chains by store count list in the 2016 State of the Majors, with 130 stores as of the end of 2015.
More on Majors
Majors
Sep 25, 2023