These Up-and-Coming Brands Will Be at JA New York
Meet the eight faces that will comprise the jewelry trade show's New Designer Gallery.
New York—The spring edition of the JA New York show is fast approaching and with it, a new crop of fresh design talent.

The show's New Designer Gallery, a trade show visitor fan favorite, is returning with eight brands making their JA New York debut. One of them will take home the Mort Abelson Award, given to the designer who earns the most votes from show-goers.

Julie Lamb has been active in the New York City jewelry scene for a while but will exhibit at the jewelry trade show for the first time, showing her line of wearable everyday pieces full of signatures like shield-cut stones and, yes, a lamb design motif.


Strongest for the designer are her covetable stacking rings, like the hardware-intensive "Freelancer" ring or diamond bands with stones in a milieu of sizes.
Another stalwart of organizations like WJA, New York City's
Original Eve Designs
is finally taking the trade show plunge.
It's good timing, as the designer has really hit her stride lately, showing an eye for unique gemstones and mature, matte metalwork.
San-Francisco based
Ravita Kaplan's
namesake jewelry line has a primal, handmade feel.
Expect classic jewelry silhouettes that are elegant and not unapproachable; rather, they emit a tactile and earthy vibe.
An FIT graduate,
Olivia B. Jewelry
was created in 2016 after designer Shari Cuartero worked for years across fine jewelry manufacturing, merchandising and product development.
Her own design vision is heavy on gemstones set in drop silhouettes; think necklaces with cascading garnets or blue topaz interspersed with diamonds.
M. Hisae
from Michelle Hisae Meronek is a conceptual approach to everyday fine jewelry that's just plain pretty to wear.
Detailed metalwork amplifies responsibly-sourced white diamond alternatives like Oregon sunstone and Montana sapphires for interesting bridal options.
The use of 22-karat gold and ancient techniques like granulation give a timeless feel to
Linda Hoj's
work.
The designer's intricate metalwork sets it apart, however, from jewelry past.
A clever prong setting that's bold and handmade seems to be the signature behind
Aimee Petkus'
namesake line.
Paired with interesting gemstones (notice a trend here?), the brand is an attainable option for the self-purchasing customer.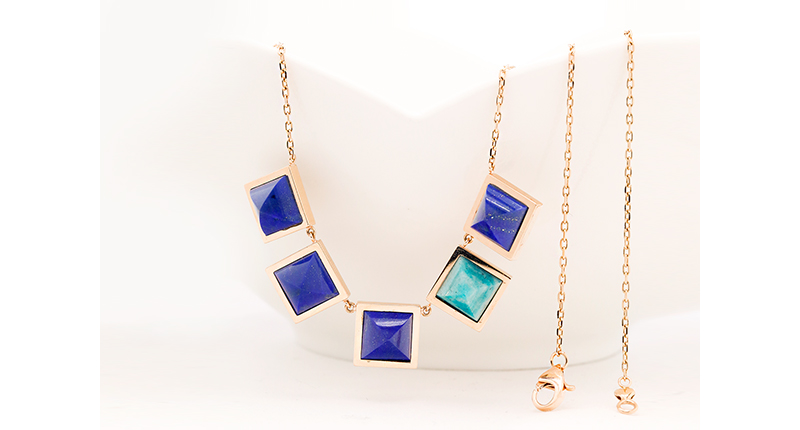 S.Tree Jewelry
takes gems like lapis or amazonite and makes them the stars of her pieces.
The young brand mixes these starkly geometric cuts of these stones with graphic lines for a clean, streamlined look.
More on Events & Awards