Forevermark to Focus on Women in Q4, Backed by a Beacon
The De Beers-owned diamond brand's fourth quarter marketing campaign will target women, both single and married, who buy jewelry for themselves.
Las Vegas--Women will be the focus of Forevermark's fourth quarter marketing campaign, which, like the beacon programs of the past, will center on a single diamond jewelry design developed by De Beers.

Announced Sunday at the diamond brand's annual breakfast in Las Vegas, the marketing campaign will focus on women--both married and single--who buy jewelry for themselves, a category that has grown significantly.

According to De Beers research presented at the breakfast, the number of women who buy jewelry for themselves has increased by 50 percent in the past 10 years and now accounts for more than 30 percent of the U.S. diamond jewelry market.

The campaign also will speak to women who receive gifts of diamond jewelry that celebrate personal success and growth, like promotions or career changes.

"It's time to tell her story," Charles Stanley, president of Forevermark U.S., said.

He said that this type of program--which is reminiscent of the De Beers "beacons," like Journey diamond jewelry and the three-stone (past, present, future) ring--is what Forevermark partners have been asking for from the brand. He described it as getting "back to basics."

The tagline used in the advertising will be trademarked and the design will be exclusive to retailers that carry Forevermark, unlike last year's fourth quarter program, which piggy-backed on the success Signet Jewelers had with the "Ever Us" collection of two-stone jewelry.

"We understand that two-stone jewelry did not work for some of you," Stanley said, addressing the retailers present at Sunday's breakfast. "You need to love the product."

The advertising and marketing materials to support the campaign are still being developed but are slated to roll out in October following a launch event in New York. The campaign will include national TV commercials as well as digital elements.

Forevermark is keeping the design concept under wraps for now; all that company executives would reveal at Sunday's breakfast is that is a multi-diamond design and will be available in earrings, necklaces and rings.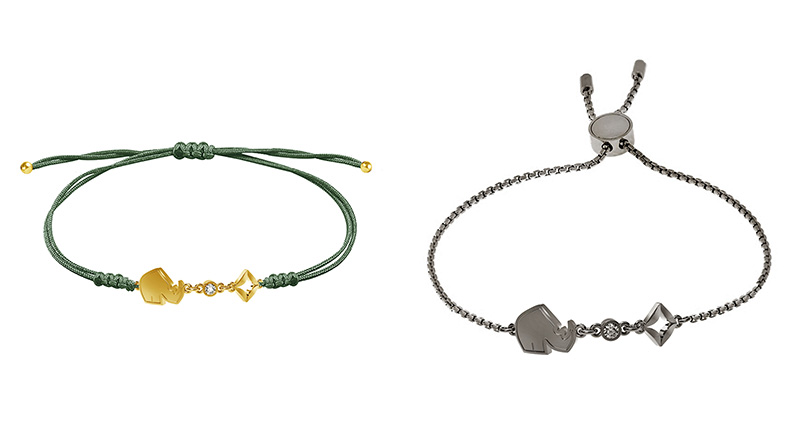 Two of the 10 styles available in Forevermark's new "Lorato Collection," a line of bracelets designed to draw attention to the plight of rhinos in sub-Saharan Africa.
While the diamond brand didn't reveal much about its "big idea" on Sunday, Forevermark did debut the new "Lorato" collection, an exclusive line of bracelets benefiting Tusk, a charity raising awareness of the threat facing black and white rhinos in sub-Saharan Africa.

Forevermark
will donate a percentage from every sale from Lorato (Lorato means "love" in Setswana, the native language of South Africa and Botswana) to Tusk.

The bracelet, which is available in 10 color combinations, features a 10-point Forevermark diamond with a rhino charm and the Forevermark icon on either a gold chain bracelet or colored fabric cord. It will start around $500 retail.

Lorato is slated to launch on World Rhino Day, Sept. 22.
More on Independents