The Queen of Cute Has a Very On-Brand Engagement Ring
Actress and musician Zooey Deschanel got engaged to "Property Brothers" star Jonathan Scott with a Van Cleef & Arpels ring.
Los Angeles—Last week, actress and musician Zooey Deschanel marked her engagement to "Property Brothers" star Jonathan Scott with an unusual engagement ring.
Deschanel, long known for her ultra-feminine, girlish sense of style, debuted the sparkler on Instagram on Aug. 14, with the caption "Forever stars now!!!" lest anyone question the significance of the accessory adorning her ring finger. (See the image below.)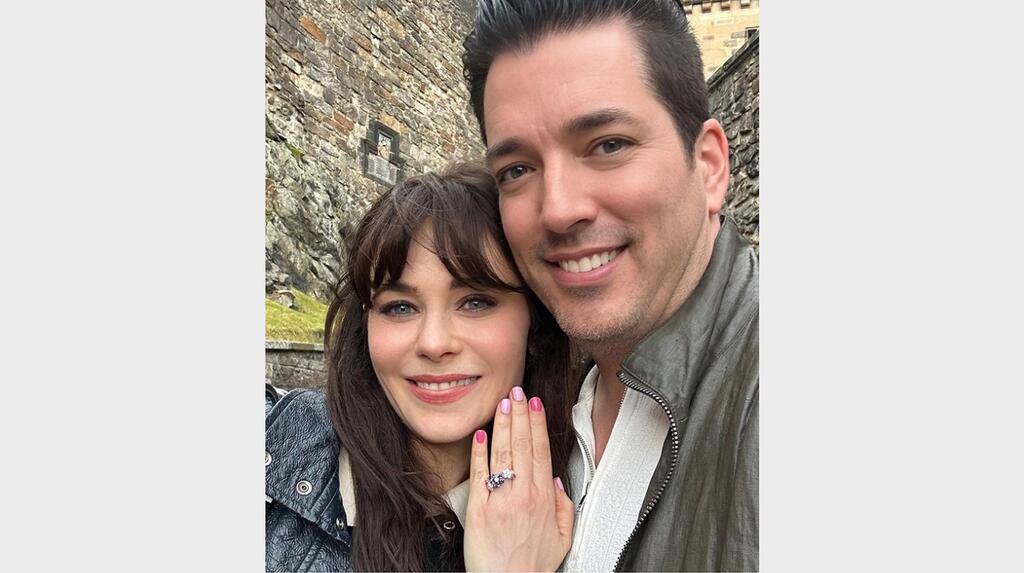 Perhaps unsurprisingly, the "She & Him" frontwoman didn't opt for any
standard engagement ring trends
—no oval diamond, no solitaire setting,
nor the more recent proclivity for metal-heavy options
. 
Instead, she went for a beguiling floral design that wasn't intended as a commitment style at all: a Van Cleef & Arpels high jewelry bauble,
per internet reports
.
The "Folie des Pres" ring, which translates to "madness up close," features a mix of romantic purple and pink sapphires that pop against white diamonds and 18-karat white gold. 
Three floral clusters—two entirely diamond and the center configuration a white diamond surrounded by purple sapphire "petals"—are flanked by a pair of pink sapphires. 
The design is ethereal and whimsical but not devoid of a classic feel. After all, nature has long been one of jewelry's biggest muses. The style's uniqueness is more of its adoption as an engagement ring, rather than the style itself. 
Deschanel and Scott buck current trends that focus on one, two, or three central stones in favor of a ring that focuses more on the overall design. 
It's a ring of which Deschanel's character Jess on "New Girl" would surely approve.
Per the Van Cleef & Arpels website, the
Folie des Pres
ring retails for $42,900.  
 Related stories will be right here … 
More on Trends