GIA Labs Report Receiving 2 Moissanites Submitted as Diamonds
The discoveries were outlined in the Lab Notes section of the fall 2022 issue of Gems & Gemology.
New York—Two stones submitted as natural diamonds to two different GIA labs were found to be moissanite, the institute reported in the most recent issue of its research journal. 
According to
a lab note
authored by Courtney Robb and Sarah Arden in Gems & Gemology Fall 2022, a client recently submitted a 7.42-carat bluish-green crystal to the New York lab for a colored diamond identification and origin report. 
The lab identified the stone as a synthetic moissanite crystal that had been carved to resemble natural diamond rough. 
Synthetic moissanite can be easily mistaken for natural diamonds, the authors wrote, both because it can physically resemble them and has a similar specific gravity and heft. 
(While natural moissanite does exist, crystals are small and fragmented, Robb and Arden noted in the article; no gem-quality specimens have been found.) 
In the case of the specimen sent to its New York lab, GIA identified the synthetic moissanite using Fourier-transform infrared (FTIR) spectroscopy, with the resulting data showing a distinct moissanite spectrum, it said. 
They confirmed the finding with an analysis of the Raman spectrum. 
Of interest to note is that the synthetic moissanite was shaped into what GIA called a "slightly rounded octahedron with prominent stepped edges." 
Octahedra belong to the cubic crystal system, but both natural and synthetic silicon carbides—which includes moissanite—belong to the trigonal system and always display hexagonal prismatic to tabular crystal shapes.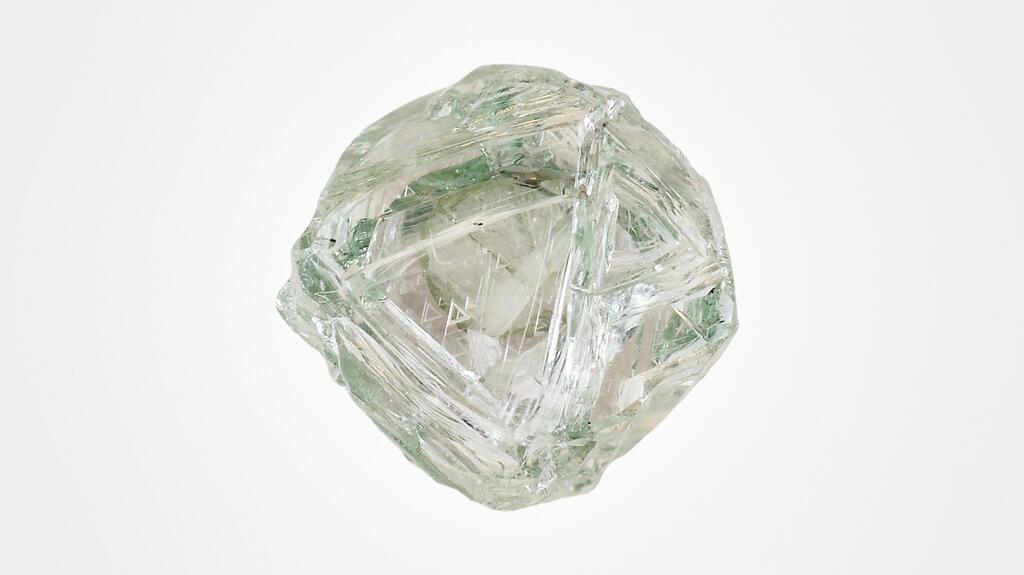 Because of this, GIA concluded the synthetic moissanite rough had been carved into an octahedron and that the detailing—stepped edges and coarse texture—was chosen to imitate the appearance of a natural diamond octahedron that had been partially resorbed by kimberlitic magma, as seen above. 
The example serves as a reminder, GIA said in its article, to be cautious when identifying gemstones since such processes could be used to deceives customers and "damage the integrity of the gem trade."
A
separate Lab Notes article
by Shoko Odake in the same issue of Gems & Gemology detailed how GIA's Mumbai, India, lab recently received a 1.71-carat square modified brilliant-cut stone for matching service.  
Its girdle was inscribed with "GIA" and a number that matched an existing report number for a natural 1.71-carat square modified brilliant-cut diamond, but the font was different from the one used for actual GIA inscriptions. 
After gemological and spectroscopic examination, GIA was able to confirm the stone was actually a synthetic moissanite.
 Related stories will be right here … 
More on Grading