Piece of the Week: The Bulgari Necklace in Taylor Swift's 'Bejeweled'
Featuring 57 carats of colored gemstones, it makes the whole place shimmer.
A high jewelry necklace from Bulgari is among the many, many jewels music superstar Taylor Swift dons in her new music video, "Bejeweled." 

A track off her new album "Midnights," Bejeweled is the singer's take on the Cinderella story, with Swift in the titular role.

The Bulgari piece enters the fairytale when Swift-as-Cinderella transitions from slovenly maiden scrubbing the floor to bejeweled belle of ball, materializing out of thin air and floating into place around her neck. 

Crafted in 18-karat pink gold, the necklace is set with a rainbow of 19 pear-shaped colored gemstones totaling 57.13 carats and over 20 carats of diamonds, a mix of round brilliants and diamond pavé.

The necklace is part of Bulgari's "Magnifica" high jewelry collection, released in 2021.  


On a recent episode of
Paul Zimnisky's podcast
featuring JCK News Director Rob Bates, the analyst contends that the volume of jewels in "Bejeweled" could give the industry a boost.
"This is relevant for diamonds," Zimnisky said. "Someone like this has the power to keep diamonds relevant almost single handedly, given her reach and her influence … Could you imagine if the NDC could afford her as the face of the campaign?"
(The current face of the Natural Diamond Council's campaign is
British actress Lily James
.)
"That could be a lights-out, game-over situation for the industry … She might be the No. 1 most influential celebrity in the world right now."
But, as Zimnisky pointed out, it's actually not the first time the megastar has made a video that was bejeweled.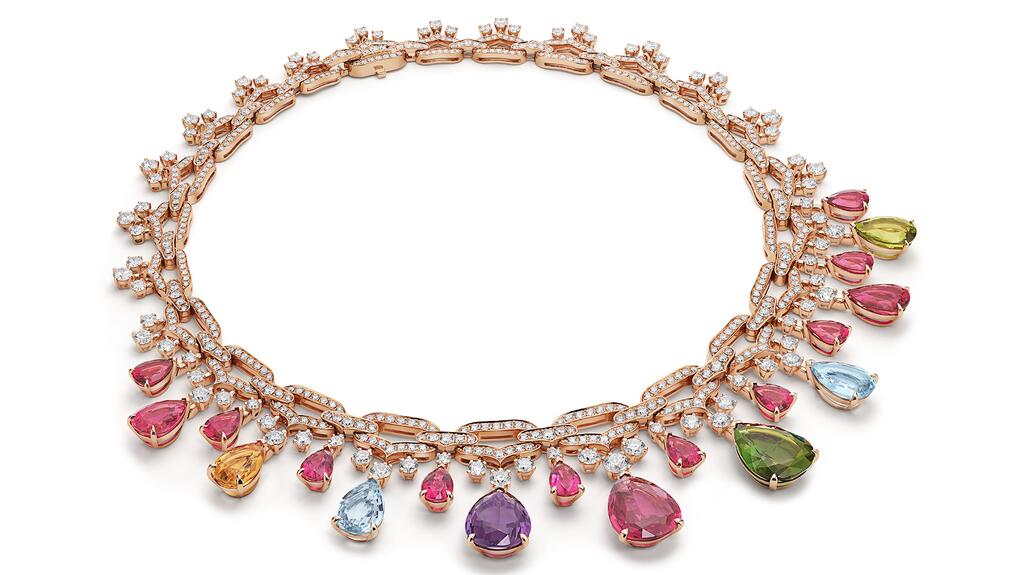 It's also not the first time she's worn Bulgari.
The video for her 2017 hit
"Look What You Made Me Do"
featured so much jewelry that author and jewelry historian Marion Fasel
wrote a story about it
, describing it as a "treasure trove" with "buckets of jewelry." 
In that video, Swift soaks in a bathtub of (probably not real) diamonds while wearing stacks of Neil Lane and wears another major necklace from Bulgari, a gold Serpenti necklace set with more than 10 carats of diamond and 71 rubies. 
 Related stories will be right here …
More on Collections