Bulova Celebrates Nile Rodgers' Birthday, Marc Anthony's Music
The watch company is partnering with both music legends on new collections.
New York—Bulova is celebrating Grammy Award-winning musician Nile Rodgers' 70th birthday with two new watches.
Rodgers is best known for writing and producing the hit "We Are Family" alongside Bernard Edwards, which was performed by the disco icons of Sister Sledge.
He shared the name with the
We Are Family Foundation,
a nonprofit founded by Rodgers and co-founder Nancy Hunt that provides support for programs promoting cultural diversity and empowering young people.
In honor of his birthday and his philanthropic efforts, Bulova is introducing two limited-edition timepieces.
The first "We Are Family" timepiece is available in stainless steel with a black nylon strap.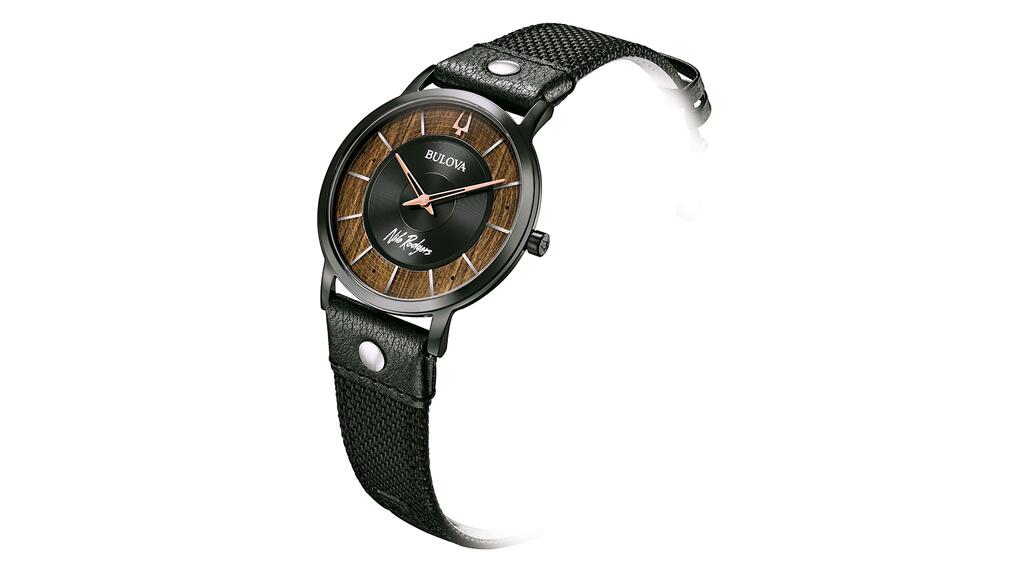 The 40 mm dial is a black record pattern with Rodgers' signature in white. It features a wood grain decoration resembling the neck of a guitar.
The flat mineral case back reads "Happy 70th Nile!" and includes a guitar and an individualized number, and the We Are Family Foundation logo is on the inner ivory contrast of the strap. It retails for $295.
The second timepiece is a new take on Bulova's popular Archive Series model, the Lunar Pilot Chronograph.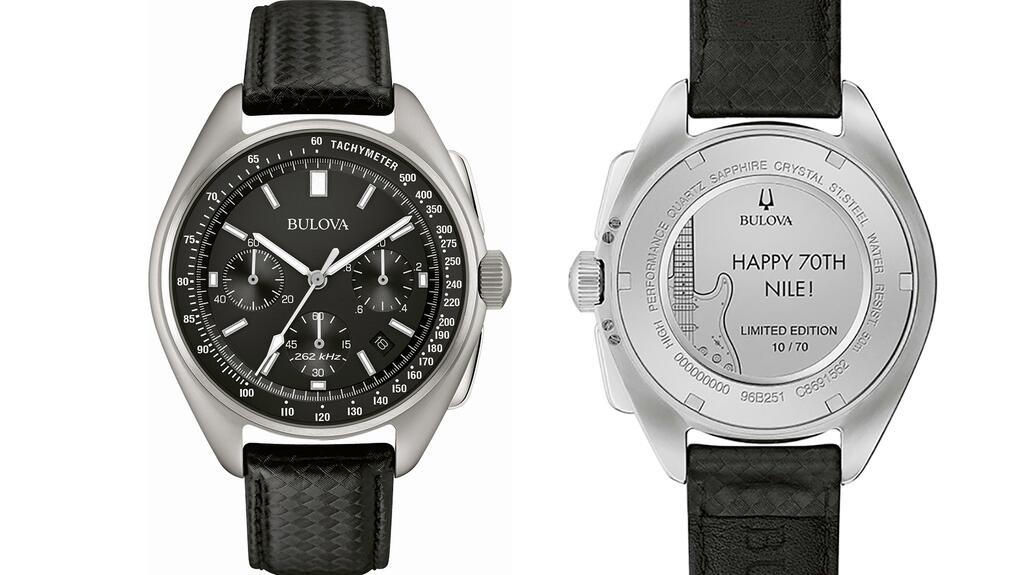 Rodgers grew up during the Space Race, a period of competition between the U.S. and the former Soviet Union to see which country could develop the strongest spaceflight capabilities, and that history fascinates him, said Bulova.
The limited edition "We Are Family" Lunar Pilot Chronograph is a commemorative reissue of the original chronograph worn on Aug. 2, 1971, during the Apollo 15 mission.
Though inspired by the original, the new watch has been updated to include the brand's exclusive high performance quartz movement with a frequency of 262 kHz.
The watch has super-luminous hands and markers, anti-reflective sapphire glass, tachymeter, and calendar all housed in a sandblasted solid 316L surgical-grade stainless steel 45 mm case in silver-tone with a black dial and the original Bulova logo. It has a textured black leather strap.
The custom case back also reads "Happy 70th Nile!" with a guitar and an individualized number.
The "We Are Family" Lunar Pilot Chronograph is priced at $795.
Each watch edition is limited to 70 pieces and is available on the
Bulova website
.
All proceeds will be donated to the We Are Family Foundation, which is celebrating its 20th anniversary.
Bulova has worked with Rodgers previously, selecting him as the campaign mentor of its "Tune of Music" program where he guided new artists along their musical journeys.
"We are grateful to have had the support and partnership of Bulova for years as an iconic brand that has been recognized from those who travel into space to all of us on the ground, and we are honored to collaborate again to celebrate these two milestones in time," said We Are Family co-founder Nancy Hunt.
Jeffrey Cohen, president of Citizen Watch America, said the company is "delighted" to continue its partnership with Rodgers and celebrate his milestone.
"Bulova fully supports the mission of We Are Family Foundation and is proud to support that mission through these celebratory timepieces," he said. 
 Related stories will be right here … 
The watch company recently partnered with another music legend, Marc Anthony.
The world-renowned salsa artist has won multiple Grammy awards and Latin Grammy awards with more than 50 No. 1 Billboard chart hits.
Bulova and Anthony will come together for a four-year partnership where they will collaborate on a series of timepiece and jewelry collections.
Set to launch in November, the Marc Anthony collections will be inspired by his music and named after some of his most iconic songs.
Some collections will be marked special and limited editions while others will be offered without limit.
"Anthony is a Renaissance man who has made the art of creation part of his daily life. Two icons in their respective arts now come together to appreciate the richness of a treasured relationship, time spent mastering craft, and a cross-generational love of music," said Bulova.
Bulova will also give support to Anthony's
Maestro Cares Foundation
, which builds orphanages across Latin America.
The New York-based watch company has previously partnered with the Apollo Theater, the Latin Grammys, and the estate of
Frank Sinatra
on collections.
More on Watches