How the Jewelry Industry Is Helping Ukraine
Signet Jewelers, GIA, and designers Dorian Webb and Bibi van der Velden join the list of organizations and individuals aiding Ukraine.
New York—More than 2.8 million people have fled Ukraine following Russia's invasion, according to the United Nations. Ukrainian refugees, and those who remain in the country during the conflict, need help.
Here's how the jewelry industry is reaching out.
Signet Jewelers
The Signet Love Inspires Foundation has pledged $1 million to the Red Cross Ukraine.
"Signet has suspended business interaction with Russian-owned entities since the beginning of the invasion, in unity with all those in the world calling for peace," said the company in a press release issued last Friday.
The foundation will also match donations from Signet employees two-to-one, up to $1,000 per person per year.
"At Signet, our purpose is inspiring love. We stand against this invasion and pray for all the innocent people impacted by war," said Signet CEO Virginia C. Drosos.
"We put our purpose into action through the Signet Love Inspires Foundation and the generous contributions from our Signet team members. We give with a grateful heart to support the Red Cross organization's critical mission to provide lifesaving help where it is so desperately needed."
GIA
GIA is donating $100,000 to the International Committee for the Red Cross for food, shelter and medical assistance to the people of Ukraine.
The organization said it has stopped all transactions and laboratory submissions from Russian companies, banks and individuals sanctioned by the U.S. government at its locations.
GIA also suspended submission of Russian-origin rough diamonds for the GIA Diamond Origin Report service.
"Our hearts are with the brave people of Ukraine. We are moved by their courage and hope for the safety of everyone—those who have been forced to flee their homes and those who stayed behind to defend their country. We join others around the world in calling for peace," said GIA in a statement.
Évocateur
Évocateur has created a collection of sunflower jewelry in support of Ukraine.
The sunflower is the national flower of Ukraine, and is featured on earrings, necklaces and cuff bracelets.
The collection, available online, ranges in price from $178 to $398, with proceeds going to
Save the Children
.
"Ground attack and aerial explosions in the capital Kyiv and other major cities are forcing children and families into basements and bomb shelters. More than 2.5 million people have now fled the violence, 50 percent of whom are children," the charity's website states.
Dorian Webb
Jewelry designer Dorian Webb joins a growing list of designers donating to
World Central Kitchen
.
All proceeds from jewelry sales, from March 8-11, were donated to the nonprofit.
"Helping those in need is an act of kindness, love and hope. It is also a measure of our shared humanity. As the people of Ukraine fight for the right to exist, we should do all that we can to help," said Webb in a press release.
The designer has created advocacy jewelry previously, including Black Lives Matter and "I Vote" cuffs.
Bibi van der Velden
Dutch jewelry designer Bibi van der Velden has created a special pair of earrings in support of Ukraine.
The 18-karat yellow gold earrings feature a blue topaz and yellow citrine alligator, reflecting the colors of the Ukrainian flag.
The carved alligator has blue and yellow sapphire eyes, a movable tail, and its mouth acts as the closure. One earring can also double as a pendant.
"As a mother I am heartbroken by what is happening to families in Ukraine, especially children," said Van der Velden.
"Now more than ever the people of Ukraine need our love and support. Inspired by the symbolic strength of my fearless alligator together with the colors of the Ukrainian flag, I have designed this special piece."
All of the proceeds will be donated to
UNICEF
.
"This is an unlimited edition as the Ukrainians need our unlimited support. Each piece sold will be numbered so you will know you are one of the many that has helped to make a difference," said the designer.
Columbia Gem House
Columbia Gem House sources chrome diopside, demantoid garnet, and jadeite from Russia.
From March 9-31, all proceeds of gems already sourced from Russia will be donated to
Doctors Without Borders
to support those affected by the Russian invasion of Ukraine.
"While our existing products that originate from Russia were brought to market following our Fair Trade Gems Protocols and were ethically produced, we have decided that, during this time, we are not comfortable sourcing or producing any additional Russian materials until further notice," said the company in an Instagram post.
The company made an initial donation of $250 and will also donate 5 percent of all website sales through March 31.
De Beers Group
De Beers Group announced last week it would donate $1 million to aid organizations helping those impacted by the war in Ukraine.
"De Beers Group has been shocked by the violence in Ukraine and inspired by the bravery of its people," said the company.
The Anglo American Foundation, founded in 2005 by parent company Anglo American, will also match donations made by its employees, up to £1,000 per person per year, through its Employee Match Funding program.
The option is available to all permanent employees of Anglo American.
Pandora

Pandora donated $1 million to humanitarian aid organization UNICEF, which will focus its efforts on helping the children affected by the warfare in Ukraine.
"We wish to help the children of Ukraine and their families in this terrible conflict. They need shelter, water, food, medicine, safe zones, and other support to live through the crisis. UNICEF's work is critical and desperately needed," said Pandora CEO Alexander Lacik in a press release about the donation.
UNICEF estimates it will need $66.4 million to meet the needs of the up to 7.5 million children in Ukraine.
The organization's goal is to provide access to basic services, including clean water, hygiene supplies, healthcare, access to education, psychosocial support, and emergency cash assistance.
Pandora has worked with UNICEF Denmark since 2019.
"Pandora's donation is not only timely but also significant in size," said Carla Haddad Mardini, UNICEF's director for private fundraising and partnerships division.
"When partners, like Pandora, respond quickly to our humanitarian appeal, it helps us to act swiftly and provide assistance for those that need it most. In crises, timing is everything," she adds.
Kering
Kering, the French luxury conglomerate behind brands like Gucci and Boucheron, announced Wednesday via Instagram it would also be lending a hand.
The company said it would make a "significant donation" to the
UNHCR
, the United Nations Refugees Agency.
The agency is providing aid to Ukrainians displaced by the conflict, adding that "the situation looks set to become Europe's largest refugee crisis this century."
"We hope for a peaceful resolution of this conflict," said Kering.
Kendra Scott

Now through March 6, Kendra Scott is donating 50 percent of proceeds from all its customizable Color Bar styles and from its "Everlyne" bracelets in yellow and navy.
Ukraine's flag is blue and yellow, signifying blue skies over its yellow wheat fields.
The money will go toward relocating and recovery efforts for those affected in Ukraine.
The funds will go to the
Global Empowerment Mission
, a nonprofit that sends first responders to global disasters, and
Voices of Children
, which provides psychological and psychosocial support to children.
Harwell Godfrey

Jewelry designer Harwell Godfrey will continue to donate the profits from her malachite heart talisman to
World Central Kitchen
, a not-for-profit organization founded by celebrity chef José Andrés that provides meals to those in need.
The organization has been on the ground at the Ukraine-Poland border to assist with the refugee crisis.
The designer's charitable initiative was already in place and has donated a total of $23,338 to WCK as of press time.
Godfrey envisioned the pendant as a healing talisman that resembled a broken heart put back together. The choice to use malachite was purposeful, since it is said to be a protection stone and its green color represents the heart chakra.
"The bail has two bars creating an equal symbol as a gesture of the unity we can achieve when we help each other," said Godfrey.
The pendant retails for $2,500 and is available on the
Harwell Godfrey website
.
Marla Aaron

Jewelry designer Marla Aaron will also be donating to World Central Kitchen.
Aaron will donate the 100 percent of the proceeds from her silver chair charm to support WCK's efforts in Ukraine.
The chair charm was first introduced last year as part of the
"Take a Seat for Restaurants" campaign
, which benefited restaurants struggling during the COVID-19 pandemic.
"Our goal is to raise as much as we can as quickly as we can," said the company's website.
The limited-edition charm retails for $250 and is available on
Marla Aaron's website
.
K Kane

The New-York based jewelry brand is also raising funds to help Ukraine.
Twenty-five percent of sales of its "Your Heart in My Heart" pieces will be donated to the Red Cross of Ukraine.
Bird + Stone

Jewelry company Bird + Stone is donating all proceeds from its
"Choose Kindness" cuff bracelet
to
CARE's Ukraine Crisis fund
.
The not-for-profit provides immediate aid and recovery, food, water, hygiene kits, psychosocial support, and cash assistance to those in need, giving priority to women and girls, families, and the elderly.
The bracelet serves as "a reminder to be kind to yourself, reach out to a neighbor, and that love and kindness is always better than war," said the company.
Bird + Stone donates proceeds from a variety of items to different charitable causes, allowing online shoppers to filter their search results by causes they would like to support, like racial justice, voting rights, and others.
Robinson Pelham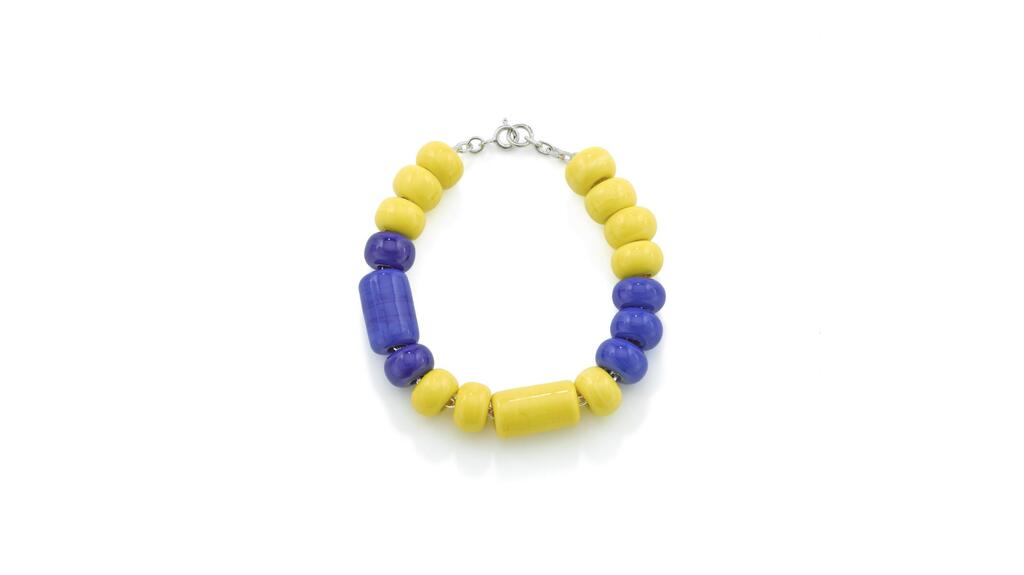 British jewelry designer
Robinson Pelham
has crafted a bracelet to raise funds for Ukraine.
Priced at £100 each ($135), the silver chain bracelets, available in three lengths, are made by hand in the U.K. with the brand's signature Murano glass beads in blue and yellow strung onto it.
One hundred percent of the proceeds will be donated to the
British Red Cross Ukraine Crisis Appeal
.
The organization will provide food, water, first aid, medicines, warm clothes, and shelter to those in need.
Greenwich St. Jewelers

Greenwich St. Jewelers
is selling raffle tickets online to raise money to provide medical aid in Ukraine.
A ticket is $20 and comes with a chance to win a diamond Astra pendant in the zodiac sign of their choice, including an 18-inch chain. The necklace retails for $3,400.
Proceeds from the raffle will be donated to nonprofit
Razom
to support its efforts to provide critical medical supplies on the ground in Ukraine.
The winner will be announced on March 11.
Alex Lozier Jewelry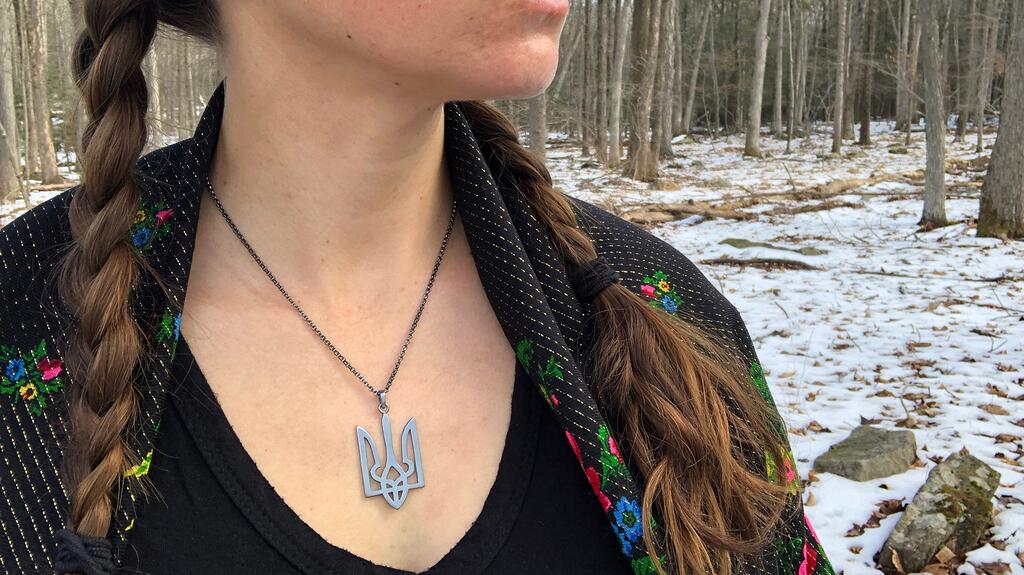 Jewelry designer Alex Lozier created a pendant in support of Ukraine.
Lozier's mother immigrated to the U.S. from Ukraine as a child, giving the designer a strong connection to the country and its people.
She channeled her grief surrounding the unfolding events into a Ukrainian Tryzub talisman pendant, which was named National Jeweler's recent
Piece of the Week pick
.
"This pendant is designed as a prayer for peace in Ukraine. It is a symbol of the inner warrior of the people in Ukraine right now standing up to defend their home, their culture, and everything they love," said Lozier.
A portion of the proceeds will be donated to the Ukrainian National Women's League of America.
The pendants retail for $280, with $100 going to charity, and are available for pre-order on her
website
.
Tomasz Donocik

London-based jewelry designer Tomasz Donocik designed a leather wrap bracelet in the colors of Ukraine's flag.
The blue leather bracelet is topped with 18-karat gold-plated silver stars, retailing for £150 each ($198).
One hundred percent of the profits will be donated to
SOS Children's Villages U.K.
to support its sister organization,
SOS Wioski Dziecięce
, in Poland.
The Polish organization is helping evacuate orphaned children and foster families from Ukraine and resettling them in its Children's Villages in Poland.
"As the situation unfolds in Ukraine, we are reminded of the fragility of peace and security," said Donocik in an Instagram post. "Being born Polish myself, we remember our history and stand in solidarity with our neighbors in Ukraine."
Donocik said watching the events unfold in Ukraine has been painful, but the bravery and resilience of the Ukrainian people has been a source of inspiration.
"Being a father of two girls, I know how much they rely on my unconditional support and hence it feels right to partner with this charity."
The bracelet is available for purchase on
the Tomasz Donocik website
.
Bea Bongiasca

Milan-based jewelry designer Bea Bongiasca raised €8,572 ($9,373) for Ukrainian relief.
For 24 hours, the proceeds from every purchase made on the brand's website were collected and donated to Red Cross Ukraine.
Roxanne First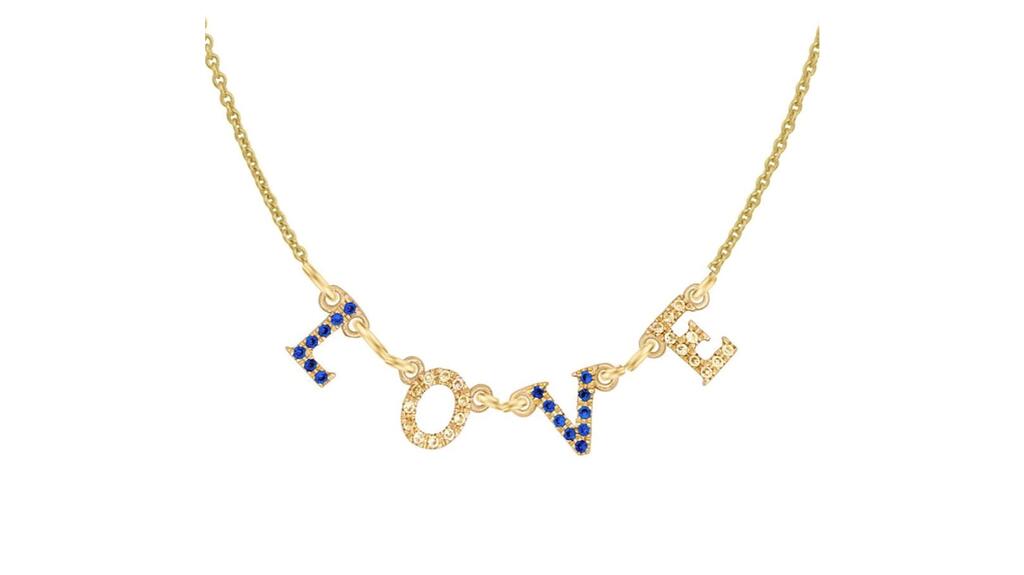 London-based jewelry designer
Roxanne First
is holding a giveaway to raise money to support those in Ukraine.
Contest entrants can win a yellow gold necklace with "love" spelled out in blue and yellow sapphires.
To enter, those interested can donate £10 ($13) to British-Ukrainian Aid via the brand's
JustGiving
donation page, then send an email to
donations@roxannefirst.com
with their name and proof of donation to enter the contest.
The company set a goal of raising £3,000 but had reached nearly £8,000 as of press time.
A winner will be randomly selected from those who donated on March 11 at midnight.
Wendy Brandes
Jewelry designer Wendy Brandes is donating a portion of sales from her 1stDibs jewelry listings to nonprofit
Nova Ukraine
.
Donations to the organization are sent to frontline volunteers providing emergency resources to refugees and those who have remained in Ukraine, said the nonprofit on its website.
"I want to make the biggest dollar donation possible for each transaction, so I'm not limiting myself by saying I will donate XYZ percentage," Brandes said in an Instagram post.
Instead, the designer said she will privately discuss the dollar amounts with the purchasers and provide a receipt after the donation has been made.
Brandes' 1stDibs listings are available
here
.
Luna & Stella
Luna & Stella
, a jeweler in East Providence, Rhode Island, specializing in modern and vintage fine jewelry, is also raising funds for Ukraine.
For a select few of its blue and gold Victorian-era lockets, $100 per sale will be donated to Razom, the same non-profit benefiting from Greenwich St. Jeweler's raffle.     
Editor's Note: This story has been updated to include additional charitable initiatives.

More on Majors