GIA Names Design Competition Winner in Tucson
The annual award, in partnership with the Gianmaria Buccellati Foundation, honors one design student.
Tucson, Ariz.—The Gemological Institute of America and the Gianmaria Buccellati Foundation picked a winner in their latest annual design competition.
At the annual GIA alumni event held this month concurrently with the Tucson gem shows, Meghan Simmons received the Gianmaria Buccellati Foundation Award for Excellence in Jewelry Design.
Now in its fifth year, the design competition is open to students who completed the GIA Jewelry Design Course in the last year.
More than 80 students worldwide competed in the competition, which was narrowed to 11 finalists.
Then, a panel of judges selected the winner. The judges were Alishan Halebian of Alishan Jewelry; Victoria Gomelsky, editor-in-chief of JCK; Douglas Hucker, CEO of AGTA; artist and jewelry illustration expert Remy Rotenier of Remy Rotenier Jewelry; and Shelly Sergent of the Somewhere In The Rainbow gem and jewelry collection.
Finalists submitted jewelry renderings that were judged on aesthetic appeal and how well students applied the skills they learned at GIA.
Winner Simmons rendered an earring depicted in gold with diamonds and blue sapphires.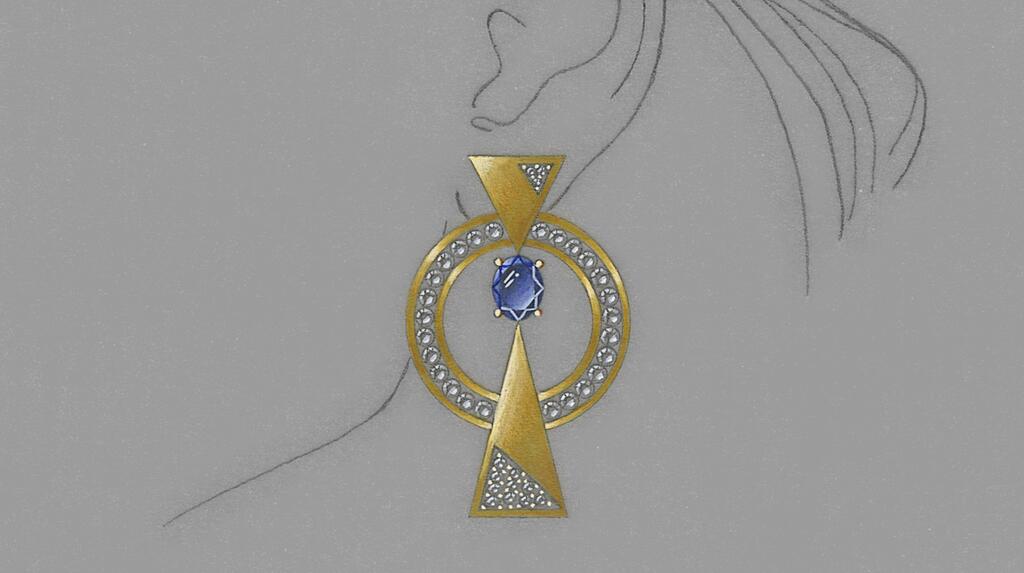 She graduated from the GIA Jewelry Design Course in Carlsbad, California last year, which teaches drafting, shading, design theory, and illustration through several mediums. Students leave the course with a physical and digital portfolio; it's offered at all GIA campuses.
Simmons said of her winning design, "I was inspired by the abstract artist Wassily Kandinsky. This earring design explores the use of line and shape, seeking to achieve a sense of balance through divergence."
The competition was founded in 2018 in partnership with the Gianmaria Buccellati Foundation to recognize outstanding design talent.
Foundation Chief Officer, North America strategies, Larry French said: "This competition was born out of the life and work of Gianmaria Buccellati. We are sure this year's winner, Meghan Simmons, will enjoy her award, a week in Italy beginning in Florence, then on to Venice with the trip ending in Milan.
"We congratulate not only all the students who participated in this year's design competition but also the talented instructors from GIA who guided the students on this beautiful art. We hope that all the designers who participated will continue to grow in their art so that it becomes a way of life, as it was for Gianmaria."
The 2022 competition is
now open
to students in the GIA Jewelry Design Course. 
 Related stories will be right here …
More on Events & Awards