GCAL Introduces Its New Cut Grade Standard, 8X
Diamonds must receive a grade of "excellent" across eight criteria to be deemed an 8X.
New York—The Gem Certification & Assurance Lab has introduced its new cut grade standard for round brilliant diamonds. 
Called the 8X Ultimate Diamond Cut Grade, GCAL said it developed the cut to reflect advancements in diamond cutting technology and techniques and the resulting cuts the top diamond manufacturers are producing today.
8X is "less about distinguishing our lab from all the others, and more about providing a platform for the world's premier diamond manufacturers to distinguish their products from all others," GCAL founder and president Don Palmieri said in a news release.
Son Angelo Palmieri, the lab's chief operating officer, added: "The global diamond industry has witnessed impressive improvements in technology. Diamond cutting techniques have also improved, resulting in more brilliant and beautiful diamonds. It was time to honor that craftsmanship. 8X is a cut grade standard whose time has come."
As the name indicates, the 8X Ultimate Diamond Cut Grade will take into account eight factors.
(GIA bases its cut grade on
seven factors
.)
To be deemed an 8X diamond, a stone must receive a grade of "excellent" in all eight aspects of cut that GCAL is evaluating: polish, external symmetry, proportions, optical brilliance, fire, scintillation, optical symmetry, and Hearts & Arrows. 
GCAL said the first three—polish, external symmetry, and proportions—focus on physical precision of the diamond's surface, facet shapes and angles.
Optical brilliance, fire and scintillation focus on and analyze how a diamond handles light, while grading factors seven and eight—optical symmetry and Hearts & Arrows—are about optical precision, meaning the craftsmanship of the crown and pavilion facets and how they work together.
The grading scale for each of the eight factors can be viewed on the
GCAL website
.
GCAL introduced the change at a virtual press conference held last month from its lab in New York.
The lab said its workers spent years and analyzed hundreds of thousands of diamonds to create 8X.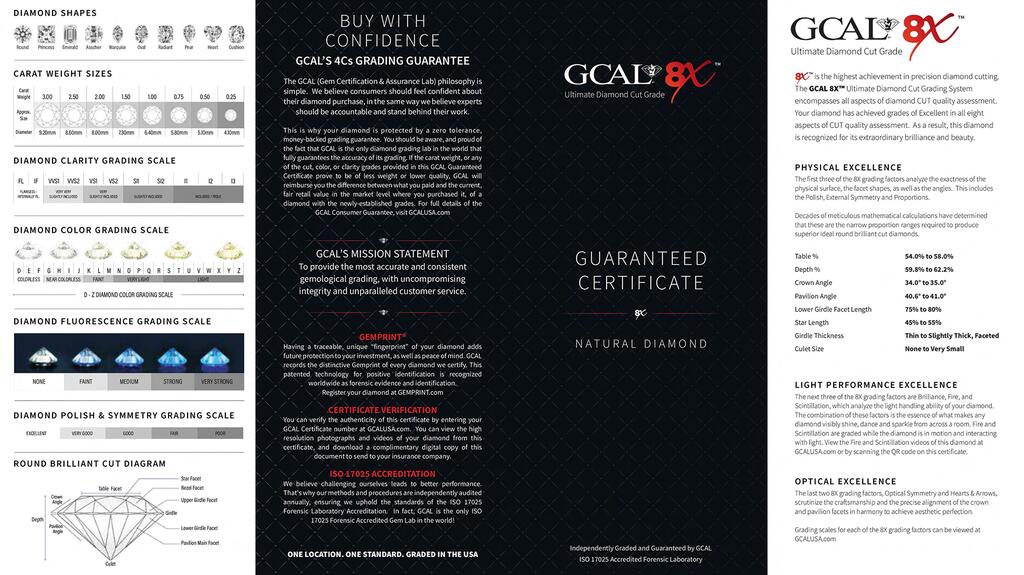 The 8X Ultimate Diamond Cut Grade is available for both natural and lab-grown diamonds. The lab has not released specific pricing on the new report but did note 8X would come at a premium.
The trademarked 8X logo will be inscribed on each diamond's girdle and will appear on both the print and digital versions of the grading reports.
The reports also will
have a new design
; a sample of the report's cover can be seen above.
For more information on 8X, call GCAL at 212-869-8985 or email
sales@gcalusa.com
. 
More on Grading