4 Cool Facts About The Olympics and Their Medals
In the spirit of the 2016 Olympic Games, which closed Sunday evening, Senior Editor and Olympics super-fan Brecken Branstrator shares some interesting tidbits.
I can trace my love for the Olympics back to a very specific start.
It was 1996 and the Magnificent Seven was heading to the Olympics in Atlanta.
At the same time, I was taking gymnastics. I basically thought I was Dominique Moceanu. I remember my parents buying me a brand new white crushed velvet leotard with rhinestones on it (because what's a gymnastics outfit without some bling) and thinking, This is it. Here I am. I swear, it made me tumble harder and run faster at that vault.
During the 1996 Olympics, those seven gymnasts were shining.
And there was one special moment that always sticks out. Kerri Strug. The vault. An injured ankle. I know you know
what I'm talking about
. Seeing her stick that landing and then watching coach Béla Károlyi carry her to get her medal. Have you ever seen anything so inspiring? That year is when it all started happening for USA women's gymnastics. 
Though I gave up the sport within just a couple of years to return to my first love, soccer, gymnastics continues to be my hands-down favorite sport to watch. And between the Final Five we had this year, our amazing swim team and so many other great athletes representing our country, athletics-wise, I thought it was a pretty great Olympics.
In the spirit of the closing of this year's games, which officially happened last night, here are some interesting facts about the Games and their medals.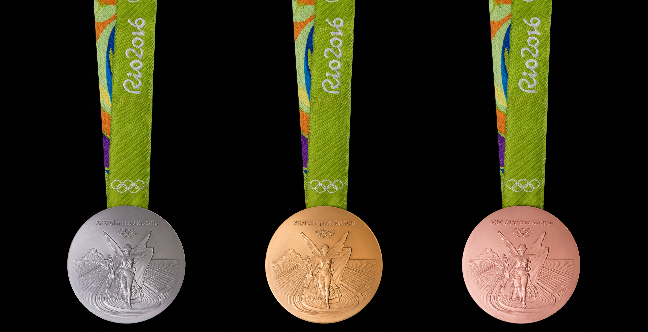 1.
One of our own designed the medals.
With the 2004 Olympic Games returning to their starting place, the Committee decided there should be a redesign of the medals, marking the first time they had seen any significant change since 1928.
Organizers asked designers to submit designs that included two specific Greek elements: a depiction of Nike, the goddess of victory, and the Panathinaikos, the stadium in Athens where the first modern Olympics were held in 1896.
The winning design was by none other than Greek jewelry designer Elena Votsi. Her medal featured a winged Nike in the Panathinaikos stadium with the Acropolis in the background.
(Check out The Adventurine's recent
Q&A with Votsi
about the medals. It's a great read.)
On the
back of that first medal
was Greek writing, the Olympic flame and the Athens 2004 logo. Now, each host city puts their own design on the reverse side.
2.
This year, the U.S. was dominant in its lust for gold.
What a great year for the U.S. Olympic athletes. Records were being set everywhere, and it helped the U.S. end up on top, with 121 total medals, almost double the figure for second place China, which ended up with 70.
The U.S.'s breakdown also led them to the most of each individual medal--46 golds, 37 silvers and 38 bronze medals.
3.
The whole "bite the medal" thing actually started for a valid reason.
And no, it's not because they're seeing if it's made of chocolate (just me?). Historically, the athletes were biting down on their medals to ensure that they were made of real gold and not pyrite.
Today, they're plated with just six grams of gold. The remaining is comprised of 92.5 percent silver and 6.16 percent copper. The World Gold Council estimated in late July that
the gold medal's "podium value"
was about $700, based on metal prices at the time.
(Interestingly, the World Gold Council estimated that if the medals at the 2012 London Olympic Games had been made out of solid gold, the cost would have reached nearly $40 million.)
The last Olympic Games in which medals were made of solid gold was in 1912.
The gold medals now also meet sustainability criteria from extraction to refining, and meet strict environmental and labor laws, the WGD reports. For the silver and bronze medals, meanwhile, approximately 30 percent of the material used is recycled.
This year, the medals used for the Paralympic games have a cool innovation--they have a small device that makes a noise when the medal is shaken to allow visually impaired athletes to know which medal they have.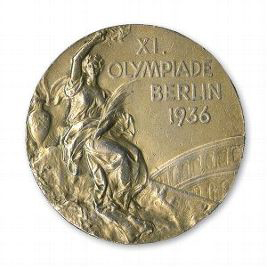 4.
Many Olympic gold medals are worth more than their weight, and some have proved it.
The highest price ever paid for an Olympic gold medal was that won by Jesse Owens in the 1936 Olympics,
according to ESPN
. Pittsburgh Penguins co-owner Ron Burkle purchased it for nearly $1.5 million in 2013. 
Owens was, of course, known at that particular Olympics games for winning four gold medals in Germany, where Hitler was serving as host. 
The price Burkle paid for this particular gold shattered the previous record for highest price ever paid for a piece of Olympic memorabilia, which was $865,000, set in April 2013, when a buyer paid that amount for a silver cup from the winner of the first modern-day Olympic marathon in 1896.
Owen's medal also went for five times the previous highest price paid for an Olympic gold medal won by the U.S. team--Mark Wells' gold from the 1980 ice hockey team sold for $310,700 about six years ago. 
More on Editors