A primer on lead glass-filled rubies
With all the recent consumer press reports accusing major chains of selling lead glass-filled rubies without proper disclosure, Associate Editor Brecken Branstrator takes a look at the rules for selling these stones.
While the prevalence of lead glass-filled rubies in the market and the issue of non-disclosure to consumers is far from new to the industry, it has been given new life in the consumer press in recent months.




Earlier this year, Inside Edition aired an episode that called out both Zales and Lord & Taylor for allegedly selling the treated stones as natural to shoppers. More recently, NBC's Today show featured something very similar, criticizing J.C. Penney, Macy's, Lord & Taylor, and the New York tri-state area's Littman Jewelers.

The creation of these stones involves taking very low-quality, industrial-grade ruby and infusing it with glass that has a high lead content. Some stones are more ruby than glass while other are more glass than ruby.

In either case, the amount of glass in these stones is significant and they must be handled carefully because the glass can be damaged by a variety of standard practices. These stones are very unstable under normal conditions of wear and tear and can be damaged even by common household cleaners.

Though selling these types of rubies is legal, the Federal Trade Commission's guides for jewelry requires disclosure at the point of sale when it comes to the treatment and care needed. According to its Guides for the Jewelry, Precious Metals, and Pewter Industries, "it is unfair or deceptive to use the unqualified [word] 'ruby'… to describe any product that is not in fact a natural stone of the type described."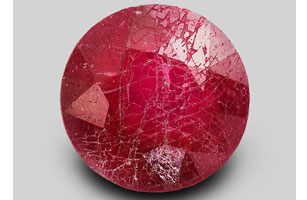 This photo provided by American Gemological Laboratories shows a composite ruby that has been damaged during jewelry repair, which happens due to the high content of lead-glass in these stones.
The lack of disclosing results in not only a loss of consumer confidence in regard to rubies but for all jewelry in general, as well as opens up the retailer to the possibility of legal action. This is why it's more important than ever for retailers to be aware of what's expected of them.
"If it has lead glass in it, it has to be disclosed that it's treated and requires special care," Jewelers Vigilance Committee's Cecilia Gardner told me.
She added that when it comes to the term "natural," she has had many gemologists tell her that after examining these kinds of rubies, they have found that there is so little natural material that labeling it as such would be inappropriate.
Different trade organizations have suggested different labels to use when it comes to describing these stones, though they have not yet reached a consensus, and the FTC currently is examining lead glass-filled rubies, especially when it comes to nomenclature and the disclosure process.

The JVC, along with a number of other trade organizations, submitted a brief to the FTC suggesting a number of revisions to its Guides so that there can be a standard throughout the industry.

They have taken the stand that the following vocabulary be used:
--That "natural" be used to refer to untreated rubies;
--That "treated" be used to identify a ruby that has been treated in a traditional methods, such as heating to modify color or healing open fissures by adding chemicals, and to which no significant weight is added;
--And that "imitation," "manufactured," "composite," or "simulated" be used to describe the rubies that are low-grade, non-gem corundum and are infused or combined with lead glass to produce a stone that appears to be of higher quality, to which significant weight has been added.

When it comes down to it, the best way to avoid any issues is to be vigilant. Press suppliers for full disclosure, and provide the same for your customers to ensure their continued trust about the business in the future and to avoid legal action, from them or the government.
More on Editors