Sally Nelson, Founder of Exclusively Diamonds, Dies at 86
The former teacher, described as "a pioneer for women-owned businesses," opened her own jewelry store in 1980.
Mankato, Minn.—Sally Nelson, the founder of Exclusively Diamonds, died Sept. 16.
She was 86.
The Minnesota native grew up in Lyle, according to a local
report
. She was raised by her grandparents after losing her mother in a motorcycle accident when she was five months old.
In high school, she met her husband, Bob, and they married when Sally was 19, as per her
online obituary
. They went on to have two daughters, Sarah and Betsy.
Bob worked as a schoolteacher and Sally later joined him, earning her bachelor's degree in education at 37. She specialized in speech pathology and special education.
Sally worked as a teacher for 14 years before she decided to turn her love of jewelry into a new career, cashing in her retirement account to get started.
After visiting several banks, she found one that agreed to loan her $45,000 at 21 percent interest.
"Sally was a pioneer for women-owned businesses. Sally prevailed throughout the challenges along the way," said her obituary.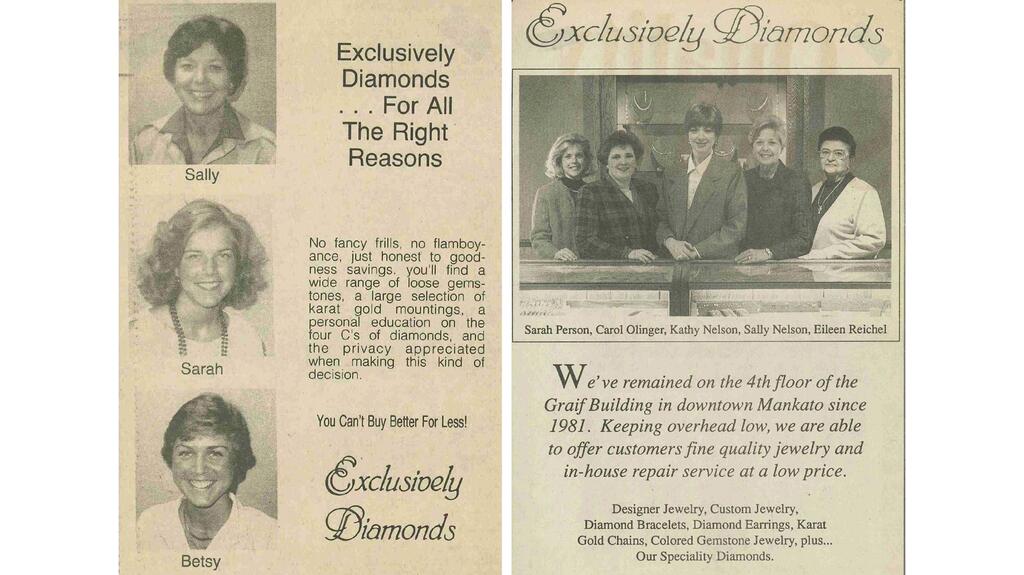 Her daughter, Sarah Person, shared memories of her mother in an interview with the Mankato Free Press.
"She cooked meals every night. We always ate dinner as a family," said Person.
"Mom also worked at the Mankato Rehabilitation Center and tutored students after school and on weekends in our home. She would sit at our dining room table teaching kids to tell time, count money, helping children lose a lisp or not stutter."
Nelson's daughters joined their mother at the store in the mid-1980's, according to the jeweler's
website
, with Betsy working as an in-store goldsmith and Sarah as a part-time salesperson.
Betsy later moved away, and Sarah purchased the business when her other retired in 1998.
Upon retirement, Sally and her husband spent the winters in sunny Arizona, returning home for the summer.
The business has continued down the family line.
Sally's granddaughter, Maria Brown, became vice president and co-owner of Exclusively Diamonds in 2018. Brown was recently
included in
Jewelers of America's "20 Under 40" list and
received the American Gem Society's 2022 "Young Titleholder of the Year" award
.
In a statement, American Gem Society CEO Katherine Bodoh said, "Exclusively Diamonds is a treasured AGS member and actively involved in the AGS community. Sally's daughter, Sarah Person, is the chair of our Education Committee. Sally's granddaughter, Maria Brown, is the current Chair of the Young Titleholders. The legacy Sally created lives on through these remarkable women."
Sally was preceded in death by her parents and her husband. She is survived by her daughters, Sarah (Chris) Person and Betsy (Randy) Olson, her four grandchildren, and her eight great-grandchildren.
A celebration of life service was held last week.
In lieu of flowers, donations can be made to Christ the King Lutheran Church of Mankato or youth organization
My Place
.
More on Independents