Christie's London to Showcase 150 Wallace Chan Jewels
The auction house said it's the largest ever European exhibition of the designer's work.
London—Christie's is gearing up for another Wallace Chan exhibition. 
Following shows in Hong Kong in 2015 and 2019 and Shanghai in 2020 and 2021, the auction house will hold an exhibition of the designer's work in London this September. 
"The Wheel of Time" will be the largest European showcase of Chan's creations, Christie's said. 
"We are delighted to bring Wallace Chan's imagination to London and present this unique exhibition celebrating five decades of artistic excellence," said Christie's Private Sales Director, Jewelry, Mei Y Giam.  
"Our fifth collaboration with Chan reaffirms Christie's longstanding relationship with the artist, and we look forward to welcoming visitors to the exhibition." 
Spanning five decades of the Chinese designer's career, 150 jewels and six titanium sculptures will be on display.  
With the majority of works on loan from Chan's collectors, some of the pieces have never been seen publicly.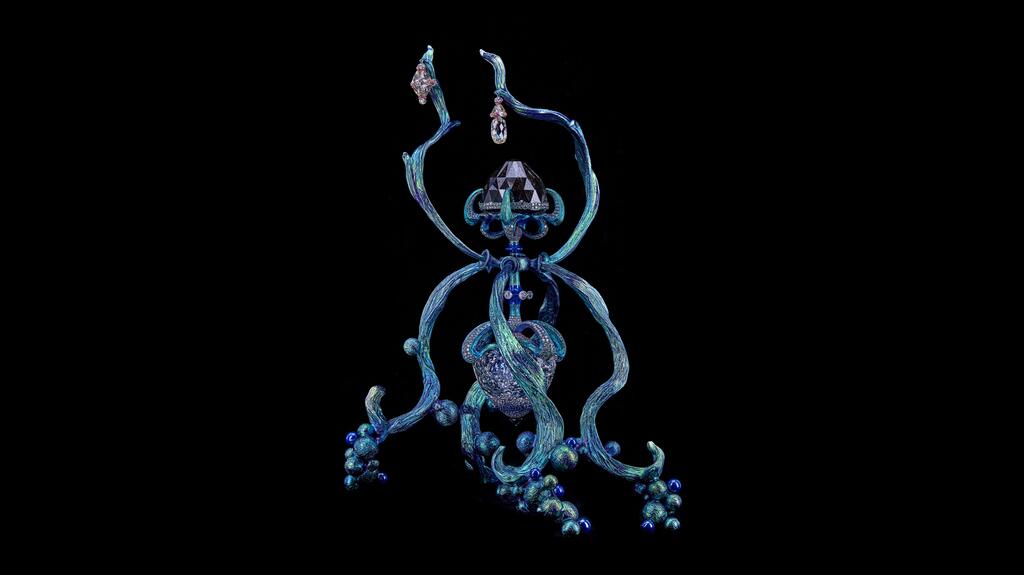 Among the highlights is the "Legend of the Colour Black," a shoulder brooch-sculpture featuring a 312.24-carat black diamond, gray diamonds, sapphires, black agate, titanium, and a material Chan created called "Wallace Chan Porcelain," which is five times stronger than steel, according to Christie's.  
Several of Chan's signature butterfly designs will be on display as well, including the "Joy of Life" brooch, made of pink sapphires, blue sapphires, tsavorite garnets, white diamonds, yellow diamonds, pearls, and titanium.  
The name of the exhibition, The Wheel of Time, serves as a metaphor for Chan's meticulous and time-consuming design process that considers the most minute details.  
"Time is an eternal wheel that rotates for infinity with neither beginning nor end. In the creative process, time is a theme so intangible, yet omnificent," Chan said. 
The works showcase Chan's disregard for convention, his embrace of color, and love of unusual materials. Design themes include classic Chinese aesthetics and the natural world.  
François Curiel, chairman of Christie's Europe, said, "A deeply philosophical man, Wallace infuses his jewels with Oriental spiritualism. This is the motif which he spends his entire creative life interpreting and reinterpreting, experimenting with endless combinations of gemstones, mediums, styles, aesthetics, and executed in his world-renowned techniques." 
Chan added, "In the blink of an eye, half a century has flown by. I am humbled by the opportunity to present my largest exhibition in Europe at Christie's in London.  
"My heartfelt thanks go to Christie's for supporting my creative journey throughout the years and across the globe. I am also grateful to my long-term collectors for loaning the pieces; without their friendship the exhibition would not be possible." 
The Wheel of Time will be on view Sept. 4-10 at Christie's London. The exhibition will be free and open to the public. 
 Related stories will be right here … 
More on Auctions
Auctions
Sep 27, 2023