Get All the Details on Rihanna's Super Bowl Watch and Jewelry
The singer wore well over $1 million in jewels for her halftime show performance.
Glendale, Ariz.—For her first major performance since 2018, Rihanna, ever the consummate jewelry girl, pulled out all the stops with her diamond accessories at the Super Bowl LVII Halftime Show on Sunday. 
Coordinating with her custom red Loewe flight suit, body suit, and sculpted leather corset, Alaïa coat and scarf, and Maison Margiela x Salomon sneakers, was a timepiece with crimson dial by
Jacob & Co
.
The "Brilliant Northern Lights" watch is from Rihanna's personal collection.
Powered by a skeleton movement with graphic bridge layout, the movement is protected by a rare, full red crystal dial.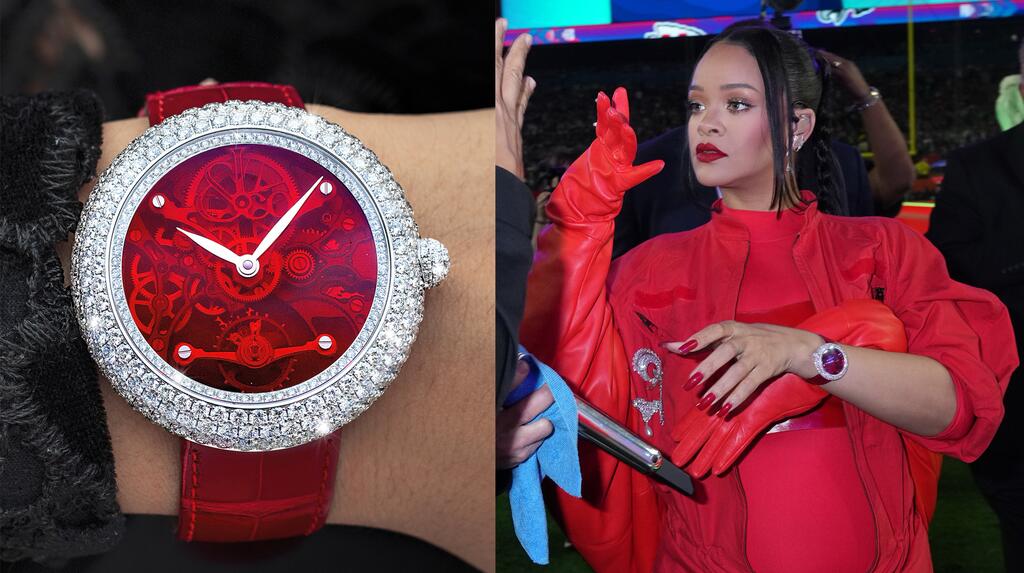 The 44 mm timepiece is decked out with a red alligator strap and no one could miss the 323 diamonds totaling 11.26 carats adorning the stainless-steel case.
The watch is priced at $72,000. 
Continuing the red color story was an exquisite ring from Bayco (pictured below), which, priced at $1 million, was the single most expensive item Rihanna donned for her performance.
The ring features a 19.47-carat unheated sugarloaf cabochon Burmese ruby and 5.66-carats of trillion-cut and round brilliant diamonds set in platinum and 18-karat yellow gold.
For the rest of her jewels, the "Diamonds" singer went all white diamond.
 Related stories will be right here … 
Fourth-generation antique and vintage jewelry dealers
Joseph Saidian & Sons
have frequently dressed Rihanna in their wares, often making up part of her
"belly mess"
of necklaces during her last pregnancy. 
So, it was only fitting the company was part of her Super Bowl pregnancy reveal. 
On her Loewe flight suit Rih wore three antique and vintage brooches stylishly grouped together. 
There was a diamond brooch with pearl drop, worth $18,000; a mixed-cut diamond wreath brooch valued at $70,000; and an Art Deco old mine-cut diamond brooch with an approximately 2-carat diamond center stone worth $35,000.
In total, owner Ariel Saidian estimated the brooches to feature between 35 and 40 diamond carats.
Edgy earrings have long been part of Rihanna's style MO, so her pulled-back hair called for a bevy of layered earring options. 
For that, she turned to
Messika
's high jewelry options.
She layered five single earrings total. 
The "Diamond Equalizer Earring" from Messika's private collection of high jewelry pieces features a 1.5-carat pear-shaped diamond center stone.
The "Magnetic Love Mono Earring" from the "Magnetic Attraction" high jewelry collection features 140 diamonds totaling 10.82 carats. This includes a 7.06-carat pear-shaped diamond and 3.02-carat pear-shaped diamond alongside 138 round brilliant diamonds. 
The "Illusionnistes" ear clip from the "Voltige" high jewelry collection features a 3.01-carat pear-shaped diamond and 3.74 carats of diamonds total, while the "Equilibristes" diamond clip highlights a 2.12-carat pear-shaped diamond and 2.26 total diamond carats. 
Finally, Rihanna wore one of the three pieces comprising the "Illusionnistes Mono Earring."
For anyone counting, Rihanna sported, at a minimum, 70.24-75.24 carats of diamonds in her full look, and that's shy the carats of a couple of Messika earrings. 
Even without Messika's earring pricing, which the brand keeps under wraps for its high jewelry collections, Rihanna's jewelry and watch were worth at least $1.2 million.
It was clearly a winning night for the star, and Super Bowl champs get their very own Super Bowl ring. 
After her performance, Rihanna put on hers, a custom platinum and diamond
Briony Raymond
design meant to evoke the iconic sporting style. It featured the star's monogram and coordinates for her native Barbados. 
More on Trends
Trends
Dec 04, 2023