112 Rings Stolen in NYC Diamond District Distraction Theft
It's one of several recent jewelry store distraction thefts, almost all believed to be the work of professionals.
New York—A three-person team recently stole more than 100 gold and diamond rings from a store in New York City's Diamond District, one in a line of recent distraction thefts believed to be the work of professionals.
The Jewelers' Security Alliance said the theft happened around 3 p.m. on April 7 at a store on 47th Street. 
According to JSA, a woman and a man acted as lookouts, using umbrellas and a piece of cardboard to signal to each other and coordinate the theft. 
The woman is described as being between 40 and 50 years old, 5 feet 8 inches tall with a medium build, while the man is believed to be 30-40, 5 feet 9 inches tall with a slim build. 

The third member of the crew, a woman described as being 25 to 35 years old, was the one who went behind the counter, grabbing the stack of ring trays when a sales associate when into a back room, JSA said. 


They reportedly fled the scene by jumping on the New York City subway (F train line) at Rockefeller Center. 

Security camera footage of the theft can be viewed above.  
Anyone with information in the case is asked to contact Detective Joseph Metsopulos on the
NYPD
's Major Case Squad, or JSA at 212-687-0328 or
jsa2@jewelerssecurity.org
.
The theft in New York's Diamond District is one in a string of recent distraction thefts at jewelry stores, the majority of which JSA believes are being coordinated and pulled off by professionals.
 Related stories will be right here … 
At a jewelry store in Chicago on April 21, a man and woman (pictured below, far left) allegedly used distraction to draw sales associates in opposite directions before the man leaned over an open showcase and stole a diamond ring.  
JSA said it is believed the couple carried out a similar theft in Houston on March 15 as well as in Illinois, Indiana, Pennsylvania, Wisconsin, and other parts of Texas between 2020 and 2022. 
The male is described as weighing 350 lbs., and the female as weighing 275 lbs.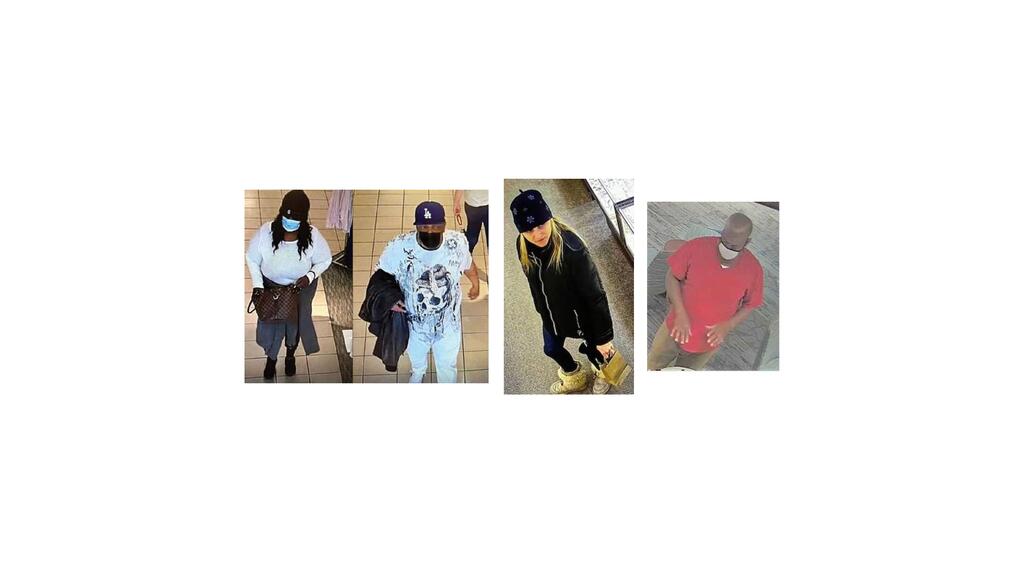 On April 2, JSA said a woman described as being in her mid-30s or early 40s with blond hair (pictured above, center) was in a jewelry store in Breckenridge, Colorado when she took two diamond rings left out on a showcase. The theft occurred between 5:30 and 6:30 p.m. 
And on April 6, a man (pictured above, far right) stole from a jewelry store in the Dallas area. He first asked about rings for his daughter-in-law and then asked about men's rings.
After being in the store for about 15 or 20 minutes, JSA said he pulled a men's ring out of a sales associate's hand and fled the store, getting away in a late-model gray Chrysler. 

 The suspect is described as being in his mid- to late 30s, bald, and 6 feet 2 inches to 6 feet 3 inches tall with a heavy build.
JSA said with the exception of the woman in the Breckenridge theft, these suspects are believed to be professional distraction thieves. (It noted that the woman wanted in Colorado might be professional too, but it does not have any evidence at this point.) 
It shared three recommendations when it comes to distraction thefts. 
1. Larger groups, i.e., three or more persons, entering a jewelry store together can be a red flag. 


2. Using signals, whether with hands or umbrellas, can also be a red flag. 

3. Don't leave merchandise out on counters or in unlocked showcases.


More on Crime