All I Want for Christmas
From Lorraine West to Patek Philippe, Editor-in-Chief Michelle Graff shares the jewelry and watches topping her wish list this year.
Like so many of us, I've been doing a lot of online shopping this year, focused mainly on my home—purging, organizing and beautifying the space where I now spent 90 percent of my time.

With the holidays coming up, though, I think it's time to have a little fun. So, I'm turning my attention from purse organizers and shelf dividers from Target (all A+ purchases, by the way) to create a list of the jewelry I'd most like to see under my tree this year.

A Virgo to my core, I've organized my wish list into sections according to purchase probability.

Enjoy, and please feel free to email me at michelle.graff@nationaljeweler.com if you need my mailing address.

If I Win the Lottery
I don't have a personal Instagram account, though I do check the platform occasionally through the National Jeweler account (@NationalJeweler, in case you don't follow us).

Earlier this year, I caught a glimpse of a collection I just knew we had to cover—Tarot from Sorellina, the Brooklyn-based jewelry brand created by sisters Nicole and Kim Carosella.

As Senior Editor, Fashion Ashley Davis tells in her story on the new collection, Nicole, the brand's creative director, had long wanted to do a tarot-inspired collection.

But it wasn't until summer 2019, when she went to a tarot reader looking for spiritual guidance amid personal difficulties, that the idea came to life, leaping off the sketch pad and into gem-set pendants, rings and earrings featuring fortune-telling imagery.

The collection's hero pieces are pendants depicting five major tarot cards: Sun, Star, Moon, Strength and The Wheel (all retail for $17,500).

But, which one do I really, really want? Let's consult the cards for guidance.


There's the gorgeous Il Sole (The Sun) in 18-karat yellow gold with turquoise and sapphire, which represents optimism, happiness and confidence, or La Luna (The Moon) in mother-of-pearl with sapphires and black and white diamonds, representing intuition, dreams and femininity.
There's also Le Stelle (The Star), a card of hope, calm, stability, healing and positivity, which seems like a fitting sentiment as we head in 2021, no?
And I'm always in the market for a great cigar band, like the Il Leone (The Lion) in 18-karat yellow gold with malachite and diamonds ($3,800).
The lion is an image from the La Ruota (The Wheel) card, representing change, karma, decisive moments and cycles of life—also good sentiments
to take into the new year.
For an even better look at the tarot collection, watch the video on the
Sorellina website
.
Not Entirely Unattainable
One of my favorite jewelry designers is Jade Lustig, the woman behind Jade Trau. She makes pieces that are wearable, trendy and timeless all at once.
But, how do you pick just one Jade Trau piece? It's difficult but, for me, it's the
Crescent pendant
from the Celestial collection ($5,100).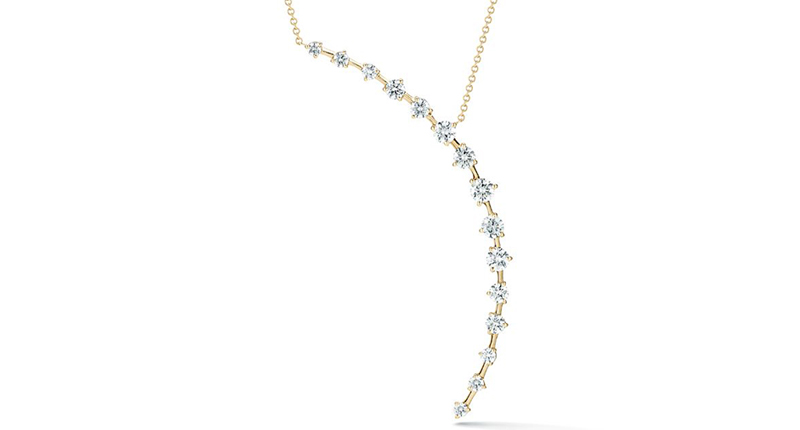 I'm naturally drawn to celestial jewelry and I love how this necklace echoes the waxing crescent—the phase immediately following the new moon—without being an exact representation.
Though I have not (yet) tried it on, I feel it would layer well with my other necklaces.
Just Buy It Already
Last year, I had the pleasure of meeting jewelry designer
Lorraine West
at "Here We Are," New York City's Jewelry Week marketplace celebrating diversity and inclusion.
I fell in love with this creative designer's take on two commonly used symbols in jewelry—the heart and the horseshoe—but, for no reason at all, never bought myself either.
The
Open Heart ring
comes in brass ($286), silver ($385) and 14-karat gold fill ($395).
This year, West debuted her capsule collection of fine jewelry at New York City retailer
Greenwich St. Jewelers
.
The pieces are all handmade in New York City and, after perusing the collection (look at the "Truth" ring), I have a feeling I'll be adding West's pieces to my wish lists for years to come.
Also on the list of things I've been needlessly coveting are the Tented Maya earrings from Michelle Hisae Meronek, the creative force behind jewelry brand
M. Hisae
.
I met Michelle at the JA New York fall show in 2019—one of the last trade shows I attended before the shutdown, actually—which means I've been admiring her completely affordable statement earrings from afar for over a year now.
If I Win the Lottery, Part II
For my final wish list item, I'm going to switch gears to mechanical watches.
While there are a number of Patek Philippe timepieces I would be happy to find underneath the Christmas tree, my No. 1 most coveted item is the black and rose gold version of the Ref. 6102 Celestial, Moon Age ($311,080), which I've been admiring since
Baselworld 2015
.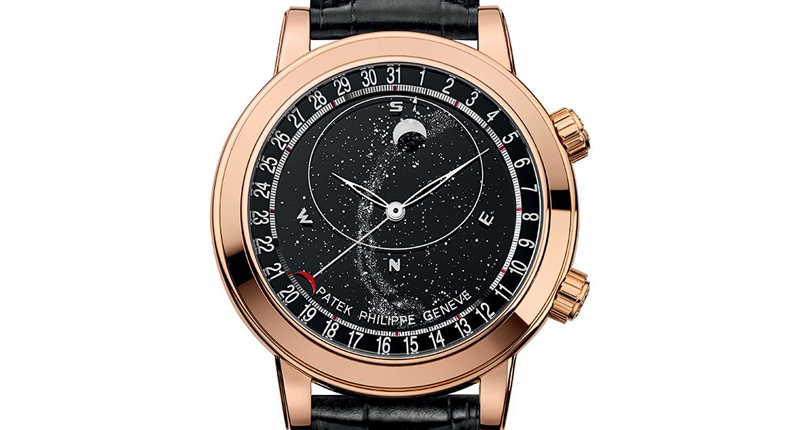 One of the brand's
Grand Complications
, this timepiece tracks the orbit and phases of the moon as well as the positions of the stars in the sky in the Northern Hemisphere.
The watch is 44 mm, which is a little big for my taste. So, when I have $300,000 to order my Patek Philippe Celestial, I am going to have the company's watchmakers specially engineer a slightly smaller model for me, because when you're living in a fantasy world, why not?
Happy holidays, everyone! I hope you get just what you wish for this Christmas.
More on Editors