4 Takeaways from the First HardRock Summit
Senior Editor Brecken Branstrator shares insights from the show, including what people have been buying and where it could go from here.
Last week I was back with the gem world, and boy did it feel good.
I was lucky enough to travel to Denver to attend the first HardRock Summit, an event
organized by two trade show veterans
. 
There were two components to the show: "Evolution" for minerals and fossils, running concurrent with the Denver Gem & Mineral Show at the Colorado Convention Center, and "Sparkle & Joy," which included AGTA GemFair Denver, at the Sheraton hotel.
I spent a day walking around the mineral shows at the convention center—which I loved because I've slowly become obsessed with the beauty of a fine specimen—and the rest of my time at Sparkle & Joy to get a pulse on how the trade is faring as well as to, of course, ogle some fine gems.
Here are a few insights and takeaways from my days in Denver.
1.
How the market has been doing
The last time I had conversations with dealers in person was at the 2020 Tucson gem shows, and though I've connected remotely since then for various projects—including a story on how the trade handled
a limited Tucson this year
and a webinar about
the state of the market
—it was nice to be able to glean some perspectives in person once again.
What I heard in Denver seemed to be along the same lines as what I've been hearing for the past year and a half: the start of the pandemic was rough, when business came to a halt, but the rest of the year more than made up for it. 
We were coming off a strong start to 2020, with the sentiment in Tucson very positive about buying activity and what the rest of the year had in store for colored stones. 
Once the market opened again and trading activity resumed, people were indeed buying.
Demand has been there, as those with disposable incomes turned their spending to jewelry and the joys of colored stones, and with supply strained due to the pandemic, prices have been strong. 
I think it's safe to say that color is in for a great holiday season. 
2.
What's selling
I also used my time at the booths to ask exhibitors what's been selling over the past year or so.
Many of them reiterated that spinels are still hot, with several noting in particular that the gray/platinum-colored spinels continue to be hard to keep in stock.
Sapphires still do well for most. There were also several mentions of the increasing popularity of Montana sapphires, and teal sapphires overall, a trend that's been
a few years in the making
and was mentioned by our fashion editor Ashley Davis in this year's
post-Las Vegas webinar
. 
There were also many mentions of interest in bi-color stones as well as those with a slightly unusual color or cut, also trends I've been seeing in Tucson for a few years now. It doesn't seem like the overall trend of consumers looking for something rare and special has done anything but boom during the pandemic. 
A few other trends I'm monitoring based on Denver conversations: Are emeralds having a comeback, especially as ruby prices rise? Will trends switch back to pastels again after some time of looking for bold, vibrant colors? 
 Related stories will be right here … 
3.
The potential of the show
I think we all went into the HardRock Summit keeping a few things in perspective—it's the first year, and the world is far from out of the weeds when it comes to the pandemic.
With international buyers and dealers unable to make the trip for various reasons and many stateside still opting out, it was a fairly small event (200 exhibitors total participating in both parts) and traffic on some days felt light.
Several exhibitors I talked to said they had a good first day and some other business throughout but noted other days were slower.
I didn't see, or hear of, many consumers in Sparkle & Joy—the fact that the public would be allowed in was a popular topic of conversation before the show—to evaluate how that went, so we'll have to see how the consumer element plays out in the future.
But everyone seemed to have the attitude that they weren't expecting the HardRock Summit to be some big blowout event this year; rather, they were happy to be back at a trade fair and were excited to think about the show's potential.
Denver has long hosted shows in the fall, mostly minerals and rough for cutters to source, so it definitely makes sense as a place to build for sourcing at that time of the year.
Plus, it presents an interesting opportunity amid the conversation about the future of trade shows.
The editors at National Jeweler have heard it asked time and again: Has the pandemic permanently changed the way we do business? And, what will be the role of trade events as life returns to "normal," whatever that might be?
I think we can all agree trade shows and buying events will never go away—I certainly felt that on the show floor in Denver—but there also seems to be a reshuffling in terms of event strategy.
If people do indeed end up turning to fewer, select shows throughout the year, I think Denver and Tucson could prove to be the two big events for the domestic colored stone sector.
This could be especially true if predictions that fewer in the trade will travel to the Hong Kong gem and jewelry shows in the future comes to fruition.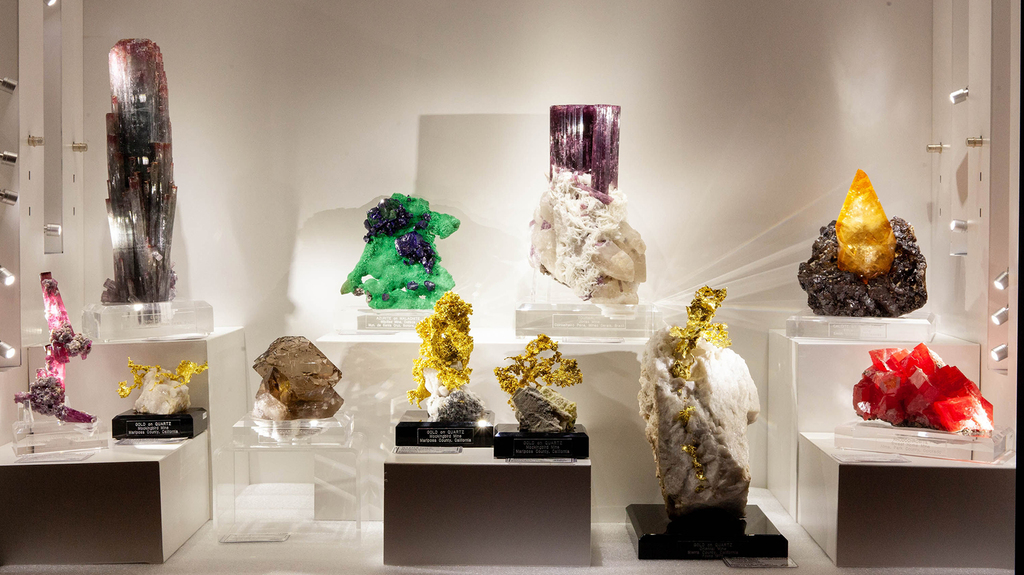 4.
The synergy between fine gems and minerals
I've always found it odd that the fine mineral and gem worlds can feel so separate. 
I realize the buyers for both are often divergent, as they are looking for different things or buying for different purposes. 
But they are two sides of the same coin, and I think interest in one can only build interest in another, and I loved getting to see both sides at the Summit. 
Evolution offered gorgeous fine specimens at many different price points, and the Denver Gem & Mineral Show offered smaller pieces and flats of specimens to look through, as you might see in the tents in Tucson. 
Getting to go from Evolution to Sparkle & Joy, the fine gem and jewelry show, the next day helped bring it all together and tells the perfect story about all the facets of gemstones, from rough to finished. 
The show already has confirmed that next year, both components of the HardRock Summit will be held together at the convention center, and I can't wait to see how the synergies between them play out.
More on Editors